How to Find an Engineering Mentor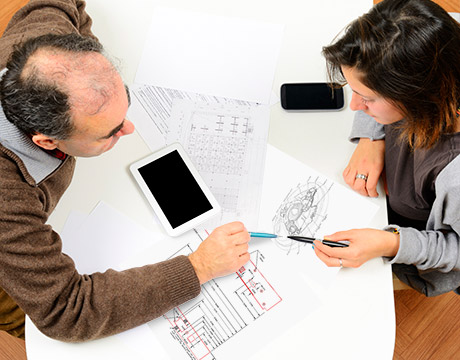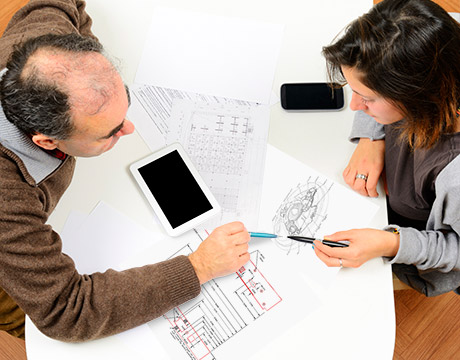 Mentors can act as career guides, technical resources, and even social support in the workplace. But how do you find a mentor?
How to Find an Engineering Mentor
Feb 2, 2022
How would it impact your career if you had someone to talk you through all of the different things that come up at work?
Someone who set aside time to help you interpret a confusing code, troubleshoot your designs, figure out your career direction, or give tips on dealing with imposter syndrome.
Someone who provided consistent support and encouragement so you can achieve your goals.
If that sounds helpful, you should strongly consider seeking out a mentor.
Benefits of mentoring for mechanical engineers
There's really no wrong time to work on finding a mentor.
No matter what stage you're at, connecting with a mentor is a great way to support your career.
However, mentorship is especially helpful as an early-career engineer. Your education gives you a foundation in engineering concepts, but the problems and solutions of mechanical engineering can look quite different in real-life applications.
What's more, keeping pace with changes in technology and best practices in engineering is a lifelong endeavor.
Benefits of mentorship for mechanical engineers
Mentors can act as career guides, technical resources, peer support, and even social support in the workplace. An engineering mentor can help you:
Navigate workplace concerns
Advocate for your needs
Identify and address professional blind spots
Plan and execute your career goals
Explore opportunities to build both soft skills and technical competencies
Transition between roles, workplaces, and engineering fields
But how do you find a mentor? There are a few ways you can go about finding the right person for the role.
Mentorship in the workplace
Formal workplace mentoring programs
Some workplaces have formal mentorship programs that help you connect with a more experienced engineer in the company.
These more seasoned engineers support newer engineers beyond the manager-employee relationship. Part of their responsibility as a workplace mentor is to provide the insight and guidance you need to be successful in your job. For example, your mentor can help you better understand how to analyze a product, as well as how to communicate your analysis in more effective ways.
Keep in mind, however, that some of these programs are focused on helping you transition into the workplace rather than building a long-term mentorship relationship.
Mentorship through networking at work
Building relationships with your coworkers is valuable. It makes communication, collaboration, and working together easier (and more enjoyable).
As you get to know your coworkers, consider who you've established a productive relationship with. Engineers constantly need to integrate new technologies and tools into their workflows. Think about which colleagues always seem ready to share how they're using the latest release of your company's design software. Who has the best explanations of how to troubleshoot production issues?
Not everyone is interested in acting as a mentor, but many people enjoy helping their colleagues gain experience and grow in their careers. Not sure if someone is willing to be your mentor? It never hurts to simply ask. Even if they don't have the bandwidth, they may be able to recommend another colleague to help you.
Contact your alumni organization
Support from your engineering school doesn't stop once you've graduated.
A school's reputation relies on the success of its graduates and alumni associations help support that reputation. You can attend school networking events to meet up with other alumni and learn more about how they found their mentors.
Your former teachers are another resource for finding mentors. Connect with them at school events or by sending them an email to reconnect with them. They may be happy to share their industry connections with you.
Join an engineering society
All branches of engineering have a related society that's designed to support members in their careers. Societies can connect mentors and mentees through existing programs, or you can go to a local meeting to talk to other engineers in your field and find out who may be willing to provide mentorship.
Being mentored by someone who's a co-member in an engineering society can help you learn about the challenges of your engineering field without the stress of work.
ASME members have decades of experience in the mechanical engineering fields, and many are willing to help newly graduated engineers learn more about what's expected of them as they begin their careers.
Hire a mentor
Mentors work for free as a general rule, but that's not because of ethical considerations. They take on the role because they want to help new engineers build their skills and grow their careers.
However, if you haven't been able to connect with the right mentor on your own, paid mentorship can be effective.
Paid mentorship provides access to similar levels of support and guidance, as well as a higher degree of structure to your relationship. Typically, paid mentors schedule regular meetings with their mentees, whereas traditional mentor-mentee relationships are worked into their "free time."
If money is tight and limiting your ability to find a paid mentor, an organization like ASME is a helpful option. ASME offers a wealth of information for graduate engineers in the form of networking events, educational publications, certifications, and more.
Search for online engineering communities and forums
Online engineering communities are found across social media and stand-alone websites and reflect every major and minor branch of engineering. Engineers at all stages of their careers like to hang out and engage in water cooler talk.
These sites have a wealth of resources, from archived posts to active threads that are constantly being contributed to. Search for the issue you're having trouble with and you're likely to find multiple responses that discuss the various solutions.
Some sites may have an area where people who are looking for mentors can connect with those who are willing to mentor. Both of you can take the conversation to email or a messaging app and keep in touch with one another.
Things to remember when looking for a mentor
The relationship between a mentor and a mentee is a one-on-one connection that's akin to tutoring. However, unlike a tutor, a mentor is there to guide you, help you understand your role as an engineer, and share with you the lessons they learned throughout their career.
Always be mindful of the fact that you're asking someone to give up time to help you learn and grow in your own engineering career, and make sure to respect their limits.
Set your expectations for working with a mentor
Do you know what you're looking to get out of the mentorship? If not, figure out your goals and what you want to learn from a mentor.
Making your needs clear to your mentor improves conversation, allows you to track what you're being told so you can apply it later, and helps you gain new perspectives on how to perform a given task. Here's how you can best set your expectations for working with a mentor:
Set clear goals from the outside
Be specific about what you need from your mentor
Look for different perspectives from other mentors
Keep your mind open to what your mentor has to share
Show gratitude for the generosity of your mentor
Seeking out a mentor helps you improve your skills as an engineer and enables you to take on more complex projects sooner in your career. You can also improve your career prospects when you can show an employer that you have advanced skills and talents in a particular area of engineering. There's plenty to gain from finding a mentor for engineering and it's worth making the effort.
How to build career-long connections right now
The American Society of Mechanical Engineers sets the standard for mechanical engineering around the world so mechanical engineers and the populations they serve can deliver and receive a higher quality of living.
AMSE helps members become the best engineers they can be through ongoing education, networking events, publications, and certifications. Becoming a member of ASME gives you access to all of this and more. Join today and start expanding your career potential.
Find the right mentoring opportunity for you. Visit ASME to get connected today.
Related: