Engineering Your Career: 7 Steps to Building a Better Professional Network
Engineering Your Career: 7 Steps to Building a Better Professional Network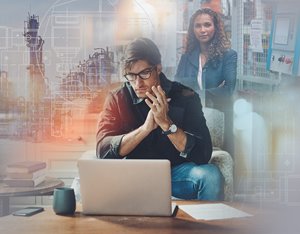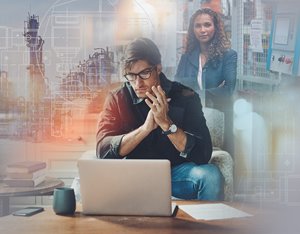 Over the course of your career, your network can lead to many opportunities. However, networking works best when you have a project plan.
It's not what you know, it's who you know.
According to a LinkedIn global survey, almost 80% of professionals consider professional networking to be essential to the success of their careers.
That saying, for mechanical engineers at least, isn't entirely true. You still need to have a firm grasp on technical concepts like fluid mechanics and design processes to land—and keep—engineering jobs. But knowing the right people and having a healthy professional network makes a big difference, too.
Over the course of your career, your network can lead to many opportunities. However, like any good engineering endeavor, networking works best when you have a project plan.
Need a template? The following seven steps will help you get started on your networking path.
1. Determine your goals
Networking is great for turning up unexpected opportunities. That being said, your networking efforts will yield better results if you set goals ahead of time.
Here are some examples of the goals that you may want to consider, but keep in mind that they may change throughout your career:
Build a referral network
Find new clients or customers
Expand your knowledge
Establish a mentor/mentee relationship
Connect with someone further along in their career
When you know what you're hoping to gain by expanding your professional network, you'll be able to determine the type of contacts that will help you meet those goals. Don't go into a networking situation without having a goal in mind.
Get started by...
Thinking about where you'd like to be in five years. What would you like to accomplish?
Then map out a path to get there. What kind of support do you need and how does your network help you get there?
2. Consider your current network
While many people think of networking as going outside of their immediate circle of contacts, you don't want to forget those contacts that are already within your network.
Coworkers and colleagues
Oftentimes, these close connections are the ones that are the most influential since you spend so much time together on a regular basis and the relationships form naturally. Your coworkers can be particularly helpful if you want to get involved in new projects at your company—they'll have the inside scoop on how you can get started.
Friends and family
Don't forget about your personal connections, either. Do you have friends or family that are in the engineering field? Classmates from your engineering program in college?
These personal contacts are sometimes overlooked, but they can be a helpful resource. Friends and family tend to be easier to approach with questions or requests, especially if you're looking for new job opportunities outside of your current company.
Get started by...
Making a list of ideal contacts from previous jobs, people you went to school with who are in the engineering field, or even professors who were influential to you. Keep in contact with people from your past that can continue to be a part of your network as you further your career.
3. Prepare to network
You have a set of goals in mind, so now it's time to prepare yourself for networking opportunities. Make sure that you're personally prepared to show your best self and that your online presence reflects that.
Get started by . . .
Having a networking prep routine. While this list might seem long, you'll be ready for most networking situations with little extra effort once you've gone through it once or twice.
Prepare to share about yourself. What do you do? What are you currently working on?
Make sure your social media accounts are up to date and professional. People will Google you, so make sure they'll find good things.
Update your LinkedIn account. Think of this account as your resume. If you were going to a job interview, you'd want your resume to feature all of your accomplishments and relevant information that shows you in the best light.
Have business cards on hand. You'll be handing these out to almost everyone you meet, so make sure you have plenty on hand. You may also consider creating a digital business card, such as one from the HiHello app. These can be shared via QR code, email, text, etc. But keep in mind, not everyone at the networking event will be tech-savvy, so it's a good idea to have printed business cards too.
Consider your appearance. Like it or not, most people quickly form an opinion about others with just a first impression. In fact, according to GoRemotely, 72% of people surveyed were affected by a person's appearance and handshake. By appearance, we mean body language, having good eye contact, and dressing professionally.
Networking can seem intimidating, especially if you're an introvert. Having a plan and being prepared will help you feel ready to take on these events. Most importantly, make sure you have a positive and open mindset that will allow you to truly connect with others.
4. Find networking opportunities
Now that you're prepared, the next step is to find networking opportunities that will help you expand your professional network as an engineer. There are countless ways to network, both in-person and online.
Get started by...
Attending industry events. These events could include trade shows or conferences related to the engineering field. You may find events that are related to your specific industry, such as industrial engineering, aerospace, computer technology, automotive, electronics, robotics, and more.
Joining social media platforms. LinkedIn is a great place to start building professional relationships. You can also find groups on Facebook that are specifically designed for engineers who want to network or share their expertise.
Participating in online forums. Depending on your specific industry, you can quickly find online forums where you can connect with other professionals.
Joining local networking groups. You may be able to find networking groups that are specifically for engineers, but if not, attending networking meetups for professionals can also be helpful. Either way, you'll connect with like-minded people who may be able to connect you with the right people from their own circles.
Connecting with alumni associations. The university that you attended may have an alumni association where you can connect with other engineers in your field. Oftentimes, there will be members at various stages in their careers who can share their expertise.
Joining a professional association. These communities are full of people who are willing to share their expertise with one another. The American Society of Mechanical Engineers (ASME) has over 90,000 professionals in its membership, including engineers, academics, and researchers. Professional associations can be an invaluable resource and will help you expand your network.
Starting a networking group. If you find that your local area doesn't have networking groups that fit your needs, start one yourself. There are probably other professionals looking for the same opportunity to connect. Take the initiative and create the opportunity both for yourself and for others.
5. Network with intention
Networking with intention is much more effective than just networking for the sake of networking.
This is why the very first step that we suggested was to determine your goals. Once you know what your goals are, you can better identify the people that you'll want to connect with. This might include engineers who are further along in their career and in the same industry as you.
As you network with other engineers or professionals in any field, take note of their attitudes. You want to connect with like-minded people who are positive and willing to share their expertise with you. If someone only has negative things to say, steer clear. You want to connect with engineers who are passionate about what they do.
Get started by...
Finding people who will help you meet your goals. You should also be willing to help others meet their goals too. Has a contact expressed interest in learning more about how your company has integrated additive manufacturing into its product design process? Connect them with an engineer working on that topic.
Networking relationships require both parties to give so that you create a mutually beneficial relationship.
6. Follow up immediately
As they say, the fortune is in the follow-up. This couldn't be more true when it comes to networking. What is the purpose of networking if you don't take these relationships further than simply meeting one another at an event?
Get started by...
Reaching out! Following up can simply involve sending an email letting your contact know that you enjoyed meeting them. If you met at a conference, ask what they thought of the keynote speaker or if they saw any intriguing product demonstrations. Questions like these can kickstart a lively professional conversation.
7. Maintain your relationship
As time goes on, it's important to maintain the relationship that you've established. There are many ways to maintain a relationship, but how you go about it will vary with each contact. Here are some tips for how to maintain the professional network you create.
Get started by...
Reaching out to your contacts if you're looking for specific advice that you think they could help you with. Everyone likes to feel like they're being helpful.
Liking, commenting on, and sharing their social media posts when appropriate. Be strategic and don't overdo it.
Setting up an in-person meeting where you can discuss your industry over coffee.
Sending a relevant article to a contact along with a message saying you thought they'd be interested.
Organizing your contacts and taking notes about where someone works or what they're interested in. This will help you remember who they are so that you can connect in a genuine and personal way.
Offering your help or expertise if a contact expresses a need.
Scheduling reminders to help you remember to follow up every so often, whether that be quarterly or every six months.
Networking for mechanical engineers made easier
Networking is an important part of developing your career as a mechanical engineer, but it can take time and resources. To learn more, check out our related resources below. Read more related content from ASME to become a better networkers, including what you need to do and how in order to cultivate relationships, improve your soft skills, and advance your career.
Related:
Related Content