Membership for Professionals/Early Ca...
Whether you're an experienced professional or just starting your career, ASME's membership community, resources and tools can help you with your lifelong journey.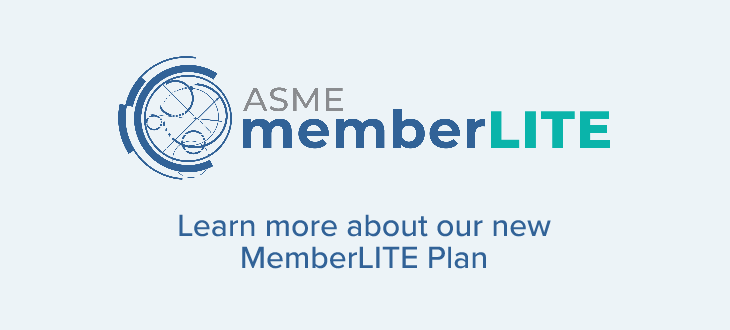 Select Topic:
Networking
Build your network through conferences, technical divisions, sections, or student competitions and events.
Sections

Connect to your student or local professional section and meet other mechanical engineers in your area to volunteer, learn, and network.

Student Competitions & Events

Test your engineering expertise, develop new skills and have fun through our student competitions and ASME E-Fest events. Member discounts for select competitions.

Technical Divisions

Connect to ASME peers who share your technical interests through affiliation with ASME Technical Divisions.
Publications
Deepen your knowledge of the latest changes in the industry through sources such as the Mechanical Engineering magazine, ASME SmartBrief, journal discounts, and more.
Journal Discounts

Special pricing for ASME Journals, providing engineers with the latest research, current theory, practice, and application.

Mechanical Engineering Magazine

Stay up to date on new and emerging technologies and trends through a subscription to ASME's award winning, members-only magazine.

TechDesign & TechReboot Weekly Newsletters

Explore the latest news as it relates to engineering design trends, workforce needs, and different areas of focus.

ASME SmartBrief

Break through inbox clutter with daily digests of must-read engineering news and trends from leading sources worldwide.

Book Discounts

Special pricing for nearly 400 print and over 200 digital books covering established and emerging areas of interest to mechanical engineers.

ASME News

The official ASME member newsletter highlights Society news and the many interesting activities its members are involved in each year.

Digital Collection 50 for $50

Special pricing to download 50 articles from the entire collection of ASME Journals and ASME Conference Proceedings.

Codes & Standards—FREE Books

Get FREE digital access to Summary of Significant Changes books covering the latest ASME Boiler and Pressure Vessel Code.
Career Resources
Search for engineering jobs, read articles tailored to engineers, or engage in a meaningful mentoring relationship.
ASME Career Center

Search thousands of job and internship postings, upload your resume, and read career-focused articles tailored to engineers.

Career Related News & Insights

Explore the latest news in mechanical engineering as it relates to Career Development, Industry Trends as well as Business and Career Support.

Career Webinars

These monthly webinars are designed to help you advance to the next step in your career. Optimize your career path.

Mentoring Program

Find a mentor or pass on your knowledge to an up and coming engineer, whether you're fresh out of school or an experienced professional.
Discounts & Other
Enjoy travel and merchandise discounts, insurance programs, and opportunities for scholarships and loans.
Lenovo Discounts

ASME members receive deep discounts on Lenovo's innovative PCs, smart devices, accessories, security software and services for remote work and distance learning.

ASME Store

Your one stop shop for ASME branded merchandise. Check out our collections including student section, professional section, engineering division, and ASME Heritage merchandise.

Scholarships & Loans

Subsidize your education through ASME's financial aid & scholarships for members.

Car Rental Discounts

Whether you need a car for your next business trip or your vacation road trip, book your car from four major worldwide car rental agencies and take advantage of your membership discounts.

Dell Discounts

Members enjoy savings of up to 40% on the everyday price on their purchase of Dell systems and Dell branded electronics and accessories.

Insurance Program

Personal and professional protection through affordable insurance solutions to handle some of life's unexpected situations.

ASME Membership Certificates

Proudly display your commitment to professional excellence from the most highly respected mechanical engineering society in the world.
Learning Resources*
Continue to build your skills using AccessEngineering to help solve challenging problems or use member discounts towards ASME courses.
Access Engineering—FREE Books

Members get FREE access to digital editions of leading upper-level engineering textbooks.

Technical Divisions

Connect to ASME peers who share your technical interests through affiliation with ASME Technical Divisions.

TEC Talks

Monthly webinar series featuring leading experts addressing topical issues, challenges, and new technologies within the various specialty areas of ASME Divisions.

Learning & Development—FREE Courses

Three FREE self-study courses – Ethics for Engineers: Doing the right thing when no one is looking, Fundamentals of Industrial Automation, and Additive Manufacturing Manufacturability: Laser Powder Bed Fusion valued at $195.



Membership Benefits at a Glance
MemberLITE

MemberCORE

Publishing

Mechanical Engineering Magazine

✔

ASME Smart Brief

✔

✔

ASME News

✔

✔

Journal Discounts

✔

Digital Collection 50 for $50

✔

Book Discounts

✔

Codes & Standards - Free Books*

✔

TechDesign & TechReboot Weekly Newsletters

✔

✔

Learning Resources

AccessEngineering

✔

✔

ASME Conferences

✔

Learning & Development - Free Courses*

✔

Career Resources

TEC Talk Webinar Series

✔

✔

ASME Career Center

✔

Mentoring Program

✔

Networking

Technical Divisions

✔

✔

Sections

✔

✔

Offers

Insurance Program

✔

ASME Membership Certificates

✔

✔

Car Rental Discounts

✔

Pricing

$59

Enjoy select benefits of ASME Membership - community, content, and tools to help you through every step of your engineering journey

Apply Now

$158

Enjoy all benefits of ASME Membership - community, resources, access, and discounts to help you through every step of your engineering journey
Apply Now
Click here for additional discounted rate categories.

*Refunds for any prior purchases of free Learning & Development courses and Codes & Standards digital books will not be processed