Society News
ASME News is a resource for those who want to learn about the Society and the many interesting activities the organization and its members are involved in each year. ASME News contains news about Society-related events and programs, as well as special features and the Newsmakers section.
ASME Delegation Meets with Key Stakeholders in India
Understanding the importance of India's major role in furthering ASME's global expansion and revenue opportunities, ASME Executive Director/CEO Tom Costabile recently led a series of meetings with industry, government and volunteer stakeholders in India.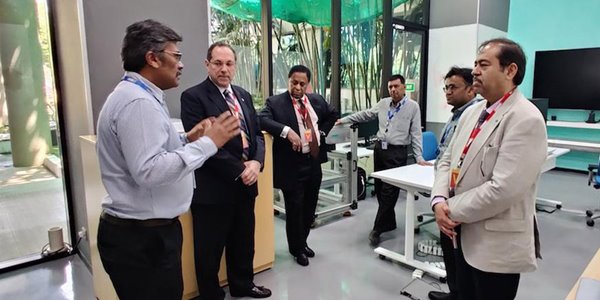 ASME Today and Tomorrow Podcast: How ASME Is Adapting to COVID-19
In the latest installment of the ASME Today and Tomorrow podcast, CEO/Executive Director Tom Costabile is joined by the Society's Executive Management Team to discuss the many ways that ASME is adapting and responding to the unique challenges posed by the COVID-19 global pandemic.
Read More >
Special Journal Issue to Explore Design Engineering in the Age of Industry 4.0
The ASME Journal of Mechanical Design is currently accepting manuscripts for a special issue focusing on the topic "Design Engineering in the Age of Industry 4.0." Authors who are interested in having their papers included in the special issue, to be published in May 2021, should submit their manuscripts by Aug. 31, 2020.
Read More >
Inaugural E-Fest Digital Draws Nearly 1,800 Registrants
After holding a successful ASME E-Fest Asia Pacific program on-site in India earlier in the year, the coronavirus pandemic forced a change of plans for the remainder of the year's ASME Engineering Festivals® (E-Fests). As a result, E-Fest Digital was launched — and it was a rousing success.
Read More >
ASME Annual Meeting Goes Virtual
In keeping with our ongoing objective of protecting the health and well-being of the ASME community during the current uncertainties brought on by the COVID-19 pandemic, ASME has decided that it is prudent to cancel the in-person version of this year's ASME Annual Meeting, originally scheduled to be held June 12-17 in Boston.
Read More >