The Future of Electric Trucks is Now
The Future of Electric Trucks is Now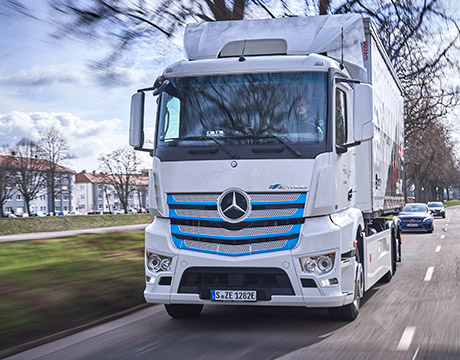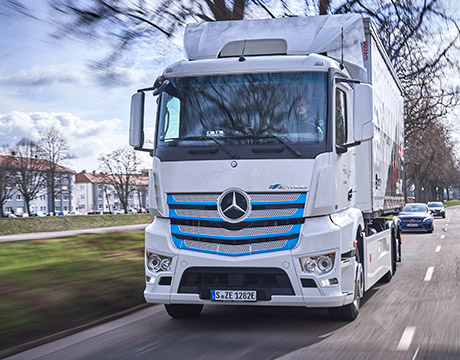 Mercedes-Benz eActros trucks for heavy duty distribution with a range of up 124 miles. Image: Daimler AG
While all eyes are on the much rumored Tesla Semi, legacy automakers are zooming full speed ahead with their electric truck offerings. Both Mercedes-Benz and Volvo have delivered their fully electric trucks to European customers in February.
Whereas Tesla and other newcomers are all talk and little action, these e-trucks are already-in-production, no matter that they are smaller than a semi and intended for urban short hauls. Volvo and Daimler are one step ahead to take over the lucrative freight truck market. Anheuser-Busch, Walmart, United Parcel Service, and FedEx, are among the large companies placing big orders for electric medium- and heavy-duty trucks.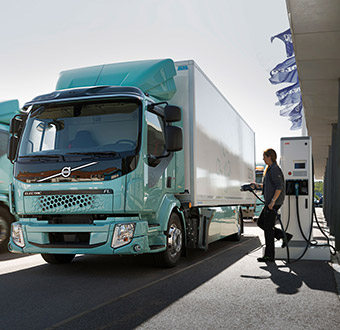 Join ASME and Leading Industry Experts for Offshore Wind Turbine Webinar series
Read ASME's Top Story: Air Taxi Aces Test Flight
The main challenge electric truck-makers face is finding the right balance between battery capacity, weight, and placement. Obviously, having a larger battery makes for a more powerful electric motor with a longer range. While Tesla Semi is said to have a range of up to 500 miles, no other manufacturer is promising as much, yet. And no one yet knows how much Tesla's Class 8 truck, which will use four motors, will actually weigh.
The solution currently offered involves placing lithium-ion batteries that weigh more than half-a-ton on either side of the vehicle, and placing the electric motor or two in the middle, in place of a conventional gearbox. For one thing, truckers are likely to appreciate a quieter and smoother ride of an all-electric truck.
"Low-frequency engine noise and vibrations are totally absent, as are exhaust gases," said Anna Thorden, product manager of electromobility at Volvo Trucks. "Electric power also offers rapid and linear acceleration since the electric motor delivers full torque from start."
Read More on Automotive Design Challenges: Lighter Axle Reinvents Drivetrain. Does Detroit Care?
Volvo's pre-series FL Electric 16-metric ton capacity garbage trucks were recently delivered to a waste and recycling company. Tesla's Semi, by comparison, is supposed to have a 36-metric ton capacity.
Series production of Volvo's FL, as well as of a larger FE Electric 27-metric ton capacity truck, is set to begin later this year. Both models are developed for distribution, refuse handling, and other urban transport applications, and are intended for the European market.
FL has an electric motor with a maximum power rating of 130 kW. FE has dual electric motors for a maximum power rating of 370 kW. Discharged batteries can be fully charged in one to two hours with a 150 kW direct current, or in 10 hours from a 22 kW alternating current.
The company is planning to begin producing a North American commercial version based on FE Electric's powertrain technology in 2020.
Mercedes-Benz eActros 25-metric ton trucks are similarly intended for daily short hauls and have been delivered to a German logistics company. With a range of 124 miles, their rig's pretty similar to Volvo FE Electric—two electric motors on the rear axle with an output of 126 kW each, with the energy stored in lithium-ion batteries with a capacity of 240 kW per hour, which means that charging times are pretty much the same.
Be Prepared for Tomorrow: Who Are the Engineers of the Future?
In North America, Mercedes' sister brand, Daimler Trucks, has also delivered its first medium-duty truck, Freightliner eM2, and is working to deliver eCascadia, its Class 8 semi-trailer truck, for testing. eCascadia is said to have a 730 horsepower engine, with batteries providing 550 kW per hour, which means a range of up to 250 miles on a single charge.
Apart from batteries there is another roadblock that zero-emissions trucks need to overcome: Charging stations are scarce. Mercedes-Benz and a number of other auto manufacturers are looking into installing their own charging stations along their customers' routes.
"Our eActros range of 200 kilometers (124 miles) has proved to be absolutely realistic. The eActros completes its transportation tasks regardless of the route or other factors," Stefan Buchner, Head of Mercedes-Benz Trucks, said. "The expenses involved in installing one charging station at each customer's premises are comparatively low."
Read More on Green Tech: Startup Suns
Despite the additional cost, mechanical engineers from Carnegie Mellon University said the time to invest in electrical semi-trailers is now. In a recent study, "Quantifying the Economic Case for Electric Semi-Trucks," they've examined the point at which electric trucks become more cost-effective than similar diesel versions. The argument goes that electric trucks have a lower operational cost because they are more energy efficient and electricity costs as much as or less than diesel; still, investors remain skeptical because of the initial battery cost and its large size.
"In spite of those initial concerns, there seems to be an economic case for transitioning to electric semi-trucks," Shashank Sripad, one of the study's authors, said. "However, to ensure favorable economics, certain, important aspects like the low-battery pack cost, high cycle life and low electricity price need to be ensured."
Sripad and his co-author, assistant professor Venkat Viswanathan, concluded that investors will get their money worth in less than five years, as long as auto manufacturers continue to improve vehicles' and battery design, and electricity cost remains low.
Daria Merkusheva is a technology writer based in New York City.
Register today for ASME's Offshore Wind Summit to learn about the latest technologies, opportunities and supply chain strategies from leaders in the oil, gas and wind energy industries.
Read Latest Exclusive Stories from ASME.org: Robots to the Rescue Engineers Making Waves in Aquaculture
Listen to ASME TechCast to Find Out How a High School Senior Helped a Wounded Marine
In spite of initial concerns, there seems to be an economic case for transitioning to electric semi-trucks. Shashank Sripad, Carnegie Mellon University
Related Content