Air Taxi Aces Test Flight
Air Taxi Aces Test Flight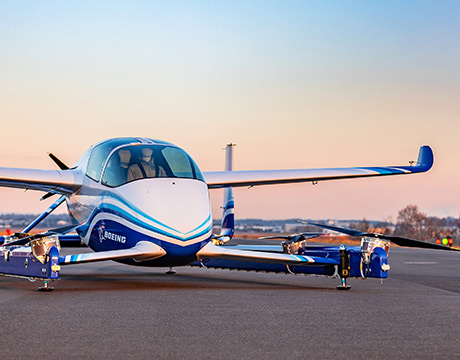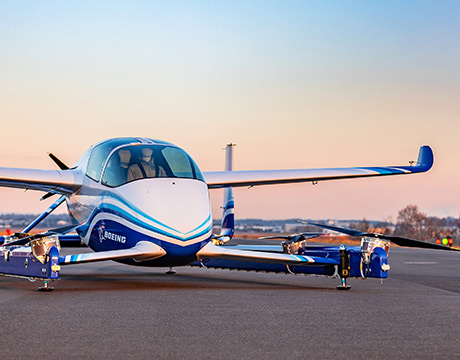 PAV prototype. Image: Boeing
While motorists fume about sitting in cars on gridlocked streets, there is actually plenty of open driving space directly over their heads. That's the theory undergirding the interest in urban air taxi services.
In January, Boeing successfully completed the first test flight of its autonomous personal air vehicle (PAV) prototype. The 30-foot-long and 28-foot-wide proof of concept executed a controlled takeoff, hover, and landing during the flight, which lasted less than a minute.
Powered by an electric propulsion system with eight lift motors and one cruise propeller, the electric vertical takeoff and landing (eVTOL) air taxi is expected to have a range of up to 50 miles. Its advanced airframe integrates the propulsion and wing systems to achieve both hover and forward flight capabilities.
Listen to the latest episode of ASME TechCast: Renewable Energy Experts Shine Light on Solar Farms and Grids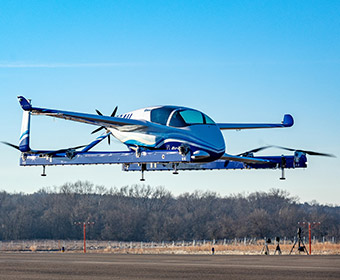 Aurora Flight Sciences, Boeing NeXt's subsidiary, is designing the fully autonomous vehicle. The first flight tested the PAV's autonomous functions and ground control systems.
"This is what revolution looks like, and it's because of autonomy," said John Langford, president and chief executive officer of Aurora. "Certifiable autonomy is going to make quiet, clean, and safe urban air mobility possible."
As work on the prototype continues, future flights will test forward, wing-borne flight, and the transition between vertical and forward-flight modes, which is the most challenging feat for this type of vehicle.
Unlike earlier business concepts that imagined personal aircraft whisking executives and dignitaries across cities, the current generation of air taxis is modeled on ride-sharing services such as Uber and Lyft. In fact, Uber is hoping to launch an air taxi service as early as 2023 in Dallas and Los Angeles.
Boeing hopes to provide aircraft for on-demand air taxi services. The idea is to have both two- and four-passenger variants vertically take off and whisk passengers around cities. Boeing's PAV is described as the next generation of autonomous electric aircraft that will be safer, quieter, and cleaner than existing alternatives, such as helicopters.
Reader's Choice: Global Talent Makes American Industry Stronger
"From building air vehicles to airspace integration, we will usher in a future of safe, low-stress mobility in cities and regions around the world," said Steve Nordlund, vice president and general manager of Boeing NeXt.
The PAV should be able to autonomously transport passengers, plan routes, respond to contingences, and avoid unexpected obstacles.
During the inaugural flight, the blue-and-white prototype sported two pontoon-like bars with four motors on each and a propeller in the back. The aircraft was pilot-less, but two dummies occupied the cockpit.
Aurora specializes in these types of aircraft. Since being founded in 1989 as a builder of atmospheric research drones, Aurora has designed, produced and flown more than 30 unmanned air vehicles, pioneering technologies of long-endurance aircraft, robotic co-pilots, and the currently trending autonomous eVTOL aircraft. The company is also working on an Autonomous Aerial Cargo Utility System (AACUS) for the U.S. Marines. The system is described as intuitive, allowing any Marine to request and supervise a rapid cargo delivery by an unmanned VTOL vehicle, particularly in dangerous and hazardous environments.
Other aerospace manufacturers are also looking to fill the niche. Bell Helicopter, a Textron company, is working on a VTOL, powered by a hybrid-electric propulsion system with six tilting ducted fans. And Airbus is hurrying to complete a first flight of its CityAirbus, a large drone-like aircraft with four propellers. The autonomously piloted eVTOL will similarly carry up to four passengers. The model has eight pitch rotors powered by eight Siemens SP200D direct-drive 100 kW relying on four 140 kW batteries.
With so much competition, speed is of the essence. Engineers at Aurora Flight Sciences designed and built Boeing's prototype PAV in just one year.
Read More Exclusive Content from ASME.org: New Window Film Reduces Energy Costs The Bionic Mushroom Navy Sails into Supply Chain with Metal 3D Printing

For Further Discussion
This is what revolution looks like and it is because of autonomy. John Langford, Aurora Flight Sciences
Related Content