The Comeback of the Aluminum Can, Part 2
The Comeback of the Aluminum Can, Part 2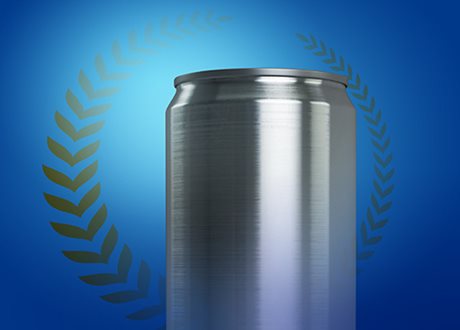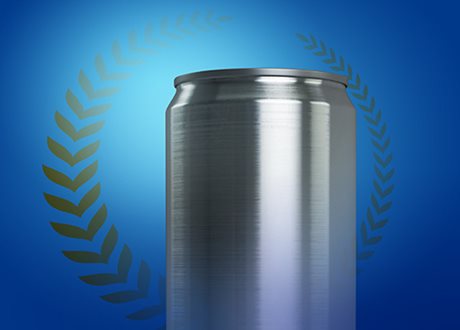 Part One of "The Comeback of the Aluminum Can" outlined the container's history. This section looks at production techniques and new technologies.
Ironically, the can that keeps your beer bubbly starts out totally flat. A typical 12-oz beer can is formed from what's known as a blank: a flat disk about 3/10 of a millimeter thick. In the drawing or cupping stage of production, blanks are fed into a machine that punches them into the shape of a shallow cup about 88 mm in diameter. The cup is redrawn to reduce its diameter and wall thickness, and is then put through a series of tooling dies that further irons out the cup into a 65-mm-diameter cylinder of 75-micron-thick aluminum. The can tops are then trimmed to achieve a uniform height and a smooth surface for eventual sealing. The can bottoms are then "domed" using a convex tool that creates a concave indentation on the underside. Doming significantly reduces the amount of metal needed to make the can while increasing the maximum internal pressure of the contents.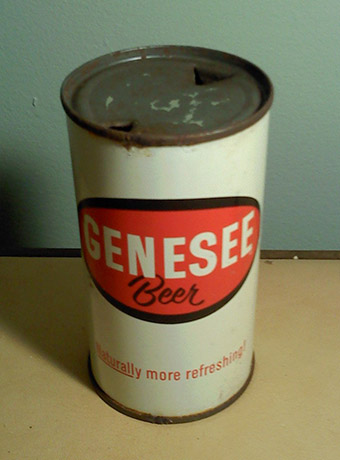 At this stage, the inside surfaces of the can are washed and treated with a spray coating of epoxy lacquer that will keep the beer from acquiring a metallic taste. This is also the step where logos and other printed artwork are usually added. Especially in the craft beer niche, brewers are increasingly looking for practical ways to distinguish their brand by adding more color, customization, and variety to their can designs. Decoration technologies are creating multiple ways for consumers to interact with the can: tactile coatings that texturize the can surface, inks that fluoresce under the UV lights of a night club, cans that change color when the contents reaches the ideal temperature, and more.
For You: 10 Ways GDPR Will Affect Engineers
Next, in an eleven-stage process called necking and flanging, the top of the can is squeezed between a necking sleeve and an inner die, gradually narrowing the top so that it fits under a standard 54-mm can lid. The necking process creates a slight flange around the top edge of the can, which fits together with a lid and crimped, forming an airtight double seam. The seam is further reinforced with a sealing compound that hardens to form a gasket to trap gases inside the can at optimum pressures of 30 psi.
Going Mobile
Most micro brewers pride themselves in offering a continually changing roster of seasonal and specialty beers, in addition to their standard lines of IPAs, porters, and pilsners. And while it's one thing to serve up those beers by the pint in a brew pub, mass producing these small-batch brews for the retail consumer poses unique economic challenges. Mobile canning systems enable brewers to summon a full can-filling production line when and wherever it's needed without the huge capital investment in packaging machinery.
Mobile canning companies are cropping up across the nation in hotbeds of craft brewing activity. Colorado's Mobile Canning Systems, for example, caters to this market through its national network of trained mobile canning affiliates, and by printing and selling ready-to-fill cans to brewers in much smaller quantities than are normally required when purchasing custom-decorated cans.
Canning lines with a range of throughput rates are produced by companies like Wild Goose Canning (Louisville, CO), a firm launched in 2011 by two Boulder-area engineers whose work with a local brewer helped give rise to the mobile canning concept. The company produces a range of small-footprint canning systems for both mobile and stationary use. Systems operate at speeds ranging from 8-12 cans per minute with the manual, dual-fill head WGC 50 to 80-90 cans/minute with the fully automated WGC-600, with eight fill heads and double lid-dropping and seaming capabilities.
On the extreme end of just-in-time beer canning, Ball joined up with Colorado brewer Oskar Blues to develop the Crowler in 2014. Designed as aluminum's answer to the popular reusable glass jug, or Growler, used to package microbrew to go, the 32-oz. Crowler can is filled manually at the brewery or pub and sealed using a specialized seaming device. Although Crowlers reduce the staff time and energy required to collect and sanitize traditional growlers, they can be subject to stricter local liquor regulations than their glass cousins.
Can-Do Engineering
"Every year, nearly a half trillion of these cans are manufactured. That's about 15,000 a second. So many that we overlook the can's superb engineering," said Bill Hammack, a University of Illinois engineering professor, author, and advocate for engineering education. "The next tip you take a sip from one, consider the decades of ingenious design required to create this modern engineering marvel." A video in which Hammack delves more deeply into the engineering principles behind the aluminum can and the stay-tab opening system is featured on his popular engineering-related YouTube channel EngineerGuy.
Michael MacRae is an independent writer.
Read More:
Robots Emerge as Force in Infrastructure Inspection
Robots Make Self-Repairing Cities Possible
Safety and Efficiency, Brick by Brick

For Further Discussion
Every year, nearly a half trillion of these cans are manufactured. So many that we overlook the can's superb engineering. Prof. Bill Hammack, University of Illinois
Related Content