Vertical Farms Are Growing Up
Vertical Farms Are Growing Up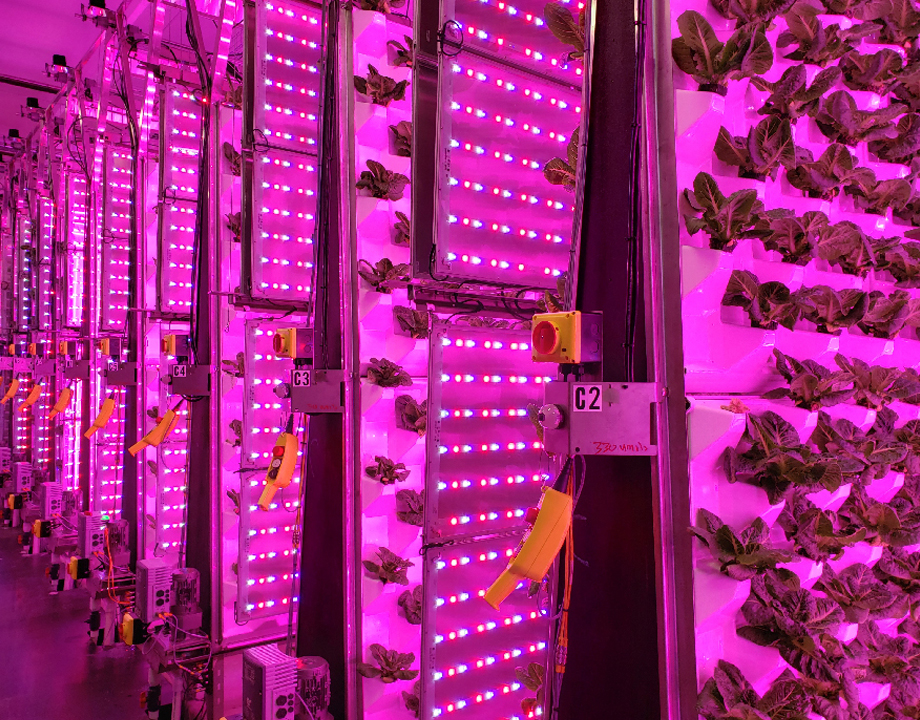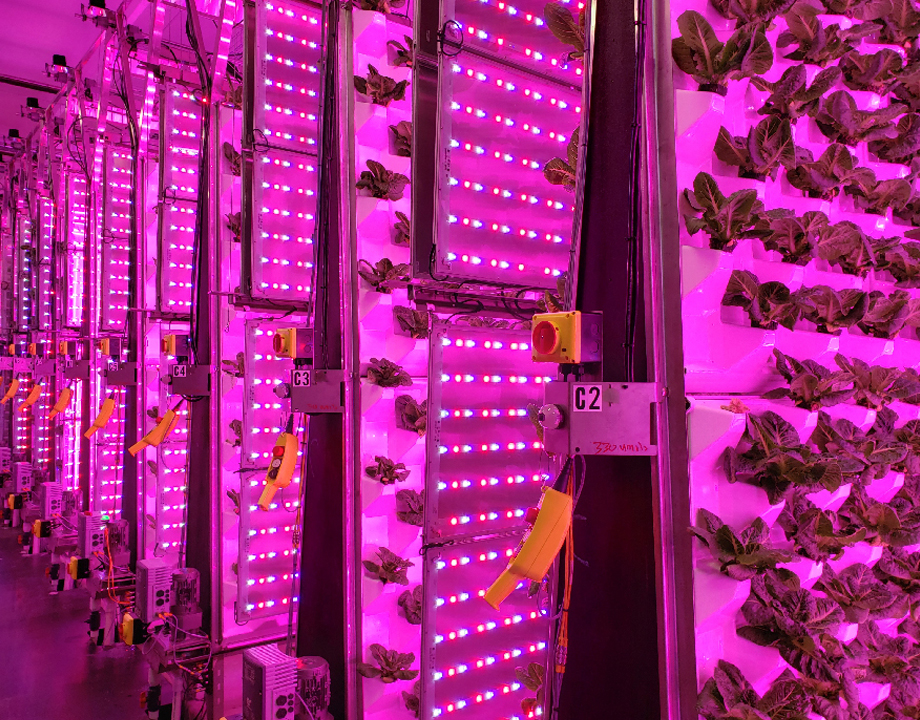 Living Greens Farm in Minnesota uses a traverse system with a 16-foot energy chain, manufactured by igus, that provides plants with a consistent supply of nutrient-rich water. Photo: igus
The future of farming can be found in Faribault, Minnesota. It might be one of most unlikely communities on the planet for such an important transition to occur.
The community of about 23,00 residents, which sits 50 miles south of Minneapolis, averages 45 inches of snow per year – 17 inches above the national average. The city extends across 15.67 square miles, but only .35 miles of that area is water. The number of sunny days (192) is far below the national average (205), and annual inches of rain (34) is also below the national average. Conditions for growing produce are certainly less than ideal.
But a 7,000-square foot-building in the Faribault Industrial Park holds an example of future farming. Living Greens Farm couples aspects of technology, agriculture, and science to produce fresh salads, microgreens and herbs.
With the addition of a new grow room in 2019, Living Greens Farm raised the total space of its aeroponic farm to 60,000 square feet. By growing vertically, Living Greens Farm uses 98 percent less land and 95 percent less water than traditional growing methods. The
company's vertical plane design
is the first of its kind and is more efficient than other aeroponic growing methods, and decreases labor by up to 60 percent.
After nearly a decade of research and development, Living Greens Farm and its aeroponic are poised to take advantage of advances in automation to help feed a growing population that want more organic products despite decreased land availability. In the long run, the example could bolster shortages in global supply.
Editor's Pick:
5 Ways to Make Roads More Sustainable
"We whole-heartedly believe indoor/vertical farming is the path forward for agriculture," said Nate Klingler, vice president of business development for Living Greens Farm. "Demand for food is growing, and demand for safe, delicious, and healthy food is growing at an even faster rate."
Rising Global Demand, Population
In 2016, a report from the World Health Organization said global hunger
affected 815 million people
, or about 11 percent of the world population. Violent conflicts and climate-related shocks resulted in an increase of 38 million more people fighting food security.
Fallout from COVID-19 further illustrated the world's issues with food security. The coronavirus disrupted the world supply chain, and the United Nations urged governments to take immediate measures. "Unless immediate action is taken, it is increasingly clear that there is an impending global food emergency that could have long-term impacts on hundreds of millions of children and adults,''
U.N. Secretary General Antonio Guterres said.
Further straining the world food supply is a fast-growing population. The world population is expected to grow by another 2 billion people by 2050. Some theories indicate agricultural production will need to grow by
at least 70 percent over the next 30 years
in order to keep up with food demand.
As the population grows, however, farmland is decreasing. In the United States, there were 4 percent fewer farms in 2012 than in 2007, continuing a long-term trend. A 2017 report found a two percent drop in acres of land in farms, with 34 states experiencing a reduction in land in farms.
The age of farmers
is also disconcerting. There are more than six times as many primary producers age 65 and older as primary producers 34 and younger.
The pandemic exposed the fragility of the global food supply, and the danger if dramatic steps are not taken. "We've never seen anything like this before,'' Arif Husain, chief economist at the World Food Program, said in in an
article in the New York Times
. "It wasn't a pretty picture to begin with, but this makes it truly unprecedented and uncharted territory."
Growing Up
While a nascent industry, vertical farming is growing rapidly. Business Wire reported vertical farming values in the United States are expected to reach $3 billion by 2024, growing at a compound annual growth rate of 24 percent through 2024.
Urban farms have been established in Cleveland, Chicago, New York, and other U.S. cities, but the nation is not alone in seeing growth in the industry. Canada and Mexico are also seeing promising vertical farming ventures.
China is investing heavily
in vertical farming, and Emirates Airlines in Dubai is investing $40 million to build the world's largest vertical farm. When complete,
the farm will equal the output equivalent of 900 acres of farmland
in a 130,000-square-foot building.
Vertical farming is also booming in many other land-scarce nations. Japan has
approximately 200 lettuce factories,
but that number is expected to double by 2025. Singapore, which has the
world's third-highest population density
, has more
than 30 vertical farms
. There was just one in 2012. In
Singapore's 724 square kilometers
, only one percent of the land area is used for agriculture.
Reader's Choice:
Making a Greener Catalyst
"Whenever I talk about food security in Singapore, I tell folks don't think land – think space,'' Paul Teng, an agriculture professor at Nanyang Technological University told Reuters. "Because you can grow upwards and sideways."
Vertical farming businesses develop their own science and mechanical equipment for growing crops. Most use aeroponics, a process in which crops are grown in vertical stacks without the use of soil. The plants are sprayed with nutrient-rich water.
"Our products are grown indoors in exceptionally sanitary conditions away from all dangers that can cause foodborne illness," Living Greens Farm says. "No birds, canal water, insects, animals or the like are allowed in. The result? Beautiful, safe and delicious salads."
Finding the Perfect Balance
In the Living Greens Farm system, plant roots remain in the air 99.9 percent of the time and thrive under the perfect balance of light, air, humidity, and nutrition. "That opens up a lot of possibilities – including the fact that frozen ground during the winter is no longer an obstacle,'' the company says on its website.
Founder Dana Anderson, a former financial adviser who worked on farms as a Minnesota youth, was inspired by a NASA study that sought methods for growing plants in space. He started developing the technology in the garage of
his Minnesota home
, and the company officially launched in 2012 in the Faribault Industrial Park.
More for You:
Six Technologies that May Reshape Medicine
"We didn't invent aeroponics,''
Anderson said
. "But we invented how to commercialize it. We feel aeroponics is the fastest and most disease-resistant way to grow."
The irrigation is controlled via custom developed software that controls all aspects of the farm. Everything from temperature and humidity, to wind speeds, light levels, and water amounts is controlled, eliminating weather vagaries. Anderson and his investors put up about $5 million into the research and development side of the business.
"Living Greens Farm was a science and engineering operation for many years while we worked to make our proprietary aeroponic grow systems commercially viable," Klingler said. "There were many challenges along the way. Many different versions of the systems were developed, tried, scrapped, or refined. That went on for years."
Water at the farm is distilled and treated to provide the plants what they need to thrive in a "spa-like" environment, Klingler said. "We use inorganic salts to enrich our water. Using inorganic salts allows our growers the ability to choose the individual components the plants need to survive and thrive," he explained. "Inorganic salts also enable the plants to be able to obtain the nutrients they need in the specific ionic form they prefer. Organic nutrients tend to be in a more basic form and the plant then has to expend energy to convert the organic nutrients into the form they need."
Patented Traverse System
Another critical component to the Living Greens process is a traverse system that includes a 16-foot energy chain manufactured by igus, the Germany-based manufacturer of motion plastics. The company runs its North American operations out of Providence, R.I.
The H4-32 energy chain from igus is frequently used in applications that require high speeds and/or accelerations, when quiet operation is required, and for long travels. It is also used in applications where high fill weights are needed, precisely the case with Living Greens.
A water line is set into the energy chain, and the system runs 24 hours a day and 7 days a week throughout the year. Living Greens has 74 traverse systems in place at its Minnesota location, and 12 more at a sister farm. Klingler said the company is also working to license its technology to people interested in starting their own farms in Europe, Asia, and Africa. Each energy chain disperses 130,000 gallons of water each day, about 5,417 gallons per hour.
"There are many moving irrigation systems for field crops and it's easy to understand when you see irrigation systems moving across a cornfield,''
Anderson said
. "But what we own is a moving irrigation system for roots that allows for fewer nozzles and improved reliability. Instead of installing hundreds of thousands of nozzles in a full-scale facility, we just have to install hundreds."
Charles Jaskolka of igus, who recommended the energy chain, said the chain acts as a guide to keep the water line in place so it does not wander or get caught in the structure. "The benefit of an automated system is that it allows for better coverage when watering the plants," Jaskolka said. "It also doesn't over-saturate the plants because they get a dousing of water briefly and the water has a chance to soak in before they get their next drink."
Klingler said developing the traverse system was one of the challenges in the company's development. "We were working in a very small space," he said. "The carriage needs to travel a relatively lengthy distance with a heavy water line. The main feature that we liked about the igus energy chain was that we could incorporate water hose protection. Water is very important to our operation so protecting that source during delivery was essential."
Energy chains from igus are used in a wide range of applications. The dry-running chains require little maintenance and resist dirt and debris. Engineered composite plastic materials from igus are designed with base materials, fibrous reinforcements and solid lubricants that eliminate the need for external lubrication.
Less Space, Healthier Products
Each grow system at the Minnesota facility equals about one acre of traditional growing. At its 40,000- square-foot farm, Living Greens is capable of growing the typical yield of a 50-acre plus farm.
Its products are also unexposed to contaminants, such as birds flying overhead, dirty farm equipment, farmworkers with unwashed hands and polluted water. The operation uses no pesticides, herbicides or GMOs. In 2019,
companies recalled romaine lettuce
for the second straight year due to dangerous
E
.
coli
bacteria contamination concerns.
"Our team is obsessed with consistently producing the freshest and healthiest lettuce and micro-greens made on the planet,'' said Ken Sourbeck, general manager.
Products also arrive at grocery store shelves quickly. Living Greens products are sold at stores in the upper Midwest, and can be on shelves the same day they leave the facility. Some produce in Minnesota grocery stores is shipped from California, requiring up to two weeks of travel time. "It can save several hundred thousand miles of shipping, saving over 35,000 gallons of diesel and nearly a million pounds of CO2 emissions," Anderson said
when the company opened its third grow room
in 2019.
As urban density increaes– the
U.S. Department of Agriculture
expects 66 percent of the population to be living in urban areas by 2050 – delivering fresh produce to major cities figures to be an even greater challenge.
The company has already seen astonishing growth.
The American Business Awards
reported company revenue grew 400 percent in 2018, with a 99 percent food safety audit score. The company has four patents, and many more on file.
The decline of traditional farming in the United States has extended for generations and continues unabated.
Chapter 12 bankruptcies
were up 50 percent in the Northwest from July 2018 to June 2019, and up 12 percent in the Midwest. The U.S. lost 12,000 farms between 2017 and 2018.
While traditional farming declines, vertical farming is ramping up quickly. With its technology in place, Living Greens Farm is ahead of many others in the rapidly evolving business. "With dwindling amounts of land that can be used for farming, as well as the decreasing amount of clean water available for farming it just makes sense," Klingler said. "Living Greens Farm plans to play a big part in this path forward and is excited to see what the future holds."
Dan Thompson is the product manager of energy chains in North America for igus.
Related Content