Engineering Thrills from Cedar Point Rides
Engineering Thrills from Cedar Point Rides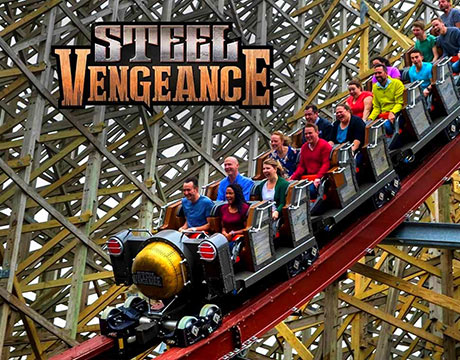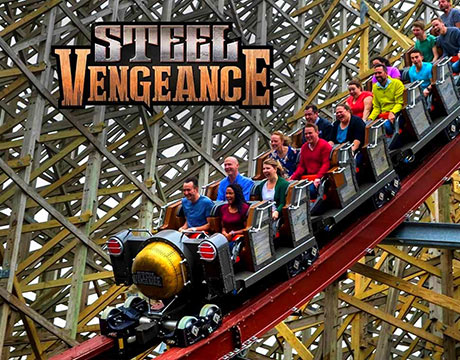 Steel Vengeance is a Hyper-Hybrid roller coaster located at Cedar Point, in Sandusky, Ohio. Image: Cedar Point
Cedar Point theme park's newest attraction is Steel Vengeance, a thrilling adrenaline-inducing steel-on-wood roller coaster that has a 205-foot initial drop, four inversions, and 30 seconds of airtime, making it the tallest, fastest, and longest hyper-hybrid coaster in the world.
Matt Schmotzer, a systems engineer at Ford Motor Company and rollercoaster enthusiast, has succeeded in 3D printing a fully functional model replica of Steel Vengeance in his garage.
"Some people have model train sets and I have roller coasters. I do this as a hobby to continue innovating outside of the workplace," Schmotzer said. "The maker movement inspired me to take anything in your mind and create it. 3D-printing helps you achieve that goal."
ASME's Top Story: 6 Ways Engineers Heal a Broken Heart
Schmotzer first decided to combine his deep passion for roller coasters and 3D printing when he was enrolled as a graduate student in mechanical engineering at Purdue University, where he built a 1:25 scale 3D-printed replica of the Invertigo roller coaster at Kings Island amusement park in Ohio.
"I have actually made three other static roller coaster models previously out of balsa wood, hot glue, and plastic tubing," he said. "This was my first project that I designed entirely in CAD to be built using additive manufacturing."
Schmotzer designs the rides using the NoLimits roller coaster simulator.
"The simulator is pretty much similar to a video game, but it has a great function as you can export the ride layout into XYZ data points that can be brought back into Solidworks," Schmotzer said. "The software helps me make the skeleton into an assembly that can then be 3D printed, laser cut, or CNC milled."
Listen to the latest episode of ASME TechCast: Breakthrough Could Bring New Cancer Treatment
In a real roller coaster there are cement footers that hold the support structures.
"I took the plywood sheets and cut the holes out for the footers in a machine laser," Schmotzer said. "Then I build the support structures made from 3D-printed joints. The track which holds the rails is also 3D printed."
He uses different kinds of 3D printers to turn his ideas into reality.
"It comes down to resolution and build volume," he said. "The track pieces get quite large so I use the LulzBot, as it has a large build volume. Formlabs is used for high-res parts that I need for the trains. Each machine has its purpose." He also uses Arduino microcontrollers to control the DC motors.
More 3D Printing Applications: Solving World Hunger with 3D-Printed Food
Schmotzer's latest project is Batman the Ride—a series of roller coasters based on the 1989 superhero film. With 86 track sections and more than 128 supports each, the part creation took about 400 hours. Once ready, the roller coaster was assembled onsite at Solidworks World 2019, and soon drew attention of the attendees.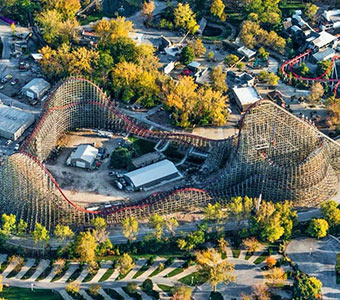 "With Invertigo, each of the 33 track sections took 12 hours to print, so the entire track took over a month to create," Schmotzer said. "On Batman the Ride there are 86 sections of track, more than double that of Invertigo. So my wife, a computer scientist, combined a series a macros with an executable file to automate the track-splicing process. What used to take three weeks of manual effort on Invertigo is now just a button click on Batman the Ride."
So which ride will he build next? Schmotzer is working on his favorite, Millenium Force, at Cedar Point. He also wants to display his models at the Maker Faire and see if he can get more people interested: "A lot of my followers are kids who want to design roller coasters and things like these keep them excited in engineering."
Register today for ASME's Offshore Wind Summit to learn about the latest technologies, opportunities and supply chain strategies from leaders in the oil, gas and wind energy industries.
Read Latest Exclusive Stories from ASME.org: Game Theory Helps Robot Design Five Job Interview Questions Young Engineers Can Expect Penn Engineering Creates Super Strong Porous Metal
Some people have model train sets and I have roller coasters. I do this as a hobby to continue innovating outside of the workplace. Matt Schmotzer
Related Content