Low-Tech Solutions Fight Hunger
Low-Tech Solutions Fight Hunger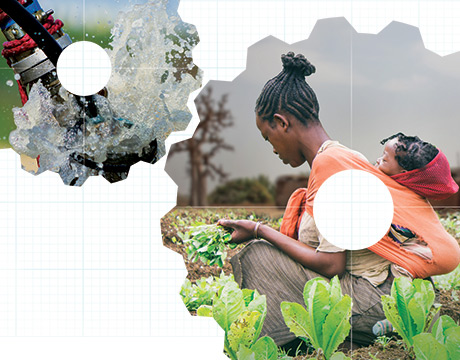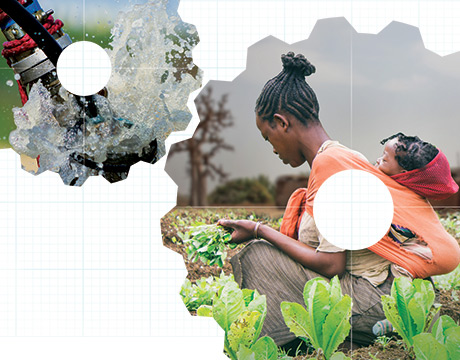 Hamid Oubir lives with his family in a small village in northern Morocco. To sell his produce in the market, he has to make his way to the nearest town early in the morning several times a week. If Mr. Oubir wants to prevent his fruits and vegetables from getting spoiled, he needs to make three-hour treks by foot to reach the market. Each time he leaves his field to go to the market he loses money, both in time spent and the cost of travel.
Many families in rural areas face the same challenges as Hamid. In developing regions, a quarter of the grains and more than half of the fruit and vegetable crops are damaged due to poor conditions for storage and processing. This is why comprehensive rural development and sustainable agricultural production play a key role in the fight against hunger. However, the lack of access to water and electricity, as well as the absence of facilities to store their produce, makes it hard for farmers like Hamid to reduce decayed produce and to provide adequately for themselves and their families.
For You: Insight from Human Sight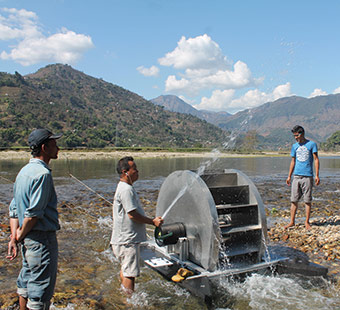 Simple technological innovations can play a key role here. Startups by social entrepreneurs and university spin-offs are developing interesting solutions around the world. For example, small farmers could store their produce over the long term using simple refrigeration or silo solutions. With storage, the crops could sell more profitably at a later time, and the farmers could continue feeding their families even after the harvest period. This was the inspiration behind Spencer Taylor's Evaptainer—an electricity-free mobile refrigeration technology that keeps food fresher, longer, and costs less than $30.
Hamid Oubir tried out these simply designed coolers. After using the Evaptainer for a short time he reported that he was able to save 4-5 percent extra each month. Not only did Evaptainer help keep his produce fresh for longer but also the time he was able to save had a positive impact on his life and productivity.
This example shows the impact that simple technologies can have on everyday life in developing regions and how hunger can be fought over the long term in small but sustainable steps. Thus, helping people to provide for themselves and to make the most of what they produce.
The Siemens Stiftung's empowering people network pursues the aim of finding social entrepreneurs with promising, sustainable and low-tech solutions—like the Evaptainer—to connect them with peers, promote them sustainably and make them visible to potential partners. An essential aspect involves making the best possible use of local resources and supporting local small businesses in developing a promising corporate strategy.
The network database comprises some 100 tested solutions in nine different categories, from renewable energy to information technologies and education to recycling, water saving, and health. Another focus is on agriculture, with many of the inventors and developers confronting the hunger problem in developing regions.
The agricultural solutions within the network extend along the entire agricultural process chain—starting with irrigation technology, which can double the yield if not increase it fivefold. Here, for example, the Barsha Pump makes a valuable contribution. Using the 1.5-m high waterwheel, it can pump up to 40,000 liters of water per day to higher elevations. The drip irrigation system from EOS is a low-cost alternative to expensive trickle irrigation. To reduce costs, EOS has replaced commercial components of the irrigation system with affordable everyday items. For $20 the system can irrigate 50 square meters of farmland. This solution is already in use worldwide.
Half the world's arable land is farmed by small-plot farmers. Their needs, challenges, and working conditions are a key starting point for long-term positive changes. This is precisely where social enterprises using simple technologies make a difference every day, enabling farmers to work more efficiently, act more independently, and improve the living conditions of their families and communities.
Rolf Huber is managing director of the board at Siemens Stiftung.
Read More:
3D Printing Trains Bomb-Sniffing Dogs
10 Ways GDPR Will Affect Engineers
Robots Make Self-Repairing Cities Possible
Related Content