Fully Autonomous Drone Helps Gold Miners
Fully Autonomous Drone Helps Gold Miners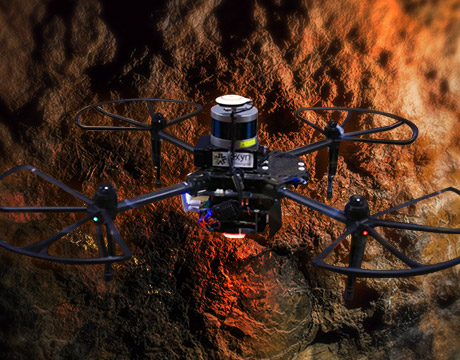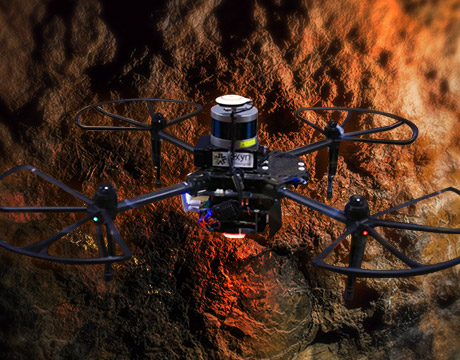 The Exyn A3R is the first fully autonomous aerial system for data collection in GPS-denied environments. Drone image: Exyn
Deep under the old Balkan Mountains, quite ordinary looking drones are exploring a gold mine in a most unordinary way—without a prior map, without a human pilot, without any communications. There are no beacons, no markers, and no GPS to guide them.
Advanced Autonomous Aerial Robot, or A3R, developed by Exyn Technologies, takes off from the dimly lit mine shaft entrance and drifts with determination down the pitch dark stope. It returns in 10 minutes with a 3D map of the active cavity.
Dundee Precious Metals, a Canadian-based international mining company, is the first to take advantage of this fully autonomous aerial system for data collection in GPS-denied environments. Its Chelopech underground mine in Bulgaria has been in development since the 1950s. Dundee took over the bankrupt state-run mine in the early 2000s and now extracts more than 2 million metric tons of mixed copper-silver-gold ore from it each year.
Read ASME's Top Story: Air Taxi Aces Test Flight
Today's mining operations are becoming more digitized and automated and the A3Rs are part of that trend.
"The Exyn A3Rs allow frequent and high-resolution mapping of underground environments while reducing risks to personnel," said Theophile Yameogo, vice president of digital innovation at Dundee Precious Metals. "We are very excited at the results of the maps we are seeing."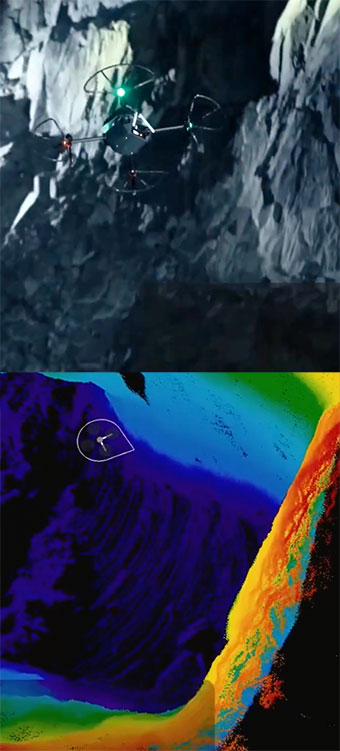 At Chelopech, gold is extracted using something called the "long-hole open stoping fill method." It involves blasting and creating holes as deep as 100 meters. New stopes, or active cavities, are created daily, posing a challenge for mining engineers who have to continuously map and survey these areas.
Instead of exposing flesh-and-blood engineers to the dangers of exploring and mapping mines, Exyn's aerial robots can do a lot of that work for them. They are also improving data quality and efficiency.
A3Rs come with a number of onboard sensors, including 3D Lidar, high-resolution cameras, lighting, and inertial sensors, to generate an understanding of itself and the surrounding environment. The true power of the A3Rs come from its onboard processor software, exynAI, said Nader Elm, Exyn's CEO.
"The robot is made entirely with COTS (commercial off-the-shelf) components," he said. "We can put our technology onto vehicles with two-hour mission life or smaller ones with 10-minute mission life, depending on the mission requirements."
Read about other Robots Going to Areas Where Humans Can't
With so much on-board technology, the robot only needs human involvement to define the mission before flight. The robot takes care of the rest.
"This is higher order level of thinking and sophistication of robots," Elm said.
Elm explained that A3R understands its location just like humans do when blindfolded: By exploring the area around it, it starts to sense the environment and its relationship to it. As it moves arounds it builds a 3D map, and it makes decisions about an optimal and safe path to complete its mission, figuring it out as it flies. It gets a feedback loop and adapts and optimizes, just as humans do unconsciously when walking. The drones can safely avoid collisions with both stationary and moving obstacles, while simultaneously localizing and mapping in real-time.
Once human operators send A3Rs on a mission, giving them a general direction and distance to travel, drones can do the rest themselves, establishing map points along the way. As a precaution, a human operator has to include a contingency policy, a preset decision whether the aerial robot should return home, hover in place, skip exploring somewhere it can't get to, or land.
Read about a Drone that Deploys in Just Minutes but Flies for Hours
When the A3R is within communication range, it shares collected data and can export high-fidelity maps to mine-planning software. The A3R also uses those sensors to perform in real time.
"There's no reason why we can't adapt a mission to what the robot finds out, like in a first responders situation," he said. "It can map a mission, track surroundings, and react to that data in real time—autonomous vehicle and edge computing in one."
Exyn and the University of Pennsylvania, where the project was initially developed, have been chosen to compete in the DARPA Subterranean Challenge, a contest designed to develop innovative technologies that augment underground operations. Penn and Exyn are among nine teams chosen to develop new approaches to rapidly map, navigate, and search underground environments, all for a grand prize of $2 million.
Daria Merkusheva is a technology writer based in New York City.
Read Latest Exclusive Stories from ASME.org: Lighter Axle Reinvents Drivetrain. Does Detroit Care? Engineers Making Waves in Aquaculture Solving World Hunger with 3D-Printed Food
This is higher order level of thinking and sophistication of robots.Nader Elm, Exyn CEO
Related Content