YouTube Star Goes Viral with Glitter Bomb, Part 1
YouTube Star Goes Viral with Glitter Bomb, Part 1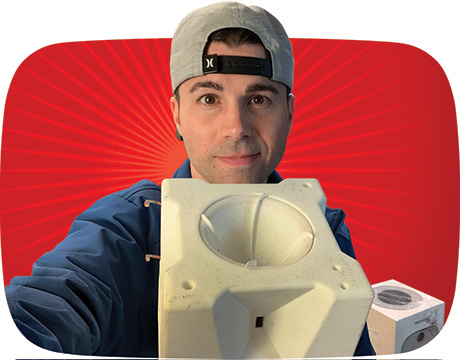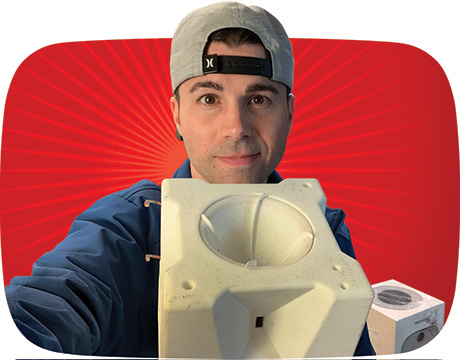 Ex-NASA engineer makes 'glitter bomb' to get revenge on porch thieves. Image: Mark Rober
Mark Rober was fed up. Packages delivered to his Northern California home began disappearing from his doorstep.
So the mechanical engineer with a mischievous sense of humor, a talent for making cool videos, and a popular YouTube channel, exacted what he called "engineering revenge."
He built a "glitter bomb"—a booby-trapped fake package—and left it on his doorstep for thieves to steal. When the unsuspecting criminal opened the package, it smothered them with a pound of glitter and lots of foul-smelling spray. The glitter bomb also housed four hidden smartphones, which tracked the package via GPS, and recorded the thieves' reactions getting pranked.
But Rober didn't keep their humiliation to himself. He shared it with the world.
The result was, "Package Thief vs. Glitter Bomb Trap," a slick video that Rober wrote, narrated and produced. It used security cameras to show thieves, sometimes wearing backpacks, grabbing the package. The smartphones in the device caught their reactions when they were sprayed with glitter and the spray after opening it.
Listen to ASME Techcast: Renewable Energy Experts Shine Light on Solar Farms and Grids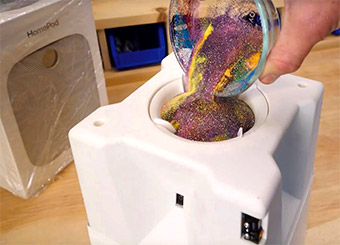 Rober posted it on YouTube in mid-December. Within one day, it garnered nearly 12 million views. By late January, nearly 54 million people had seen it. It also aired on CBS Los Angeles's evening news, thanks to a family member who is one of the anchormen. In roughly one month, his subscribers skyrocketed by nearly one-third, to six million.
"That's the cool thing about being a mechanical engineer," Rober said. "If you have an idea, unlike most of the people in the population, you have a much better opportunity to build something physical that achieves a task."
The glitter bomb certainly did that, surprising and shaming local package thieves. Yet it is only the latest success for Rober. Over the past seven years, he has parlayed his penchant for complex and zany devices—and slick videos that explain how they work—into a career as a celebrity YouTube personality.
It was a surprising turnabout for an engineer who had spent years equipping Curiosity Rover for Mars.
Editor's Pick: How Engineers Can Resolve Conflict and Save Their Business
The 39-year-old California native's love of mechanical engineering started with high school physics, where he learned nature was predictable, understandable, and followed a natural order that could be explained through mathematical equations. He loved physics so much, he still dreams of returning to it as a teacher. But Rober chose to pursue mechanical engineering because of the way it embodied those natural laws.
"I just feel that what you see is what you get," he said. "You can actually see the equations in action as physical things you can touch."
He earned an undergraduate mechanical engineering degree at Brigham Young University's Ira A. Fulton College of Engineering and Technology and joined NASA's Jet Propulsion Laboratory in Pasadena, Calif., in 2004. While there, he earned a Master of Science degree in mechanical engineering from the University of Southern California.
JPL's creative environment ignited his own creativity, Rober said. His job was designing mechanical parts and instruments on CAD systems and testing them for projects such as the Curiosity Mars rover.
But it was rats—dead rats, specifically—that prompted one of Rober's first inventions.
Rats lived under the building Rober and his boss worked in, and the animals would die in traps set for them. The potent smell would penetrate the building, so Rober wired the traps to his smartphone so it lit up to alert him when the animals got stuck, allowing someone to come and remove them right away, said Brian Okerlund, JPL's group supervisor for mechanical engineering and design.
It became clear to Okerlund that Rober was not your typical mechanical engineer.
"He's way out there," he said. "He was a very creative individual who brought a lot of fun to the workplace."
Okerlund encouraged him to take on more creative projects, such as leading technology seminars. "His enthusiasm was infectious," he said. "From that aspect, it was kind of hard to see him move on."
It was the zany, outlandish Halloween costume Rober built in 2011 that proved the game-changer, and the video he made about it launched his YouTube career.
Rober's costume was a T-shirt in which he cut a hole in the middle of the front of, and another in the back, both the size of an iPad screen. He taped one iPad to the inside of each hole, then FaceTimed the two iPads with each other. With their cameras pointing outwards, the effect made it look like you could see through the shirt. Rober painted fake blood around the large holes and the "iPad 2 Halloween Costume-Gaping Hole in Torso" video was born. More than 8.2 million viewers have seen it on YouTube.
"That was just an idea I had that I thought was cool, and it went pretty viral," Rober said. "I thought that was a pretty cool feeling and I decided I would make monthly videos. That was seven years ago. And I've literally made one video a month since then."
The success led him to launch in 2012 his technology-based costume company Digital Dudz.
First-month sales reached $250,000, Rober said. The costumes were sold in the United States and Canada. One year later, Rober sold it to Morphsuits, a Halloween costume company in the United Kingdom, for an undisclosed price.
Rober left JPL that year to work as a creative designer for Morphsuits. Two years later, he took an R&D job with a Silicon Valley technology company as a new products creator/designer. He would not name the company because he agreed to keep it confidential upon accepting the position.
Rober's inventions are typically mechanically complex: a dartboard that moves to catch or avoid a player's darts (which took three years to build); a rock-skipping robot; a lemon-powered car. But there's a zaniness to them too, like something out of a child's fantasy: the world's largest super soaker, a snowball machine gun. They come alive in Rober's slick videos, which he writes, shoots, narrates, and edits to tell how he built each invention.
Their combination of wild exuberance and deep technology have earned him guest appearances on Jimmy Kimmel Live, two TEDx talks, and a slot as a host on Discovery's Science channel.
"I really do get as stoked and excited about these projects, as it hopefully comes across on camera," he said. "I think that's what resonates with people."
Read Part 2 on how Rober made the glitter bomb.
Carol Lawrence is an independent writer
Read More Exclusive Stories from ASME.org:
Artificial and 3D-Printed Skin Advances for Robots, Humans
Markforged's Greg Mark on 3D Metal Printing, Additive Manufacturing
Universal Robots Grabs New York Stock Exchange, Manufacturer Attention
That's the cool thing about being a mechanical engineer. If you have an idea, unlike most of the people in the population, you have a much better opportunity to build something physical that achieves a task.Mark Rober
Related Content