Wind Farms Operate in the Cloud
Wind Farms Operate in the Cloud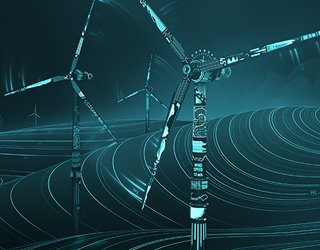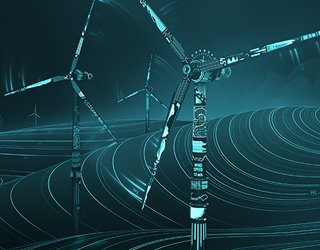 In addition to energy, wind turbines generate huge amount of data. The cloud is a great place to store and organize it in ways that keep the turbines running.
Wind turbines may not be tall enough to reach the clouds, but in a way, some of them are already in the clouds—the digital cloud. Researchers and developers are finding that cloud computing, which can store great amounts of data, can help turbines run longer and more efficiently. They're creating condition-monitoring systems in the cloud that use turbine operating data to predict when parts will fail or need maintenance.
That's important because wind energy in growing. It made up 7.2 percent of electricity generated in the United States in 2019, according to the American Clean Power Association. The U.S. Department of Energy forecasts that number may increase to 20 percent by 2030.
The growth of wind has brought with it an increase in the amount of data returned by wind turbines. Because cloud computing technology is a good solution for big data processing, it's a good solution for monitoring of the wind turbines, said Peng Qian, a professor in the mechanical, aerospace and civil engineering department at Brunel University in London.
He teamed with researchers at Brunel and at Ocean College and Jiangsu University, both in China, to create a wind turbine condition monitoring method based on cloud computing.
More on Wind Power:
Magnetic Transmissions Increase Lifespan of Offshore Wind Farms
Electric companies want to keep close tabs on turbine function because they can generate electricity for 20 to 25 years and run up to120,000 hours, according to Wind Europe, which makes turbines and promotes wind energy. In other words, they're always on, always needed.
Energy production stops for a turbine that is taken offline for repair or maintenance, said Laurent Rakoto, a data analyst at Performance for Assets (P4A). The Belgian company creates condition-monitoring systems for large pieces of equipment.
"Effective predictive maintenance could significantly help to extend the life and value of assets," Rakoto said.
Presently, many wind turbine owners have little insight into the condition of their machines or how well they're performing. In part, that is because while many energy companies have monitoring solutions that generate huge amounts of data, most of it goes unused, Rakoto said. Organized data can give wind farm managers early clues to turbines in need of repair or operating well below their maximum throughput.
Cloud computing provides sufficient data storage to make sense of the data and to track and monitor the condition of wind turbines in real time, Qion said.
Finding Something Amiss
P4A used cloud computing to brainstorm the creation of a condition monitoring system, which calls attention to broken parts and other predictive maintenance needs. That data will come in handy when buying insurance for the machines, as the insurer has a history of operating data to look at, Rakoto said.
"Our solution also makes it less of a risk for insurance companies to cover windfarm assets that are more than 12 to 15 years old, but still a few years from end of design lifetime," he added.
Editor's Choice:
Additive Manufacturing Poised to Remake Renewable Energy
The development team knew they would need the cloud to accommodate the big data and machine learning workloads. So P4A data scientists worked with IBM Garage consultancy in Nice, France, to build hybrid machine learning models able to detect and diagnose issues with wind turbine components—and predict how long the turbine will continue to operate. The solution collects and processes data from wind turbine sensors and combines it with weather forecast information using an IBM platform hosted in the cloud, Rakoto said.
Field technicians and managers will be able to use the P4A solution to find analytics results and visualize wind turbine data. The system will enable operators to detect small malfunctions within a turbine, he said.
"Even small changes to maintenance programs or machine settings can have a big impact on costs and revenues," Rakoto added.
With asset management systems like P4A's coming to the market and making use of the complex information returned by windfarms, you could say that wind energy really is heading to the clouds.
Jean Thilmany is a technology writer based in St. Paul, Minn.
Register Today for ASME Wind Digital Solutions Summit
Related Content