Additive Manufacturing Poised to Remake Renewable Energy
Additive Manufacturing Poised to Remake Renewable Energy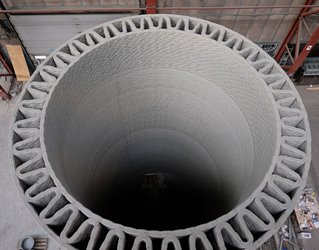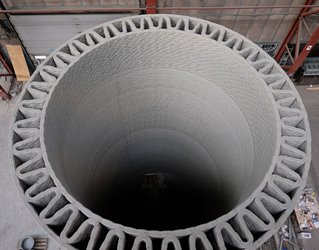 Companies are working to develop supertall wind turbine towers made from 3D-printed concrete. Photo: GE Renewable Energy
There was once a time when additive manufacturing (AM) was something of a curiosity. Today, it is a firmly established technology in medical devices, tooling, and other industries. AM is now starting to find applications in new fields, most intriguingly in energy.
For instance, small hydro, geothermal, and wind power systems have all seen significant opportunities to deploy components quickly and at lower cost. According to Brian Post, senior researcher in the DOE's Advanced Manufacturing Division at Oak Ridge National Lab (ORNL), they do "a lot of manufacturing for renewable energy research, especially in the area of additive manufacturing which has been a core focus for us over the last 10 years."
The lab has worked with several small hydro companies to print 10-foot-tall sand-casting patterns for the hydrofoils and spokes, as well as draft tubes, various support structures, as well as 3D-printed sensor fish to assess the impact of turbines on wildlife. And the Department of Energy is sponsoring the ongoing American-Made Manufacturing Prize Challenge, designed to "harness the rapid advances that additive manufacturing can provide in tool design, fabrication, and functionality," with a preliminary round of prizes going to groups involved in the 3D printing of frac plugs, backup rings, and high-temperature elastomers.
For more, attend:
The AM Industry Summit: Collective Intelligence for Additive Manufacturing
But the two areas in the energy field that have the biggest potential for additive manufacturing could be the largest renewable energy sources: wind and solar power. AM promises to bring down the price or increase the efficiency of these sources.
Wind Printing
The largest wind turbines feature blades more than 100 meters in length, which is far beyond the ability for AM to manufacture. While molds for such blades can be produced, makers of small-scale turbines, such as Hover Energy, which produces small vertical axis wind turbines, have been able to print components such as a 12-foot-long diverter.
Given the transportation challenge of moving components for large wind turbines, there is ample opportunity for AM to contribute. One initiative that is seeing interest is producing wind turbine towers and other structural parts onsite at wind farms.
While most commercial 3D printing involves metal and polymers, printing infrastructure would involve a more durable material: concrete.
Jason Cotrell, a former senior engineer at the National Wind Technology Center, is the CEO of RCAM Technologies in Irvine, Calif., which is investigating printing onshore wind turbine towers, foundations and floating platforms for offshore wind turbines, and other renewable energy infrastructure. The company's first product to hit the market is anchor sections for offshore winds platforms.
"Printing concrete offers several advantages," Cotrell said. "It reduces cost by eliminating labor through automation and cuts lead time by reducing tooling. But the technology also makes possible designs that can't be built using traditional concrete-casting methods."
Listen to Our Podcast:
NREL's Walt Musial Talks Offshore Wind
For example, RCAM prints spiral channels into its concrete anchor sections, into which tendons—prestressing steel cables inside plastic ducts or sleeves for post-tensioning—can be inserted.
For producing towers, which in some cases can reach more than 200 meters in height, the company envisions automation to assist in the printing. The company is developing robots that can climb up the tower as they print it, then descend once they complete the job.
Other companies are pursuing printed wind towers as well. In June 2020, GE Renewable Energy, COBOD, and LafargeHolcim announced a three-way partnership to develop record-tall wind turbine towers using COBOD's concrete printing technology.
Multi-Dimension Solar
The current generation of solar cells are made of silicon crystals, but additive manufacturing could help spur a new burst of technological innovation in this industry, too. Early experiments with 3D-printed solar cells were conducted at MIT a decade ago, where researchers printed semiconducting ink onto super thin layers of substrate, creating panels only 200 microns thick. Thin films solar cells are commercially available today, but they have struggled to gain market share.
One potential application for thin-film solar is in printing photovoltaic material on windows. Ubiquitous Energy in Redwood City, Calif., is developing these sorts of windows for residential and commercial use, depositing a thin layer of organic material onto glass to achieve a conversion efficiency of nearly 10 percent.
Another California solar start-up, Sacramento-based T3DP, is going in the opposition direction, working to make its photovoltaic cells fully three-dimensional. Producing solar cells via additive manufacturing provides an opportunity to dramatically increase surface area, without increasing footprint; Think of a multi-faceted gem or the compound eye of a fly. This is the approach being pursued by Daniel Clark, founder and CEO of T3DP, who has developed a 3D solar cell utilizing a patented volumetric 3D printing technique that cures objects in a single step rather than layer by layer.
Clark said his module can cut cost by a factor of three using perovskite, an organic-inorganic hybrid material prized for its potential to make low-cost yet efficient cells. The T3DP process, Clark said, "may also enable cells to produce three times as much power per area as a conventional cell and to work well in low light and at high incidence angles."
While the cells can use either perovskites or CdTe as semiconductors, Clark said the company has also developed a process to mold them from cryogenically molded glass. They are now working with Boston Micro Fabrication to commercialize.
R.P. Siegel is a technology writer based in Rochester, N.Y.
Register Today for ASME AM Industry Summit: Convergence of Aerospace & Energy
Related Content