Sailing Toward Autonomy: Future of Self-Driving Cargo Ships
Sailing Toward Autonomy: Future of Self-Driving Cargo Ships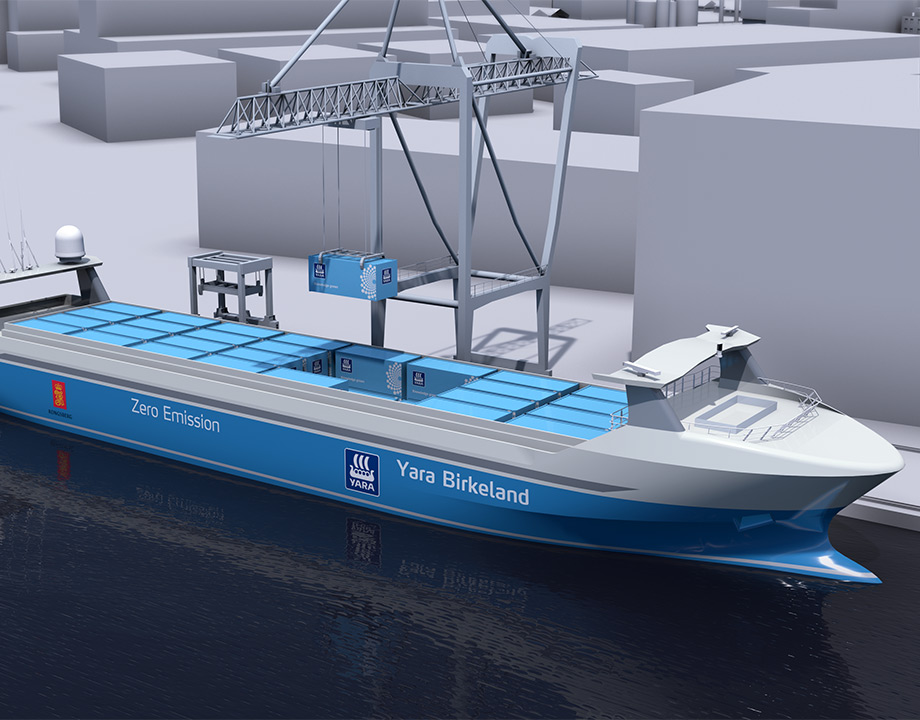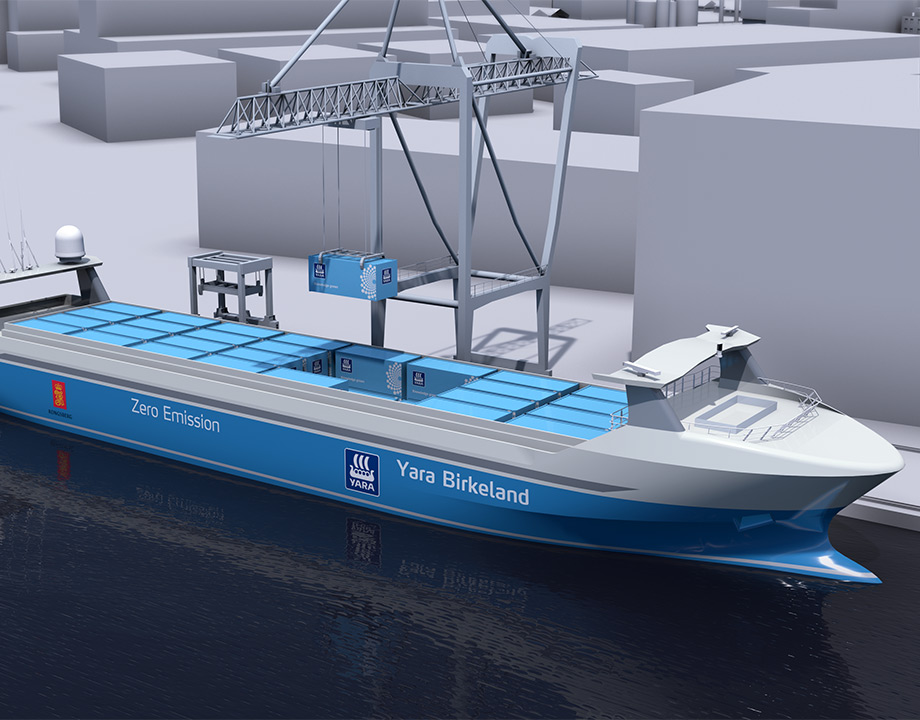 Yara Birkeland container ship will be the first fully autonomous, electric-propelled, zero-emission vessel. Photo: Mark Kane, Yara
The port of Rotterdam is Europe's busiest, with almost 30,000 seagoing vessels and 107,000 inland vessels plying its waters annually. One of those vessels—one of the smallest—now stands out as the port's first to be operated without guidance from its captain or crew. Last year, one of the harbor's ubiquitous water taxis was successfully fitted with sensor-laden, deep-learning systems, enabling it to operate without a captain at the helm, and usher in the first of a new generation of vessels.
"Big ports have big issues with traffic, and there are challenges in getting highly skilled officers," said Vincent Wegener, CEO of Dutch startup Captain AI, which partnered with the port to prove the technology. "If you can automate the process you can get a better flow into the port."
The advent of autonomously operated ships is just one step toward the port's transformation into a digital logistical hub. However, the concept is beginning to take hold in Japan and the United States, but primarily in Scandinavia. Some 1,300 kilometers north of Rotterdam, a fertilizer company is building what will be the world's first autonomously operated, zero-emission, all-electric container vessel to haul fertilizer to Norwegian ports for distribution.
The
Yara Birkeland
, a 120-TEU open hatch container vessel, will be 80 meters long with a 15-meter beam, powered by a 7-MWh battery. Yara International ASA conceived the idea in an effort to improve logistics. Currently the firm uses trucks, and lots of them, to get its product to ports. The firm says it puts 40,000 trucks on the road annually to deliver fertilizer from its plant in Porsgrunn, 140 km southwest of Oslo, to the nearby ports of Brevik and Larvik. Shipping the fertilizer 30 nautical miles south will take the trucks off the road, reduce noise and dust, and reduce emissions of carbon dioxide and nitrogen oxide.
Learn more about:
Flying Green with Hybrid Electric Planes
The effort doesn't come cheaply. Yara signed a $29.5-million contract to build the vessel, and plans to redesign its loading operations to perform automatically using electric cranes and other equipment. The heavy battery pack will act as permanent ballast, eliminating the need for dedicated ballast tanks.
Yara first looked at using conventional ships to eliminate trucking through residential areas, said Peter Due, Yara's executive vice president. Then it began to investigate an electrically powered ship, followed by autonomous operation.
"We are using autonomy as a tool to optimize energy usage," Due said.
Due came to Yara from Norway's Kongsberg Maritime, a marine technology firm developing autonomous systems. Kongsberg is collaborating with Yara to supply the systems. The public-private partnership includes Enova, a Norwegian government agency that promotes new sources of clean energy and energy-efficient practices. It provided a $15.2 million grant for the project.
"The first project is always expensive," Due said.
Kongsberg was a natural partner because of its experience in autonomous systems. The concept and the technology is not exactly new, he added, pointing to the development of autonomously operated underwater vehicles in the 1990s. "Technology matures over time and gets more sophisticated," he said.
Early Success
Kongsberg recently grew its autonomous marine business by purchasing Rolls-Royce Commercial Marine. Rolls-Royce in 2018 partnered with Intel to develop artificial intelligence shipping systems to enable autonomous navigation and ship operations. The firm successfully tested its systems last December in Finland using a car ferry to navigate autonomously on a route between Parainen and Nauvo on the Baltic coast. The voyage was monitored about 50 kilometers away at a control center in Turku by a captain who could take control of the vessel if needed.
Read more about:
Fully Autonomous Drone Helps Gold Miners
Yara Birkeland's
autonomy will be founded on Kongsberg's K-Mate system, a control system for surface vessels. It can be integrated using an electrical interface, and provides adaptive waypoint following for survey and autonomous operations while accepting sensor data for scene analysis and collision avoidance, according to the firm. It is designed to follow mission plans, in addition to providing global supervised operations or even direct operator control for complex tasks.
Due says the system is a building block, good for smaller surface vessels but inadequate for larger ones. The automation system for a bigger ship is more complex, with a need for additional fusion of sensors. When the ship is commissioned next year, it will initially operate with a crew while testing and shakeout is done. By 2022 it will move to fully autonomous operation.
The primary issues are safety and robustness of the systems, he added, and that depends on the vessel's mission.
"If it is a regular merchant vessel for short-sea shipping, you don't need the same robustness as an ocean-going vessel," said Due.
Yara Birkeland
is the first example of such a short-sea ship, as it will operate in protected waters on a set, predetermined course. Autonomy brings efficiencies, Due said, and will eliminate the vagaries of human control in tasks such as course correction or docking where additional thrust means burning of additional fuel. It all adds up, he added. "Margins are low in the merchant fleet. If it's 50 cents cheaper to send goods with another company, the manufacturer will change the [transportation] supplier."
In Oslo, Kongsberg worked with a local operator to test autonomous control on ferry crossings. "If you can reduce costs on every crossing, reduce energy usage, wear and tear, it all adds up," noted Due. "At $100 per crossing, it adds up to about $3.6 million per year savings."
On Norway's west coast, tucked into fjords and protected waters, another ferry successfully sailed on a three-stop route using autonomous systems developed by Finnish marine and energy firm Wärtsilä.
The auto ferry was fitted with hybrid propulsion and a wireless shore connection capable of fully electronic operations, and a vacuum docking technology using suction to keep the ferry at the dock.
"It's a new application for existing technology," said Iain Huntly-Playle, director of engineering for Wärtsilä Dynamic Positioning Inc. "We're [using] our existing controller that's already been debugged."
The controller controls position and speed on a predefined track. "The ferry movement is defined by track and waypoint," he said. "You set up a sequence of tracks; in Norway it is one dock to the next dock. The controller reads the first waypoint, receives instructions, and picks up the next waypoint."
The autodocking function is based on Wärtsilä's work in offshore oil exploration and development. Because deep-ocean drilling rigs cannot put down an anchor in deep water, they use computer-controlled thrusters to keep the rig stable while drilling. The same concept was adapted for autodocking and technical maneuvering such as executing a 180-degree rotational turn. Huntly-Playle says the ferry was fitted with a wide array of sensors to account for wind, pitch and roll, obstructions, traffic, and other items needed to efficiently control the vessel. It also includes the firm's secondary positioning sensor protected with cyber security to allow the vessel to continue approaching the berth should the GPS signal be lost. But it is not driven with artificial intelligence.
Safety and efficiency are driving development of autonomous systems, Huntly-Playle said, but cautioned, "This is only step one."
Startup in Port
In Rotterdam, Captain AI is working with the port to demonstrate an autonomous system in more heavily trafficked water. In contrast to the systems developed by large marine technology companies, Wegener says the startup has been working with the open-source community while taking advantage of the port's facilities to develop its system.
Editor's Pick:
The Future of Electric Trucks Is Now
"There's a high entry barrier for small startups like us," he said. "You have to have access to boats, and be authorized to do the testing. Here, the port authority opened up an ecosystem for startups."
Scouring the open-source community and autonomous automotive research for artificial intelligence, coding, sensors, GPS systems, and other items was key to developing its software, he said. "There's a big community in the academic world. There's a lot out there that can be used."
Perhaps more important was access to a computer simulator where they could train on what is basically a digital twin of the vessel, simulating various water, wave, and traffic scenarios, gathering data to be fed into the control system. The simulator includes specifications for ports around the globe as well as a wide range of vessels. The wide range of vessels and the conditions in which they operate are very realistic and fed into Captain AI's model. Using artificial intelligence, the system could predict ship movements and suggest or implement the best course to avoid collisions.
In one way, Wegener says autonomous ship systems have an advantage over those for cars and trucks. Every vessel is required to have an automatic identification system, which sends a location signal every five seconds. "It's useful for us to know which ships are heading our way," he said. "Cars don't send out signals."
After the successful ferry test, the port has converted a patrol boat into a floating lab, fitted with sensors and equipment to measure and monitor weather, water conditions, and ship data on engines and other systems.
It will begin to test other applications, such as automatic inspection of quays or detection of objects, and be part of a port program to investigate the potential for coordination of land and water-based sensors used to develop a smart infrastructure network.
Retrofitting a ship for autonomous operation could be done for as little as $20,000 to $30,000, Wegener estimates, although the near-term market would consist of small, short-haul vessels. It would eliminate the need for a captain and crew and the bridge and quarters to support them, opening up space for additional cargo or passengers. It would also take some of the risk out of sailing in fog or dangerous conditions.
Obviously, autonomous operation will bring a host of operational changes to shipping. Multiple ships can be remotely monitored from a central control site, where a captain could respond to alerts, scanning the vessel through a series of cameras or even sending aloft a drone to view a particular area.
In the event of a serious situation, the ship could simply shut down and wait for instructions. The International Maritime Association is just now beginning to investigate safety conventions for when autonomous technology matures.
But that is still at least a few years away. Due thinks ocean-going vessels will continue to be crewed because of regulatory and labor issues. "It is only feasible on short-sea shipping where there's a relatively limited port stay," Due said. If there's a crew, it will be smaller and they will work limited hours. "You mitigate downtime by using autonomy," he says.
As the technology develops, it is likely advanced shipping will meld fully autonomous and remote-operated systems depending on the task of the vessel itself. But other questions must still be fleshed out, including how these systems would affect standing ruled of maritime liability and insurance. Industry executives believe all these issues will be resolved and as all the pieces come together, autonomous systems will redefine the maritime industry.
John Kosowatz is senior editor.
Related Content