Crawler Bot Tackles Turbine Blades
Crawler Bot Tackles Turbine Blades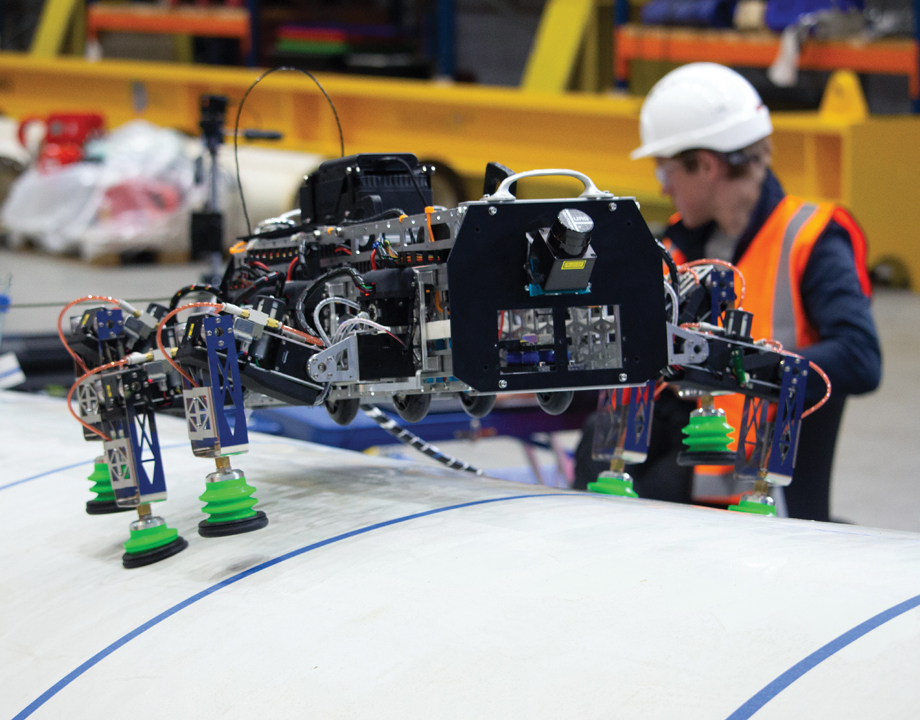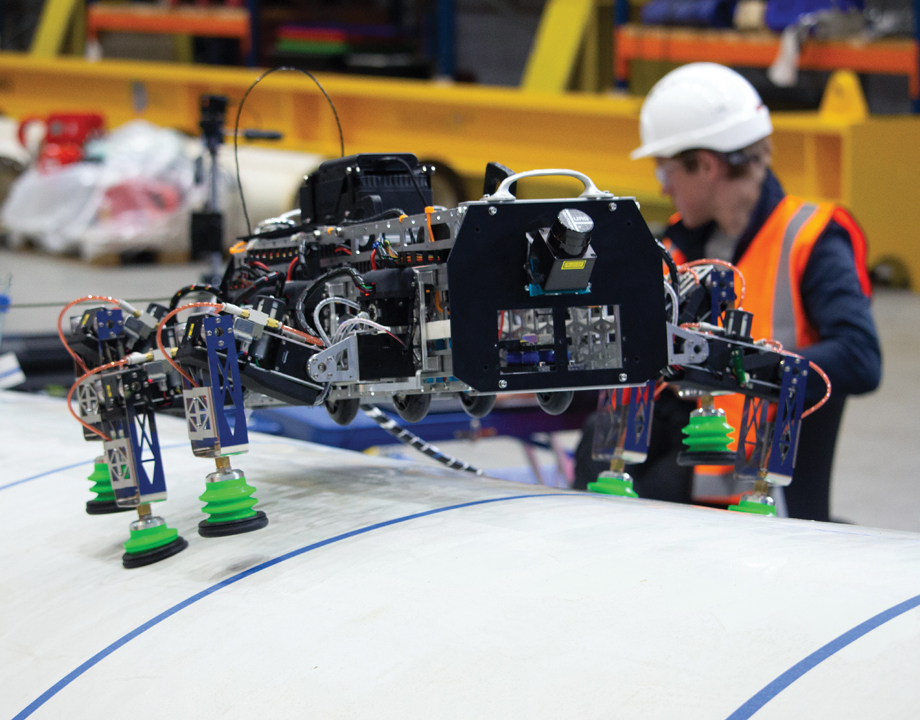 The BladeBUG inspection robot walks along a wind turbine blade. Photo: BladeBUG
Wind power is the fastest growing source of power generation around the world. Turbine blades are getting bigger as new machines come on the market, and much of the new capacity is being installed offshore where extreme conditions wear on the machines and their components. Maintenance is critical. Aerial drones now can perform inspections, but blade repairs and maintenance rely on technicians working from ropes. A new inspection robot promises to relieve workers of some of those tasks by walking up and down the length of the blades.
The six-legged bot dubbed BladeBUG is the work of BladeBUG founder and CEO Chris Cieslak, who had been working as a designer of wind turbine blades. The idea of automating inspection and maintenance came from analyzing how blades failed.
"One of the main issues, especially offshore, is leading edge erosion," he said. "The last 20 percent of the blade gets eroded by rain or grit blasted to a rough surface. That can lead to a loss of aerodynamic performance and if left to get worse, premature structural failures."
The development of aerial drones aids inspection, which otherwise is performed by technicians tied off on ropes, descending and ascending from the turbine to the bottom of a blade. But their accuracy can be spotty, Cieslak said, depending on weather or how close they get to the blade.
BladeBug passed its first big test recently, walking up and down a 50-meter vertically positioned turbine blade of a 7-MW demonstration turbine of the U.K's Offshore Renewable Energy Catapult. The group works with private developers and industry to test innovative technologies and help bring them to market.
Editor's Pick:
Using Robots to Deliver the Goods
The bot is operated remotely by a technician who monitors tasks the robot may be assigned, including visual inspection, nondestructive testing or some repair. It is fitted with a modular payload to carry equipment. Cieslak said the robot walks using vacuum grippers and maintains a three-point contact for stability.
It was designed with a turbine blade's dimensions in mind. Blade dimensions change from cylindrical near their connection to the rotor and flatten out farther down the length of the blade. "We needed something with dexterity," said Cieslak. "A mult-legged robot solved the problem of navigating over a changing surface."
Cieslak's original design was a wheel fitted with vacuum cups around its circumference, operating much like a Ferris Wheel. That morphed into a tracked vehicle where a vacuum was pulled through the caterpillar tracks before the final multi-legged design was developed.
Reader's Choice:
Are Service Bots the New Future Post-COVID-19?
The robot has the potential to lower maintenance and repair cost by 30 percent to 50 percent because it can operate in weather conditions that people cannot, according to a Catapault cost-benefit analysis. Storms or high winds prevent workers from rappelling down and up the blade.
"Techs spend half their time unable to perform their job," noted Cieslak. "The robot is designed to be really user friendly, so you can use regular technicians who might need to be upskilled to perform the tasks that now need a specialist crew."
The next step scheduled for next year is to repeat the inspection walk on lightening protection gear, followed by trials with early adapters. Commercial viability is expected to be attained by the end of 2021, he said.
More for You:
Walking in Place
BladeBUG also is part of a 4-million Euro cross-sector innovation project to develop a fully autonomous robotic inspection and repair solution for offshore wind farms. Funded by Innovate UK, a government incubation tank that also has supported Cieslak, MIMREE (Multi-Platform Inspection, Maintenance and Repair in Extreme Environments) is bringing together experts in robotics, nondestructive testing, artificial intelligence, space mission planning, marine and aerial engineering and nanobiotechnology. Its aim is to prove that offshore wind and maintenance work can be conducted using autonomous vessels, aerial vehicles and crawler robots.
The first wave of offshore wind turbines have placed in shallow water relatively close to shore. As those sites dwindle, newer developments are going farther offshore, requiring fixed vessels operating throughout the year. "We see the future as being a lot more automated, especially offshore," said Cieslak. "Having this vision of autonomous vessels and drones is how we see improvements coming."
John Kosowatz is senior editor.
Related Content