5G Pilot to Test Factory of the Future Concept
5G Pilot to Test Factory of the Future Concept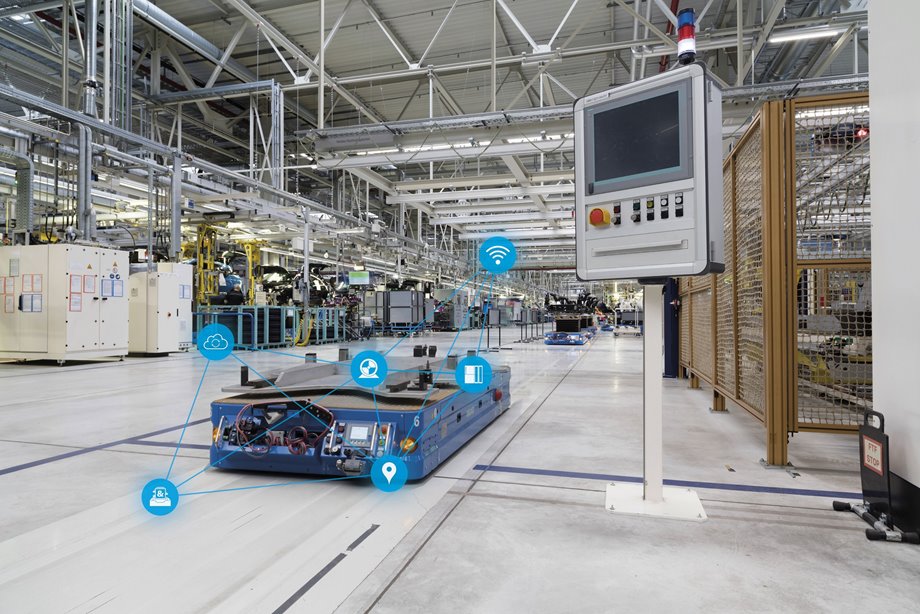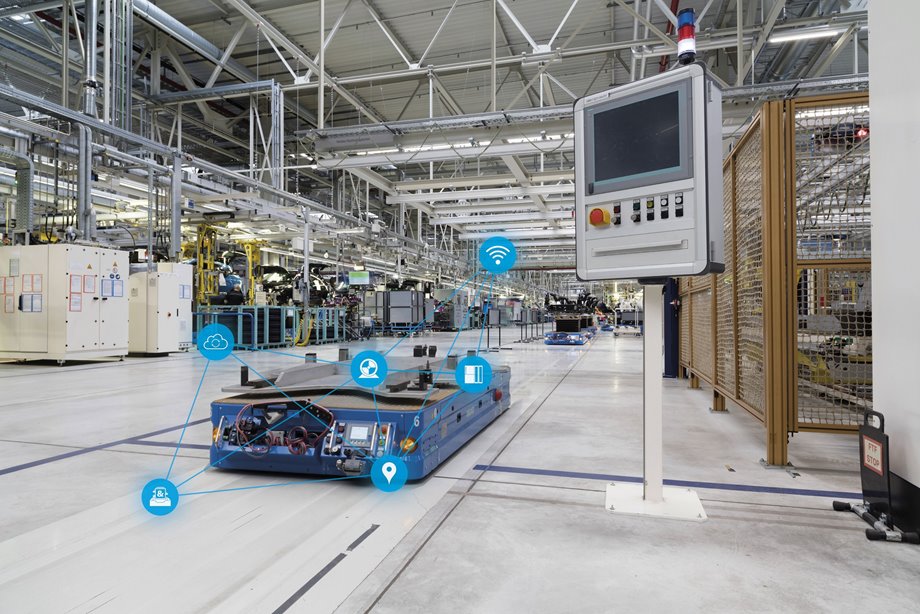 Communications network could help boost automation on the factory floor. Image: Siemens
German engineering firms are running pilot programs of 5G networks in factory settings to better understand how to boost the autonomy of robots and machines on manufacturing floors. The hope is the tests will lead to an eventual full implementation of the communications infrastructure in industrial settings and promote more efficient manufacturing.
Siemens AG and Robert Bosch GmbH are hooking up automated guided vehicles (AGVs) to 5G networks to move materials between machines on the factory floor. The closed networks used by the companies bypass public 5G networks set up by telecommunications providers.
The experiment is one step in Siemens' long-term goal to establish the so-called factory floor of the future, with 5G acting as medium through which machines and robots to talk and collaborate with each other. Siemens is testing the 5G infrastructure at a test center Nuremberg and is building up private 5G infrastructure in its plant in Amberg and Karlsruhe.
Bosch is testing 5G networks at multiple locations, including its automobile and semiconductor plants, to determine the cost of operating such networks and to understand what production processes to which the technology is most relevant.
5G refers to fifth generation of cellular mobile communications technology and is a melting pot of the latest wireless innovations that include Wi-Fi and cellular technologies. Due to the radio frequencies at which it operates, 5G networks theoretically can transfer data at up to speeds up to 20 gigabits-per-second, though real-world tests of mobile devices are showing much slower speeds. Nonetheless, 5G remains significantly faster and reliable than the existing 4G networks which have been in operation since 2008. 5G also reduces the lag time of data to 1 millisecond, compared to 10 to 20 milliseconds for 4G.
More on this Topic:
6 Ways 5G Will Impact Mechanical Engineering
Researchers at the South Korean conglomerate Samsung have estimated that the number of network-connected machines and devices will reach 500 billion by 2030, outnumbering the human population. While 4G and its predecessors were built for cellphones and humans communication, the focus of 5G and future technologies is on direct and group communication between machines.
5G commercialization began in April 2019, and initially focused on consumer devices. Many of the industrial automation and machine communication features will be formalized in updates coming this year and in 2023. A goal of the pilot is to test 5G—which is still early in development—against real-world use cases, and to try to understand and resolve some of the challenges of 5G networks in factories, said Sander Rotmensen, director of industrial wireless communication products at Siemens.
Multiple Connection Points
Siemens has licensed 5G spectrum from the German government, which has declared that the technology could be a critical factor in enabling the country to gain back its edge in manufacturing by boosting robotics and automation in factories. Siemens is using the findings to create a blueprint of 5G deployments in its factories. The company will also use that expertise to sell products and services to clients hooking up to 5G networks.
"It can connect an AGV, an autonomous mobile robot, a robot arm, whatever you can think of, or maybe even an old-fashioned metal cutting machine, where they just want to get some data out and push it to the cloud," Rotmensen said.
The idea is for the cloud to be a conductor so machines in the factory remain and operate in sync. 5G networks enable large volumes of machine data to be sent in real-time to a central repository in the cloud, which analyzes the information and sends instructions of what the machines should do next.
Editor's Choice:
Harnessing 5G's Excess Energy Could End Battery Power
Siemens has put control circuitry, which includes a homegrown 5G router, on to the AGVs which can communicate with factory machines or the cloud. Computers connected to the cloud network analyze the coordinates of materials that need to be picked up and transported to other locations in the factory. The computer then dispatches pickup and drop-off instructions to the AGV.
The test can be thought of as a factory version of taxi-hail services such as Uber, with the AGVs picking up and dropping off materials between machines.
The 5G network enables the AGVs to dispense with onboard navigation systems. Instead, software-based navigation, which is determined by a map of the factory floor in the cloud, replaces circuitry such as cameras and sensors and corresponding AI software to navigate and avoid collision. 5G can pick up the spatial positioning of machines on a factory floor to within a few inches, which wasn't possibly on previous technologies. That helps in navigating the AGV and avoiding collision.
"That intelligence that was built locally on the AGV now is expanding to the network because you have to have constant updates and information about where things are sitting. That's actually the liberating part," said Peter Koerte, chief technology and strategy officer at Siemens.
The information from 5G-connected machines, in conjunction with analytics and artificial intelligence, creates a feedback loop to discern factory operations and track down incidents.
Testing the Limits
The pilot program will also examine potential use cases such as robots augmenting human workers or geofencing robots to specific areas.
"For collaborative robots to side-by-side with our people, you really need to be very specific of where is what. You can get down to a spatial resolution of 20 to 30 centimeters, which is good. It's not perfect yet," Koerte said.
The experiment will expose the limitations of 5G, which will go a long way in Siemens planning new manufacturing sites and retrofitting factories with the technology, said Jack Gold, a telecom analyst at J. Gold Associates.
Multimedia from ASME:
Infographic: The Mobile Wave of 5G
"There's the industrial design, which is where you put the machines, then there's the radio design, where you then have to design a radio network that doesn't have any blind spots," Gold said.
5G is faster than 4G because it uses high-spectrum wireless bands using radio waves whose length can be measured in millimeters. That enables faster communication, but because these bands typically need a clear line of sight to reach the fastest speeds, obstacles such as walls can wreck data transmission.
Siemens will have to figure out a right topology of small cells, radio heads, and sensors so data can be hauled without disruption. It is a tricky problem to solve, Gold said.
The company is accounting for every possible challenge and obstruction in its test center to make the 5G realistic. "We have a metal ceiling, we have metal beams in the middle of the factory, we have people running around," Rotman said.
While it is too early to determine the full impact of 5G, the technology has the potential to disrupt factory design with new cell layouts, machine placement, and network connections, Koerte said.
"From our vantage point, retrofitting very old factories—in some cases for us, they are 20-to-30-to-40-year-old factories—to put all the network circuits in place and so on can be cost prohibitive," Koerte said.
"With 5G you can really leapfrog, but that's a promise we still have to show," Koerte said.
Agam Shah is a technology writer based in New York City.
Related Content