Siemens Gas and Power partners with ASME to develop additive manufacturing training services
Siemens Gas and Power partners with ASME to develop additive manufacturing training services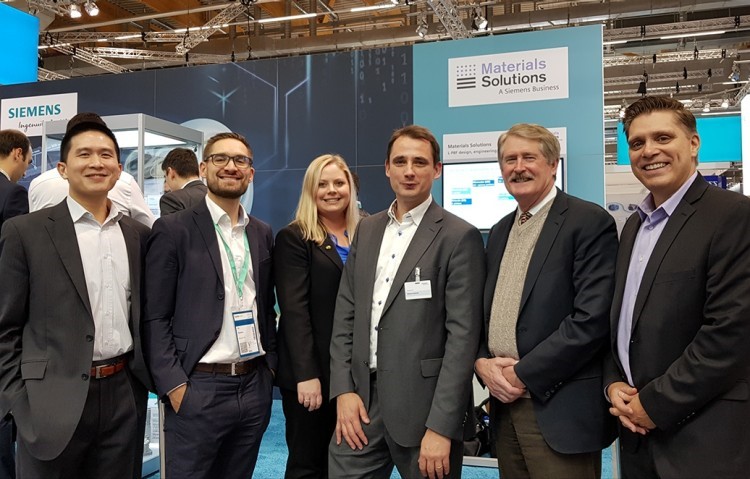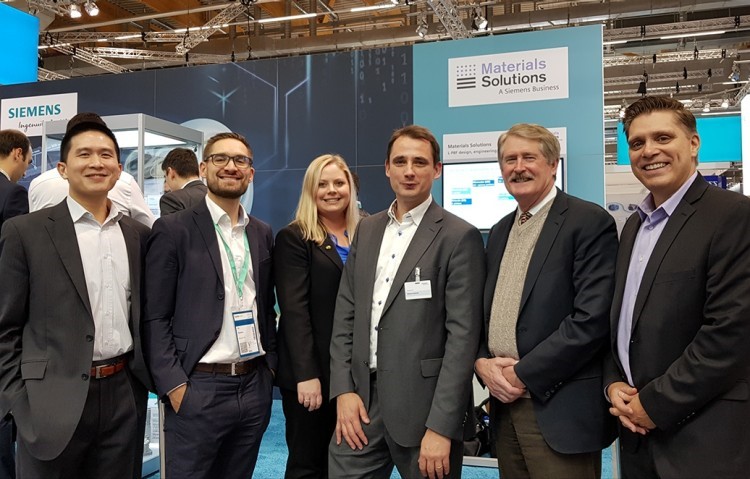 Dennis Kilian (second from right), Managing Director of ASME, and his team visited the Siemens booth at Formnext 2019 for the official announcement of the training collaboration.
NEW YORK (November 20, 2019) –
At Formnext 2019, Siemens Gas and Power and the American Society of Mechanical Engineers (ASME) announced their collaboration on the development of training services in additive manufacturing (AM), that will be offered through Materials Solutions, a Siemens business, as an extension of its additive services portfolio. The agreement lays the groundwork for the creation of unique AM training solutions to better support Siemens' customers on their additive journey. Siemens Gas and Power will bring its technical application content as a leading industry user of AM to the partnership and combine it with
ASME's industry-leading competency model framework, agile course development methodology, and learning and development platform
.
The course curriculum will cover the end-to-end additive value chain and offer customers real-world applications experience from developing business cases,
design for AM
, material considerations, through to printing and post-printing process know-how.
"The agreement between Siemens and ASME is another milestone to support further adoption of additive manufacturing as an industrialized technology," explains Markus Seibold, Vice President of Additive Manufacturing at Siemens Power Generation Operations. "Cross-industry collaborations to advance AM adoption will promote innovation in design, material development, and real, functional applications across the industry. Thanks to the collaboration with ASME, we can provide the experience of our experts to our customers and industries all over the world."
"ASME is dedicated to fostering innovation in the engineering community", says ASME Executive Director/CEO Tom Costabile. "Every day, additive technologies continue to change the manufacturing landscape. The combination of
ASME's agile course development methodology
and Siemens' wealth of real-world expertise in additive manufacturing enables us to share that knowledge through dynamic, practical learning experiences that will be readily accessible by customers and engineers everywhere."
Siemens Gas and Power is a pioneer in additive manufacturing and uses the technology for rapid prototyping and solving complex customer challenges through high-end production parts for customers in the aerospace, automotive and other high-performance industries, through its subsidiary
Materials Solutions
. Materials Solutions is industrializing the additive manufacturing of gas turbine components and has now moved into serial production for applications such as the pre-combustion swirlers for the Siemens SGT-8000H gas turbine.
ASME helps the global engineering community develop solutions for real-world challenges. Founded in 1880 as the American Society of Mechanical Engineers, ASME is a not-for-profit professional organization that enables collaboration, knowledge sharing, and skill development across all engineering disciplines while promoting the vital role of the engineer in society. ASME codes and standards, publications, conferences, continuing education, and professional development programs provide a foundation for advancing technical knowledge and a safer world. For more information visit
asme.org
More information and pictures on additive manufacturing at Siemens are available:
https://press.siemens.com/global/en/feature/additive-manufacturing-siemens-uses-innovative-technology-produce-gas-turbines
More information on Siemens at Formnext 2019:
www.siemens.com/press/formnext2019
More information on ASME Learning & Development:
https://www.asme.org/learning-development/about-asme-learning-development
Media contact:
Monica Shovlin
MCShovlin Communications LLC (for ASME)
monica@mcshovlin.com
+1.541.554.3796
Related Content