Young Engineer Takes Great Strides with Prosthetic Foot
Young Engineer Takes Great Strides with Prosthetic Foot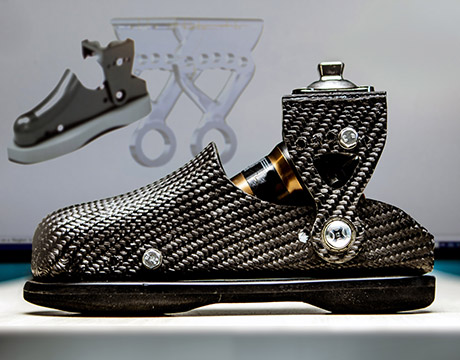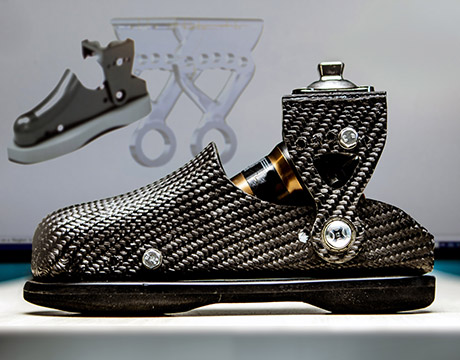 A 17-year-old engineering student in Alabama creates a better prosthetic foot for a wounded Marine Corps veteran. Image: Siemens
Ashley Kimbel began the school year designing a prosthetic foot in her engineering class at Grissom High School in Huntsville, Ala., for a wounded veteran. By February, she had finished building an impressive product, watched the city's mayor officially name a day in her honor, and appeared on the Today Show. Not a bad run for a 17-year-old.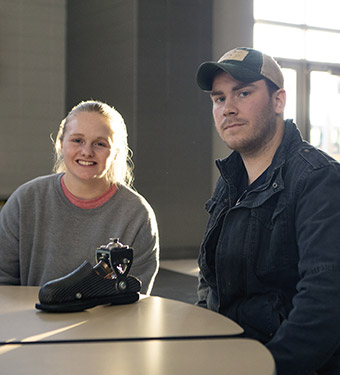 "I'm so glad that I did this," she said about pursuing STEM courses, enrolling in the school's engineering program, and taking on the extracurricular project. "I look around at a lot of my classmates and they don't know where they're going or what they're doing with their lives right now. Because of this program, I know exactly what I want to do, and I've been able to use what I learned during the past four years to actually make a difference in somebody's life."
That somebody is Kendall Bane, 26, a former Marine from Huntsville. Bane, who suffered gunshot wounds in 2012 after being ambushed in Marjah, Afghanistan. He elected to have his left leg amputated about two years ago when it was clear the partially paralyzed limb would never heal properly. As part of his physical rehabilitation, the staff at Walter Reed National Military Medical Center sent Bane and a group of veterans to Colorado for adaptive skiing lessons. The experience made him want to rekindle his love of snowboarding, which he had difficulty doing with a partially paralyzed leg.
"I had a lot of fun out there, and that kind of pushed me to start get set up (for snowboarding) and back on my feet," Bane said.
Top Story: YouTube Star Goes Viral with Glitter Bomb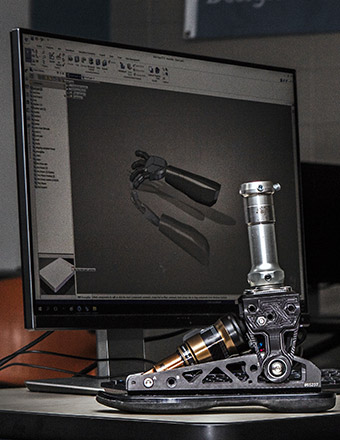 But his prosthetic foot, the Versa Foot from BioDapt, was a bit too heavy for snowboarding, Bane said. Made from aluminum, it weighs about 2 pounds, 9 ounces and includes an adjustable shock absorber, similar to what's used on a mountain bike. While Bane and others say the foot is well-made and suitable for some sports, like motocross, it was a bit too heavy for the quick turns needed for snowboarding, Bane said. He needed something lighter.
Bane discussed the dilemma with his brother, Devon, who happened to be mentoring students in GreenpowerUSA, an electric car building program and extracurricular class run by Christopher Faust, an engineering teacher at Grissom High School. Devon mentioned his brother's dilemma to Faust, who had been teaching Kimbel in his engineering and design courses for the last three years. He knew the high-school senior wanted to eventually combine her love of engineering and medicine for some type of career in biomedical engineering. He suggested she build Bane a new foot as a special engineering project and a way to explore her passion. With a lot of enthusiasm and a little naiveté, Kimbel embraced the project, pledging to make a prosthetic foot that weighs 40 percent less than the original.
"We talked to Kendall and he told us about the issues he had with the foot, which was that it was really heavy and hard to use for snowboarding," she said.
To make it lighter and stronger than the original, Kimbel chose to build the foot from carbon fiber and make it one solid piece. She added a rounded top to make the foot much easier to slide into a snowboarding boot and to further increase its strength. "The foot was now one piece so all of the carbon fibers were pulling on each other and creating that strength," Kimbel said.
Kimbel also improved the foot's performance by adding different angles to which Bane could adjust the foot, depending on the type of sport he was playing.
More on Future Engineers: Who Are the Engineers of the Future?
Finding the right process of "laying up" the carbon fiber presented a few challenges. Kimbel had some experience working with carbon fiber from building cars for Greenpower, but it was difficult using those traditional methods to form the carbon fiber into the complex curves and shapes of the foot's mold. After some research, Kimbel discovered a wet layup method that made it easier to work with the material and achieve the coverage needed.
"When we put (the carbon fiber) on the mold, we could make sure it got into all the places it needed to," said Kimbel, who did all of the design and manufacturing work at Grissom's engineering labs, which include an autoclave, industrial 3D plastic and metal printers, and systems loaded with Siemens Solid Edge design software.
Not only was the finished foot smooth, strong and the correct size, but it also weighed 18 percent less than the original, even though she kept the original shock absorber. Not quite the 40 percent Kimbel hoped, but enough to make the project a success.
"It was way underneath our target goal but, when we look back on it, that 18 percent made a huge difference," she said. "The biggest lesson I learned is that when you're doing an engineering project it's the little things that count. Even the slightest reduction made the foot better."
Bane agreed.
"I'm always amazed at the weight saving," said Bane, who had majored in mechanical engineering at the University of Alabama, Huntsville (UAH), and plans to resume studying for his degree at Virginia Tech sometime after his first child is born. The baby is due this spring. "It feels like I can move my leg so much faster, which helps for everything where you need to move your leg as fast as you can. There's less inertia so you can whip it around a lot easier."
Bane plans on visiting Killington Ski Resort in Vermont at the beginning of March to put his foot to the true test. He has faith it will perform well. "For snowboarding, it will be perfect," he said.
More on Engineering Human Organs: Artificial and 3D-Printed Skin Advances for Robots and Humans
Barbara Humpton, CEO of Siemens USA, was as impressed as Bane with Kimbel's design. She and Siemens recently hosted 350 middle-school students at UAH where they watched a short documentary of Kimbel and her work, asked her questions, explored Siemens' technology, and heard Mayor Tommy Battle declare Ashley Kimbel Day.
"At Siemens we're working with world-class large companies all over the globe, from automotive to aerospace. But I also know that there are people who can pick up these tools and do amazing things, starting from K-through-12 classrooms," Humpton said. "This is the future we're trying to build. We're trying to get the tools of automatization, the tools of digitization, into the hands of the future."
As for Kimbel's future, she plans to study biomedical engineering at the University of Alabama, Birmingham, next fall, with the hopes of eventually getting into the school's Early Medical School Acceptance Program. Whatever she achieves in the future, Kimbel's first big engineering project will always hold a special place for her.
"To be able to do something that has a positive impact on somebody else's life is incredible because at that point I'm not just doing something for myself," she said, "I'm using what I know to actually help Kendall do what he loves."
Read More Exclusive Stories from ASME.org: Drone Deploys in Just Minutes but Flies for Hours The 7 Coolest Rescue Robots Tackle Almost Any Disaster Innovations in Biomaterials Create New Roles for Engineers

For Further Discussion
"To be able to do something that has a positive impact on somebody else's life is incredible Ashley Kimbel
Related Content