Tree Forks Bring Structural Stability
Tree Forks Bring Structural Stability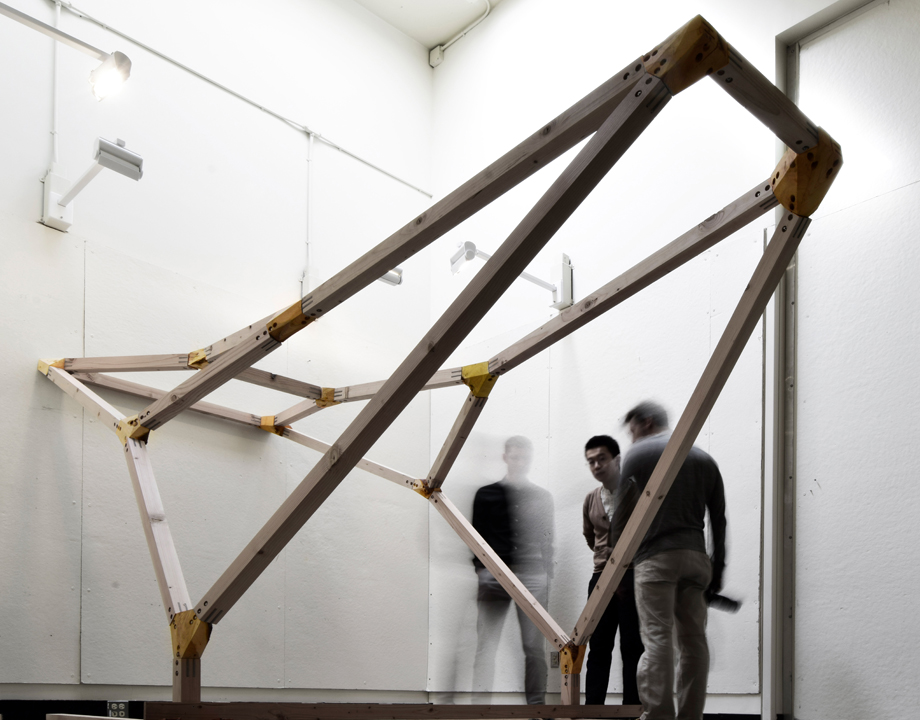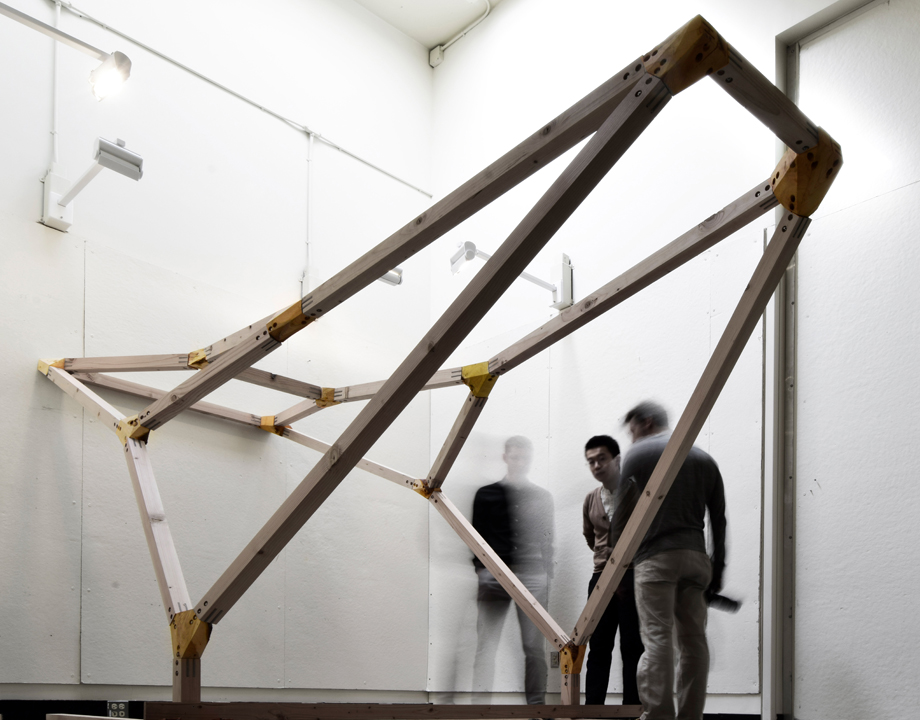 Researchers produced this structure from waste tree forks. They plan to use their process to design and build an outdoor pavilion out of waste tree forks. Photo: Felix Amtsberg
In the world of lumber and construction, it's the long straight parts of a tree that matter. Buildings and other structures require planes and right angles, so the junctions where trees branch get tossed in the chipper.
For Caitlin Mueller a professor of architecture and of civil and environmental engineering at the Massachusetts Institute of Technology, every lost tree fork is a lost opportunity. "As structural mechanical systems, they are incredible, actually much more impressive than the straight part of the tree," she said. "They achieve three-dimensional load transfers through this incredible internal fiber structure."
Now Mueller has decided to put this strength to use, creating a system that allows architects and designers to build with tree forks. To prove its feasibility, she's built just such a structure.
The idea first solidified in her mind when flyers started appearing on old growth trees on her street in Massachusetts. The tree would have to come down, the flyers explained, because of an invasive insect for which they were vulnerable.


"I thought, of course, it's a shame to take down these trees. It's going to change the character of the neighborhood," she said. "But also this is an amazing material that's contributing to absorbing carbon and doing stuff for our planet, that we're going to remove, and, normally, chip. Wouldn't it be amazing if we could find ways to use the material, especially if we could up-cycle it into something that would have value for the community it was taken from?"
Mueller contacted the town's Urban Forestry Division and convinced them to send all Y-shape nodes to her lab, rather than through the chipper. Then she and her team trimmed the pieces down, removed the bark, and scanned the forks. (They did this with a scanner they purchased, then with what proved a superior device, a phone).
With their library of abstracted forks, they used an algorithm to match real sections of tree with load-bearing nodes in their structural design. The algorithm looked at the shape of each fork and, crucially for an anisotropic material like wood, the orientation of the fibers.

More for You: Knock on Super Wood
Then they tweaked the design. "This is the fun design part where we say, 'Ok I like how this looks but the match isn't so good,' or 'This one looks not as good and is a better match,' or 'This particular design has a good match but the global structural idea doesn't work that well.'"
After a bit of back and forth between architect and algorithm the design was finalized. Another algorithm took care of further shaping the piece ends to fit the structure. The result is a small 12-node framework that currently sits on the MIT campus. Mueller and her team are now working on a larger project creating a solar kiln with the remaining 42 forks in their inventory, a "way to dry new wood we collect that will be made out of the tree forks themselves," she said.
The same system could be used to make much larger buildings. The forks could act as space trusses to span over basketball courts, to create auditoriums, or "to replace all the trusses in Costco with trusses made out of tree forks—it's that kind of thing," said Mueller.
Such structures would flaunt their forks and would likely be more organic in design as a result.

Editor's Pick: Turning Ash Wood into 3D-Printed Art

"For me, that's the whole appeal," she said. "There's been an interest in irregular organic forms in architecture for a long time and there is a lot of effort that has to go into creating something like that; it's cheaper to build something regular. But that logic is reversed with these types of material sourcing, where, instead, the irregularity comes from the material supply. To us that adds a lot of value and character to the design."
Tree forks are not likely to be a dominate ingredient of the buildings of the future. But proving their usefulness is only one element of Mueller's project. "The larger ambition is to spark conversation and thoughtfulness about material sourcing and construction," she said.
"We need to change our thinking, fundamentally, about virgin materials, infinite supply chains that are indefinitely going to be restocked," she said. "We need to confront the reality that we have finite resources, and we need to be much more clever and much more creative about how we design especially large things."
Michael Abrams is a science and technology writer in Westfield, N.J.
Related Content