Students and Industry Push for Undergraduate Robotics Programming
Students and Industry Push for Undergraduate Robotics Programming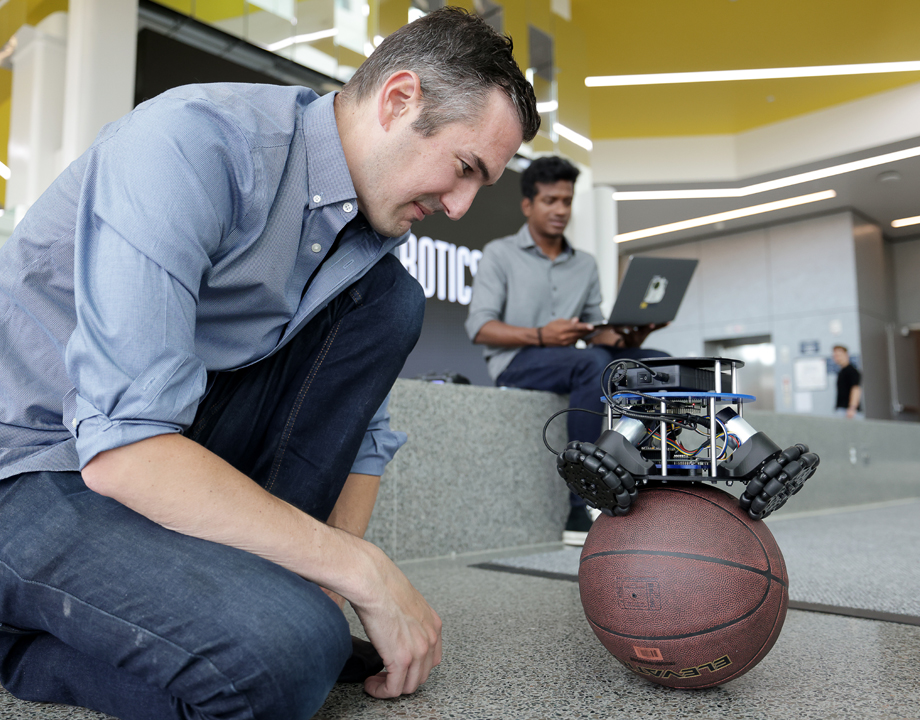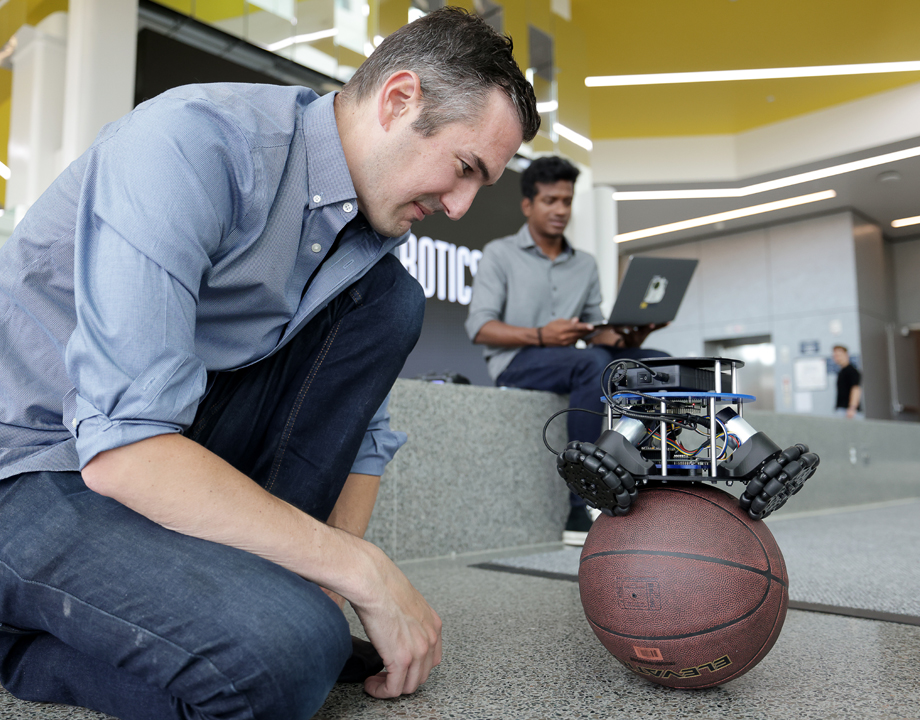 Undergrads are getting more options to study robotics. Photo: University of Michigan
For more than a decade now, Alec Gallimore, Dean of Engineering at the University of Michigan, has witnessed the field of robotics grow tremendously, stretching beyond basic engineering and into areas such as medicine, aerospace, agriculture, and more. Recognizing that understanding the basic mechanics and functions of robotics is now becoming an essential aspect of many career paths for students, many universities are rethinking their programing, including Michigan.
"We had a lot of robotics activities going on in the College of Engineering, but we didn't have a way of focusing and catalyzing that effort," said Gallimore. "With the industrial trends and the huge explosion in the application of robotics, which accelerated during the pandemic, we decided to pursue the development of a comprehensive undergraduate degree program in robotics."
Gallimore and his colleagues conducted several internal factfinding missions to determine whether the program would make sense. They also visited other colleges with robotics programs, spoke to industry leaders, and interviewed current and prospective students to guage their interest.
"We interviewed our own students, including students who were admitted and went elsewhere, and they said that if Michigan had an undergraduate degree program in robotics, they might have come to Michigan versus another institution," he said.
Ultimately, the resounding conclusion was that an undergraduate robotics program would make sense and would propel students into successful careers without the need for further education. At the same time, the school expanded its master's and Ph.D. programs, as well as offering a minor in robotics to undegraduates.
There are currently more than 30 institutions across the U.S. offering some kind of undegraduate degree program involving robotics, including Arizona State University, Kansas State University, and the University of California, Santa Cruz. Some programs focus specifically on unmanned aerial systems like Purdue and others on augmented and virtual reality like Drexel University. Most programs have a heavy emphasis on engineering and Gallimore said they hoped to set their program apart with a more interdisciplinary focus.
"We traveled around and visited robotics institutes at Pennylvania State University, Carnegie Mellon, and few other places to get a sense of how they've set things up and how we might do things differently," he said. "We decided we wanted to bring in folks from outside engineering, like biologists, social scientists, physicians, other healthcare professionals, and more, which we thought would set our program apart from others that tend to focus only on engineering and computer science."
More for You:
Augmented Reality Controller Puts Science in Students' Hands
In addition to creating a program that would be accessible to other disciplines, they also focused heavily on incorporating diversity, equity, inclusion, and justice into the foundation of the curriculum. This meant examining the potential coursework to make sure it was accessible to students at every level. For example, instead of starting the curriculum at a calculus level, students will begin with linear algebra.
"We wanted to make this program as equitable and fair as possible," said Gallimore. "We're pushing down the entry level to a degree we've never had before. As engineers, they have to practice engineering while they're students in authentic ways, and that's what we're aiming for."
The curriculum consists of more than 30 courses with focuses on mechanical and electrical engineering, and comprehensive overviews of 3D laser systems, Lidar, artificial intelligence, and the materials, batteries, and integrative systems involved in robotics. Students also have access to a large robot playground where they can tinker with drones, autonomous vehicles, and water-based and space-based bots. They also have robot kits, which students can use to build their own robots before testing them in one of the many simulation and test tracks available in the playground.
"Students are not going to have as much depth in these areas as you would with a Masters or Ph.D., but they're going to have exposure to these [other] areas, which will be very powerful," he said.
Gdt Involved:
Find the Membership Level that Works for You
Prize competitions are also an attractive feature for students looking to hone their skills in robotics, offering an opportunity to develop new systems from scratch. At Johnson and Wales University, students can participate in the Vex Robotics World Championship. And at Ohio State University, students participate in the EcoCAR Mobility Challenge.
The University of Michigan hosts the Applied Collegiate Exoskeleton (ACE) Competition, in which universities test their exoskeleton suits with a series of obstacles and challenges. Gallimore said undergraduate students can also participate in the ongoing University Rover Challenge hosted by The Mars Society.
The growing need for programs that incorporate robotics like this is clear. According to a Zion Market Research study released earlier this year, the Industrial Robotics Market was worth around $41.7 billion in 2021 and is estimated to grow to about $81.4 billion by 2028 as industries like automotive, pharmaceuticals, consumer electronics, packaging, and manufacturing continue to adopt and implement robotics at a faster rate. The International Federation of Robotics estimates that over 50 percent of production operators will be working with robots in 10 years' time. But this demand is causing an ever growing gap in professionals with robotic skills.
Gallimore said that during their initial research in determining the need for an undergraduate robotics program, they spoke with companies like Ford and Toyota as well as biomedical companies, who were all "extremely supportive" of the idea.
"We recognize this is a bold move, otherwise we wouldn't be among the first to do it. These are the folks that industry will be looking for as robotics continue to evolve and revolutionize," he said.
Cassandra Martindell is a science and technology writer in Columbus, Ohio.
Related Content