Smart Cities Look for Digital Twins
Smart Cities Look for Digital Twins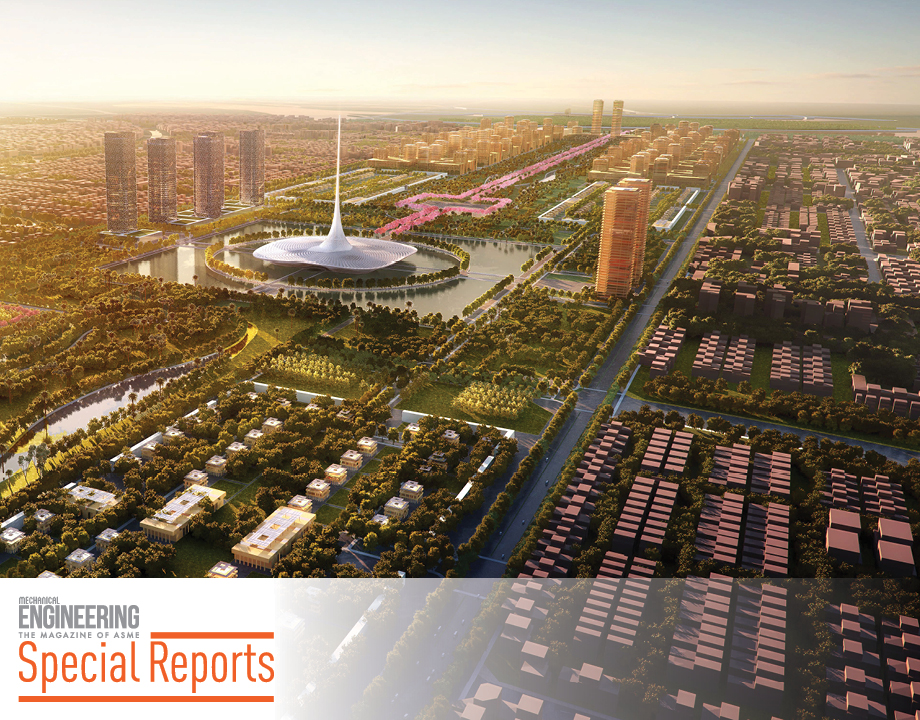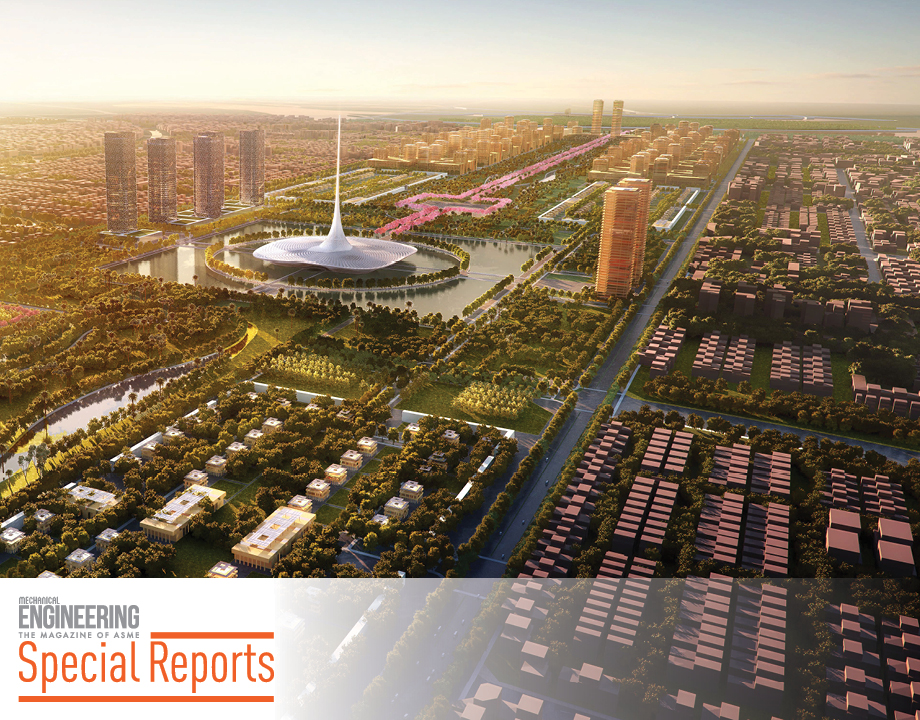 New cities are being planned using digital twins that can tie multiple assets into one platform for predictions and analysis. Credit: Cityzenith
Digitalization is penetrating engineering practices, and digital twins are being developed to aid manufacturers in the development of products, machines, and even single examples of infrastructure. Now, they are poised to take a bigger step in the development of smart cities, gathering design and digital information of individual pieces and spinning them into a whole. New tools and platforms allow designers to place their projects into a virtual neighborhood or city and test how they will impact nearby buildings or areas. At the same time, structural, mechanical, and electrical details of single buildings or infrastructure can be isolated or analyzed for performance and placement.
It is happening now. ABI Research reported that by 2025 some 500 cities around the world will be using some sort of urban twin, up from a handful now. They are being used to replicate buildings and their systems and operations, infrastructures such as highways, surface transportation patterns, and pretty much everything that comprises an urban neighborhood, town, or city.
New cities are already being designed using digital twins. The concept is being expanded to envision digital national twins, which would connect a country's urban twins into a national platform. That will entail the development of standards, guidance, specifications, and new products.
"An urban digital twin is a virtual replica of physical buildings and infrastructure assets connected to the data in and around them," said Michael Jansen, CEO of Cityzenith, a Chicago-based firm that has developed its own digital platform. "And they are used for, specifically in the built environment, for the purposes of optimizing design and planning, construction and an ongoing operation of assets over their life cycle. What they do that's unique and different Is that true digital twins aggregate massive amounts of information for everything within the project lifecycle ecosystem. And by becoming like a massive master data library, it enables users to run analysis in a way that they never had before."
Data is the fuel that drives their development. The more there is, the better the model. Digital twins have developed faster in the manufacturing and aerospace industries, but developing them for urban use takes this to the next step.
"The mechanical space pioneered the development of the digital twin," said Bob Bray, Autodesk's general manager of its new digital twin product. "The AEC industry is in a very different space, maybe a little bit behind. If you ask 10 people in the AEC space what a digital twin is, you're going to get 10 different answers."
That is crystalizing now as owners and government officials build on digital advances. Singapore was one of the first cities to build a 3D interactive model of the entire city and island based on topographical and real-time dynamic data. Detailed information, including texture, material representation of geometrical objects, and terrain, are incorporated through 3D modeling. Building models include its geometry, together with walls, floors, ceilings, mechanical systems, and the type of composition of its building material.
Editor's Pick:
Engineers Learn to Work with AI
Data was gathered using laser scanners deployed by drones from above and surface vehicles below. But the model also includes static, dynamic, and real-time city data such as demographics, pedestrian and vehicular movement, and climate.
The model allows planners to virtually test new systems, such as 5G deployment over a defined area, and identify improvements before installation. It can be used to simulate pedestrian movements in case of emergencies based on building and infrastructure data. And it's an ideal platform to develop simulation and modeling of the effects of weather or noise in a neighborhood or even the greater city.
Producing a dynamic digital buildout starts with capturing reality in the field. "That was very expensive," said Ed Sutton, Black & Veatch digital services program manager and systems architect. "We have just seen a democratization of that technology, largely driven through cell phones and their capabilities of being able to take pictures and capture imagery and sensor data."
That couples with the maturity of cloud infrastructure. The "very low cost of entry" allows people to leverage that infrastructure and scale without large upfront costs, he noted. Deep learning and artificial intelligence help tie computer vision to a natural language processing capability that takes the real world, as we interpret it, and adds a layer of knowledge and understanding that Sutton said is very human in nature. "You're creating a system that can grow more organically as the world progresses in a way that we can't currently predict."
Working on the Edge
In Stockholm, city officials are moving on a project to digitalize the Swedish capital, using a mobile AI technology developed by locally based Univrses AB. The first step that began last year is capturing real-time data from throughout the city using the firm's perception software.
Rather than using laser scanners or LIDAR to gather surface data, the firm's software uses computer vision and artificial intelligence to record and input data from a smartphone. The consortium delivering Sthlm Virtual City includes the city and its taxi service, Taxi Stockholm. Its fleet is fitted with smartphones that can gather input and map the data to a dashboard in real-time as the taxis move throughout the city.
Personal data such as license plates or people's faces are automatically blurred or blanked out to ensure anonymity, said Pier Luigi Dovesi, a Univrses deep learning engineer. "Everything is done on the edge, so we do not collect personal data and anonymize before sending," he said.
The platform evolved from its original purpose to allow autonomous cars to make sense of their surroundings. Dovesi said the system does not produce physical geometric reconstruction but is a tool to understand the environment's semantic nature to provide a platform for the city to use in studying real-time traffic flow, pedestrian and crowd distribution, and congestion points. The system computes real-time triangulation and provides position accuracy of less than one meter, he said.
The dashboard is continually updated, allowing the city to track and analyze traffic and pedestrian movements. As more data is loaded into the system, the city can predict where problems will occur and develop appropriate solutions, he said.
Some ambitious, smart cities projects that would have highlighted new digital platforms have lagged or even stopped. In India, the state of Andhra Pradesh announced in 2018 it would build a new capital in Amaravati based on Cityzenith's platform. A change in government and loss of funding stopped the project, which would have used the digital twin platform to plan, design, and build the new greenfield city.
Reader's Choice:
6 Questions with Michael Grieves on the Future of Digital Twins
Still, Jansen said early work showed results. "We were to create a twin for a specific district that would integrate all the different models and input from different architects working in different parts of the world and allow them to run scenarios that would predict the impact of those themes," he said. "The goal was to see what types of architectural configurations could be investigated, conceived, and tested to reduce street temperature by as much as eight degrees. They were able to simulate that, which is powerful.
"Imagine the results of that impact. The lessening need for cooling loads, for example. The overall impact of that simulation, a significant impact on the carbon footprint of their proposed district; those are the types of things that digital trends at urban scale are getting really good at."
Cityzenith consolidates data and design information into one platform built on a gaming engine. It can import hundreds of data types into its dashboard, including disparate formats that have not meshed together easily, Jansen said. Layers of data are curated and annotation tools tag objects with a wide range of information.
"It's a mashup of kind of game engine foundation with data on the back end and data science, which is like the tip of the iceberg. When you open that neat 3D model that you can spin around and see all kinds of data, visualize outcomes, there's a massive back end to that. Digital twinning is about aggregation, visualization, and analysis of scale."
Developing Common Language
Cities that are building out digitally still face some challenges. Questions and concerns remain about security and common language or standards. In the U.K., the government in 2018 established a National Digital Twin Program to enable the building of a national digital twin. Its Digital Twin Hub is a collaborative, web-enabled community for people and firms developing twins.
More for You:
How the Marriage of Digital Systems is the Future of Manufacturing
"The Gemini Principles outline essentially the key tenants to guide national digital twin and information management framework around that," said Dan Isaacs, chief technical officer with the Digital Twin Consortium, a similar group established in the U.S. "That is critical because now you're getting into the privacy rights: everybody has access to this data."
The Gemini Principals are nine basic values that guide the development of the national digital twin. They must provide benefit to the general public, enable performance improvement while creating value, and provide insight into the build environment; they must enable security and be as open and transparent as possible using good quality data; a federation of digital twins must be based on a standard connected environment with clear ownership, governance and regulation, while adapting as technology evolves.
The U.K.'s plan to develop common language and standards is similar to the Digital Twin Consortium. DTC's members include many technology companies working in engineering modeling and digitalization.
"The Digital Twin Consortium is not a standards body, so we do not set standards. But we certainly help to define some of the requirements around those and then work with the different sets of SEOs out there. We do not have a timeline."
The parallel paths of standardization and project development illustrates the pace of development. New Mexico in late 2020 announced plans to develop a smart infrastructure to help the state become carbon-neutral. It involves replacing fossil-fuel generating stations with renewable energy, and developing an integrated power and broadband network using a digital twin based on Cityzenith's platform. After it is built out, officials said it will connect households and municipalities throughout the state through a central platform that allows planning and infrastructure management.
John Kosowatz is senior editor.
Learn More at ASME's Digital Twin Summit
Related Content