Sensor System Aims to Head Off Avalanches
Sensor System Aims to Head Off Avalanches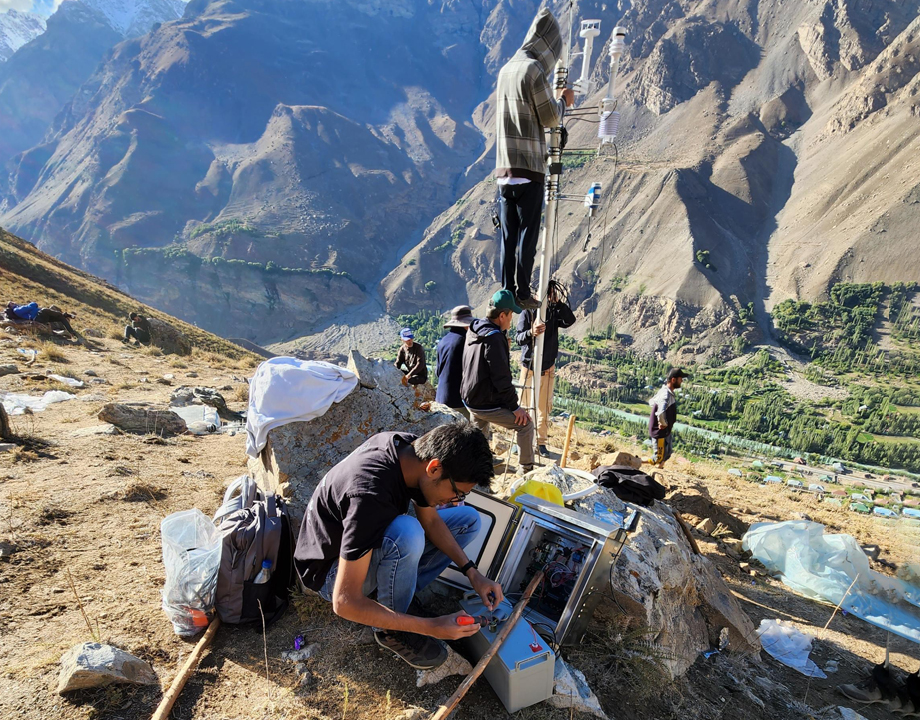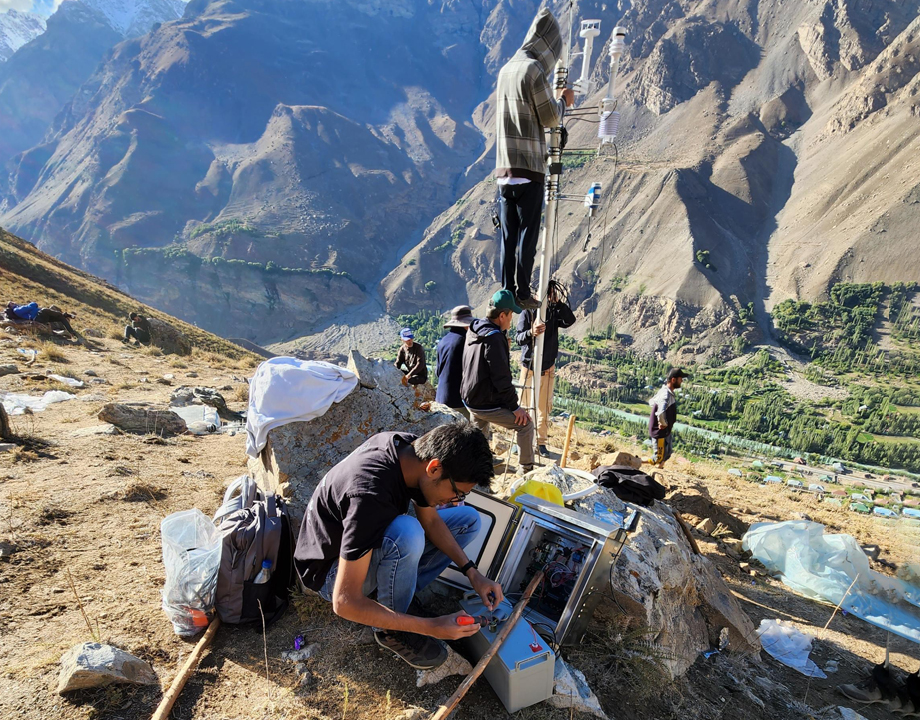 Mirza Samnani installs an avalanche monitoring station in the remote village of Manem in Tajikistan. He is a volunteer for the nonprofit Madad, which is installing avalanche early-warning systems.
Avalanches affect more than 240 million people in the mountains of central and south Asia, particularly in parts of Tajikistan, Afghanistan, and Pakistan. Lack of early-warning systems in these areas prevent villagers from being able to properly ready themselves. Instead, volunteers from more than 600 villages try to get a sense of the potential for an avalanche by manually tracking temperature, rainfall, and snow depth.
One nonprofit is working to change that with a system that will warn of avalanche potential, giving villagers the chance to prepare.
The system is tied to remote weather-monitoring stations, which are in turn tied to a predictive artificial intelligence model with an algorithm based on historical and near real-time weather and snow data. The data is married to information about weather conditions that preceded past avalanches, said Hamida Babool, founder of Madad, a Texas-based nonprofit.
You Might Also Enjoy:
Solar Ovens, Dryers Aim to Transform Rural Life
Madad is developing these low-cost, automated weather stations. They include seven sensors that monitor weather and environmental conditions, including wind speed and direction, atmospheric pressure, temperature, humidity, rainfall, snowfall, solar radiation from the sun, solar radiation absorbed from the ground, snow depth, and seismic activity. These conditions help calculate the snowpack parameters, Babool said.
When conditions meet a predetermined threshold, the algorithm would automatically kick off an alert. The warning might come by way of an alarm siren or a control panel monitored by a local individual, who would then alert villagers using a planned protocol, she added.
Based on experience
More than 240 million people live in the mountains of Karakoram, Hindu-Kush, and the Himalayas. Babool was one of them.
"Since I spent my childhood years in a developing country, I can very well relate to living in an environment lacking reliable infrastructure and support," she said.
Climate change is worsening the situation for communities that have lived in isolation and have been invisible for centuries, facing extraordinarily harsh circumstances, Babool added. "Essentially, we are attempting to mitigate it through innovative technology and mindset—one of the most challenging situations—so that people can focus on improving their lives instead of just surviving," she said.
Become A Member:
How to Join ASME
Babool founded Madad while earning a master's degree in management (ALM) through extension studies at Harvard. She graduated in 2022.
"The engineering team took this project from concept to installation," said Mirza Samnani, a project volunteer and graduate student in aerospace engineering at the Georgia Institute of Technology.
Samnani hiked over 9,200 feet—three times—to install two weather stations in the remote village of Manem in Tajikistan. Over the next few years, more of these stations will be deployed to cover more than 600 high-risk villages and eventually will incorporate sirens as well as text and phone alerts, Babool said.
Madad plans to install 55 weather stations in 2023.
More Like This:
IoT Bolsters Weather Forecasting for Farmers
The project has faced uncertainty because of the rough terrain as well as strict regulations and policies in the region, requiring heavy modifications and flexibility in adapting to local environments. Even after extensive testing, communication and power issues occurred, Samnani said.
Data is being collected and monitored to determine the integrity and performance of each tower in collaboration with avalanche experts from the Gallatin National Forest Avalanche Center in Montana and the Colorado Avalanche Information Center in Boulder.
The system has the potential to benefit more than one million people in hundreds of villages. It can also be scaled to other parts of the world at high risk for avalanches, Samnani said.
"This project gave me the opportunity to use my engineering and AI skills to save lives of some of the most vulnerable people on the planet," Samnani said.
Jean Thilmany is a science and technology writer based in Saint Paul, Minn.
Related Content