Personal Drones Take Flight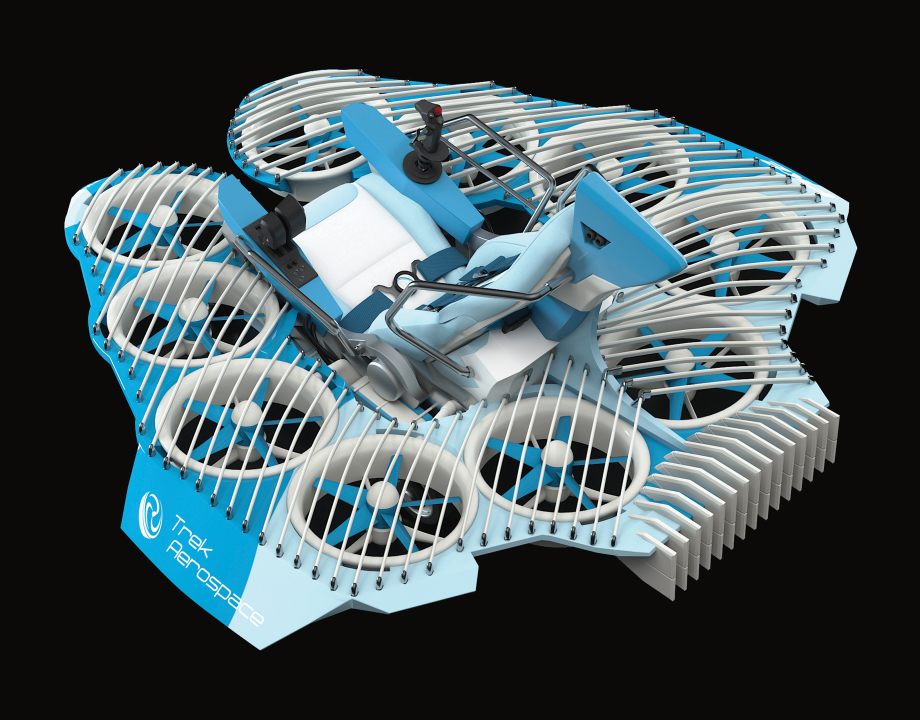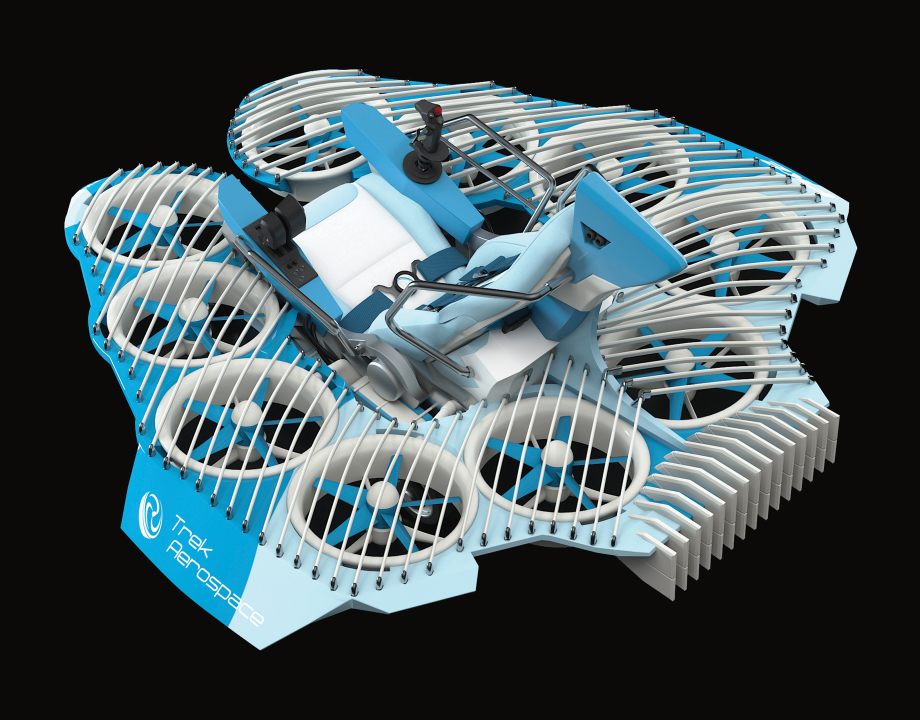 FlyKart 2 is an electric VTOL aircraft designed to be inexpensive to build, own, and operate. Image: Trek Aerospace
Personal Drones Take Flight
Jan 6, 2020
Each year, flight enthusiasts from all over the globe descend on Oshkosh, Wis., to experience what Jose Fierro, Trek Aerospace's head of operations and business management, calls the "Woodstock of aviation."
"There's really nothing like the Experimental Aircraft Association's AirVenture," he said. "It's the largest air show in the world, with thousands of planes of all kinds and just about anything you can imagine related to flying. For a pilot or anyone who loves flying it's really just an incredible place to be."
Many in the crowd come to AirVenture, which celebrated its 50th year in 2019, to see fighter jet fly-bys, world-class aerobatics, and outstanding fireworks. But this past year, Trek provided one of the highlights of the show's Innovation Showcase.
Set amidst a field of new technologies poised to transform the aeronautical industry, Fierro fielded questions about Trek's personal drone, an electric vertical take-off and landing (VTOL) flying device. The FlyKart 2, which looks like a theme park go-kart surrounded by 10 ducted propellers, recently took home prizes in the first and second phase of the inaugural GoFly competition.
"People were definitely curious about both the FlyKart," he said, noting the large number of people who checked out a prototype of Trek Aerospace's core technology, a ducted propeller.
"But they were also curious about the GoFly competition. There hasn't been anything like it before. And every team competing really is on the cutting edge of innovation—trying to figure out how to solve what amounts to a serious technical challenge."
A Serious Technical Challenge
The GoFly competition is the culmination of humanity's desire to break the constraints that tether us to Earth. From Leonardo da Vinci's Renaissance blueprints of flying machines to modern inventor Franky Zapata's Green Goblin-style trip across the English Channel on a jet-powered hoverboard in August 2019, humans have been striven to soar among the eagles.
Gwen Lighter, a Harvard-trained attorney, is no different.
"I've always wanted to fly—not just on an airplane, but to have a pure, human flight kind of experience," she said. "And we are finally at a point in history where there is a convergence of breakthrough technologies, from 3D printing to incredible sensing and control systems, that finally make it possible to create the personal flyers of our dreams."
Lighter created the GoFly Prize to bring together the best and brightest minds in engineering and design to realize those dreams. Sponsored by Boeing, the competition's goal is to develop safe, quiet, and ultra-compact personal flying devices that retain the thrill of flight. GoFly's motto is, "Together, we will make people fly."
The three-phase competition, which launched in late 2017, set out design challenges that were far from simple, Fierro noted. Teams had to create a personal flyer compact enough to fit within the confines of an 8.5-foot sphere. It had to have enough power to reach 30 knots, yet keep noise under 87 A-weighted decibels at 50 feet (about as loud as a passing diesel truck). And it needed enough endurance to carry a 200-pound individual safely for 20 minutes without refueling or recharging.
"We designed the rules in this way to really leave an open white space for innovation," Lighter said. "As long as the teams meet these rules, it's wholly up to them what the device looks like and how it works. That's why you'll see that we have designs that look like everything from flying motorcycles to jetpacks."
The first phase of the competition, a "paper" phase, emphasized design and technical specifications to prove feasibility. It attracted more than 600 innovators from 30 countries. The judges awarded the 10 winning teams (including Team Trek Aerospace) a $20,000 prize to fund further work.
In March 2019, GoFly announced the five $50,000 winners of the second round competition. The second phase required teams to submit visual and written documentation to support the design of each flyer, as well as a physical prototype. This time, 31 teams from 16 countries applied.
Four of the five winners—Team Aeroxo's ERA Aviabike, Team Silverwing's S1, Team Texas A&M Harmony's Aria, and Trek's FlyKart 2—built on their winning phase one entries.
They were joined by a newcomer, Team DragonAir Aviation, which wowed the judges with the AirBoard 2.0, a novel octocopter design that resembles the offspring of a pair of cross-country skis and a high-powered drone. "We were really excited to see the kind of innovation we did in each team's entry," Lighter said. "But the competition will really culminate in the final phase, the GoFly Fly-Off competition."
Further Reading:
Hospital Uses FAA-Approved Drones for the First Time
This will take place during the days surrounding—how appropriately!—Leap Day, February 29, 2020, at Moffett Field in Silicon Valley. It is open to the five semifinalists and to any team that wants to bring its own personal flying device.
"We will then crown our final winners based on both technical specifications and how well their devices handled the course," Lighter said.
Anthony Windisch, who leads Team Phattony's Rock & Roll Flying Circus, hopes his personal flying device—which looks like a cross between a small fighter jet and the Beatles' Yellow Submarine—will be there. He likens GoFly to the pioneering National Air Races held in the early 1930's to push the envelope of developing aircraft technology.
"With those speed races, they advanced aviation with more streamlined and faster aircraft," he said. "They couldn't have done it otherwise. GoFly, like those races, is going to push personal flight's potential by showing us just what is possible."
Meeting the Design Challenges of Personal Flight
Zapata's recent journey over the English Channel impressed many flight enthusiasts. Yet, the French pilot's hoverboard is not built for comfort—and likely would not meet GoFly's stringent design criteria.
"One of the things Zapata said after he finished that flight was that it was really hard on the body," said Mariah Cain, project manager for DragonAir Aviation. "He had to really fight the wind. For a personal flyer to be feasible, it has to be easy to fly. If you have to fight it the whole way, what's the point?"
"[Zapata's Flyboard] is really neat and innovative, but no one will want to stand next to it because it's so loud," Fierro added. "As we approach the potential of personal flight, noise is really important. If we get to the point where we are talking about integrating personal flyers into urban or suburban environments, we need to figure out a way to avoid a massive increase in ambient noise or no one is going to want them in their neighborhoods."
Cain and DragonAir team member Jeff Elkins already had a working version of their own hoverboard before they had even heard of the GoFly competition. And Cain had already successfully piloted DragonAir's AirBoard several times, documenting each flight on YouTube.
"The way our aircraft works is that it lifts you from underneath, but you control it with weight distribution," she explained. "It's not as hard on the body as a hoverboard. It offers you support, counteracting the force you put into it. It kind of feels like you are on a magic carpet gliding around in the sky."
While the team did not participate in the first phase of the competition, Cain and Elkins were keen on entering phase two.
"When I saw they had opened up Phase II, I felt like they opened it just for us," she said. "We wanted an opportunity to take the AirBoard to the next level, and here it was. But we had to figure out how to manage the size."
The team decided to go back to the drawing board. Eventually, they came up with a design that would allow all eight of their propellers to fit within GoFly's 8.5-foot sphere.
"We ended up having to switch over to a co-axial system and stacking our [counter-rotating] propellers to make it work," she said. "Stacking the propellers makes it harder to get the airflow you need, but we came up with some tricks so we could get pretty close to the kind of performance we had before."
Related Robotics Blog:
Are Hydraulics the Future of Heavy-Lift Drones?
Size was also a challenge for Team Texas A&M Harmony, headed by Moble Benedict, a professor of aerospace engineering at Texas A&M University. From the front, their flyer looks like an egg with rotors mounted underneath. Its rotors are surprisingly quiet, especially when compared with most drones.
Benedict's teammate, graduate student Farid Saemi, said the design allows a true personal flight experience. He likens it to "flying on a dragon." But coming up with such a design took a lot of careful engineering, starting in phase one.
"My expertise is in helicopter dynamics," Benedict said. "When you look at a typical helicopter rotor, it's very big. There's a reason for that. Your efficiency improves with size. Our biggest challenge was to come up with an efficient rotor that was both small enough yet powerful enough to work for this competition—and it was also something that was going to have to be quiet. It's something we, as a team, spent a lot of time working on."
Fierro, for his part, believes the GoFly specifications are an ideal technical demonstration for Trek Aerospace's core expertise, ducted propellers. In fact, Trek's design boasts 10 of them. The company has been designing shrouded propellers since 1996, and claims its systems outperform similarly sized free propellers to airspeeds of up to 200 knots.
"If you need maximum thrust in limited space, this is the kind of technology that can help you do it," he said. "The ducted props are also half as loud as a free prop delivering the same thrust. So, you won't have the same noise problems you might have in other flyer designs."
Preparing for the Fly-Off
With Leap Day rapidly approaching, the GoFly competitors are working hard to construct their personal flying machines. This time, the proof will be in the performance. GoFly will judge their systems based on their ability to achieve a near vertical take-off and landing from within a 30-foot circle and perform such maneuvers as a touch-and-go and hovering. Each flyer must also stay aloft for approximately 15 minutes.
It will be a crowded field. In addition to the five semifinalists, Lighter expects approximately 40 teams to ultimately participate in the final competition.
DragonAir Aviation has already built out its new system and has been flight testing it. Cain said she is very excited to take on the flying course and show everyone what the AirBoard 2.0 can do. Texas A&M's Benedict hopes to make the Fly-Off, but his team requires more funding to build out Aria to scale.
"We're making a lot of progress toward building the full-scale prototype," he said. "We have the technical expertise. We can do the engineering and the construction. But the challenge really is in raising the money. This is a full-scale flying machine we're building and it's very expensive. But it's our hope that we'll raise the money in time to participate."
Further Reading:
Unique Gas Turbine Engine Powers Quieter, More Reliable Drones
Trek Aerospace is still in the construction phase. One of the team's biggest challenges is finding time to work on the project as they continue to do consulting work for their current stable of clients, Fierro said.
"This competition was never set up to accept major industry players," he said. "But whether you are a small business that has to get work done, or students working toward a degree, it's hard to find the time to prioritize. But we hope to be there and show the world what our core intellectual property can really do."
Phattony's Windisch said he, too, is trying to manage costs and priorities, especially as leader of a team that did not win a monetary prize in the initial phases of competition. Still, he's doing what he can to make an appearance and help further the possibilities of personal air flight.
"Everyone who is involved is basically a trailblazer," he said. "Everyone, regardless of whether they win or lose, is making major contributions to aviation with their new designs and engineering solutions.
"They are coming up with things that have never been done before and that may have the power to change the course of aviation in the future. The opportunity to work with a team and contribute something to that knowledge space is a tremendous opportunity. And I'm really grateful that I can be involved in that," he said.
Kayt Sukel is an engineering and science writer from Houston, Texas.