Hospital Uses FAA-Approved Drones for the First Time
Hospital Uses FAA-Approved Drones for the First Time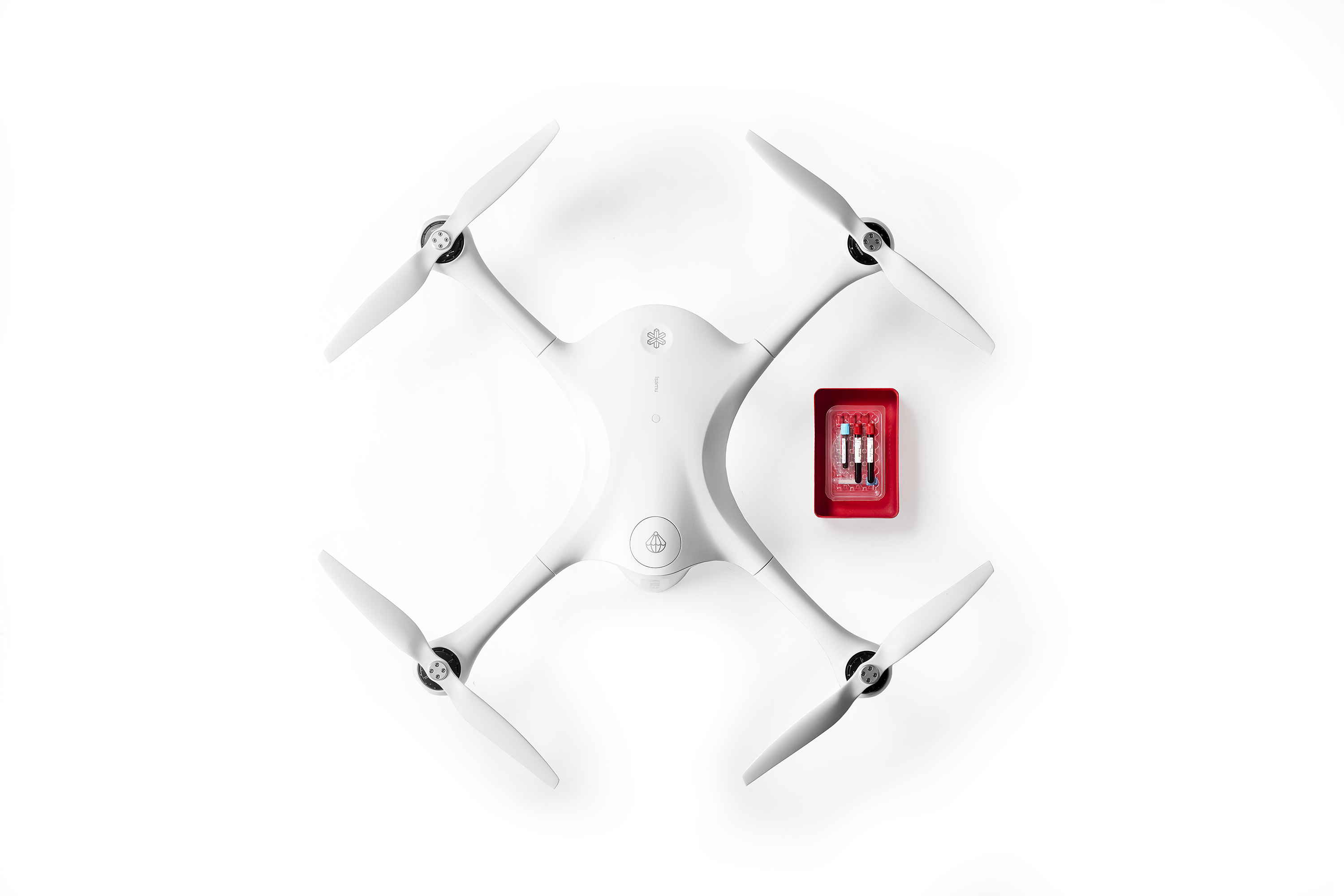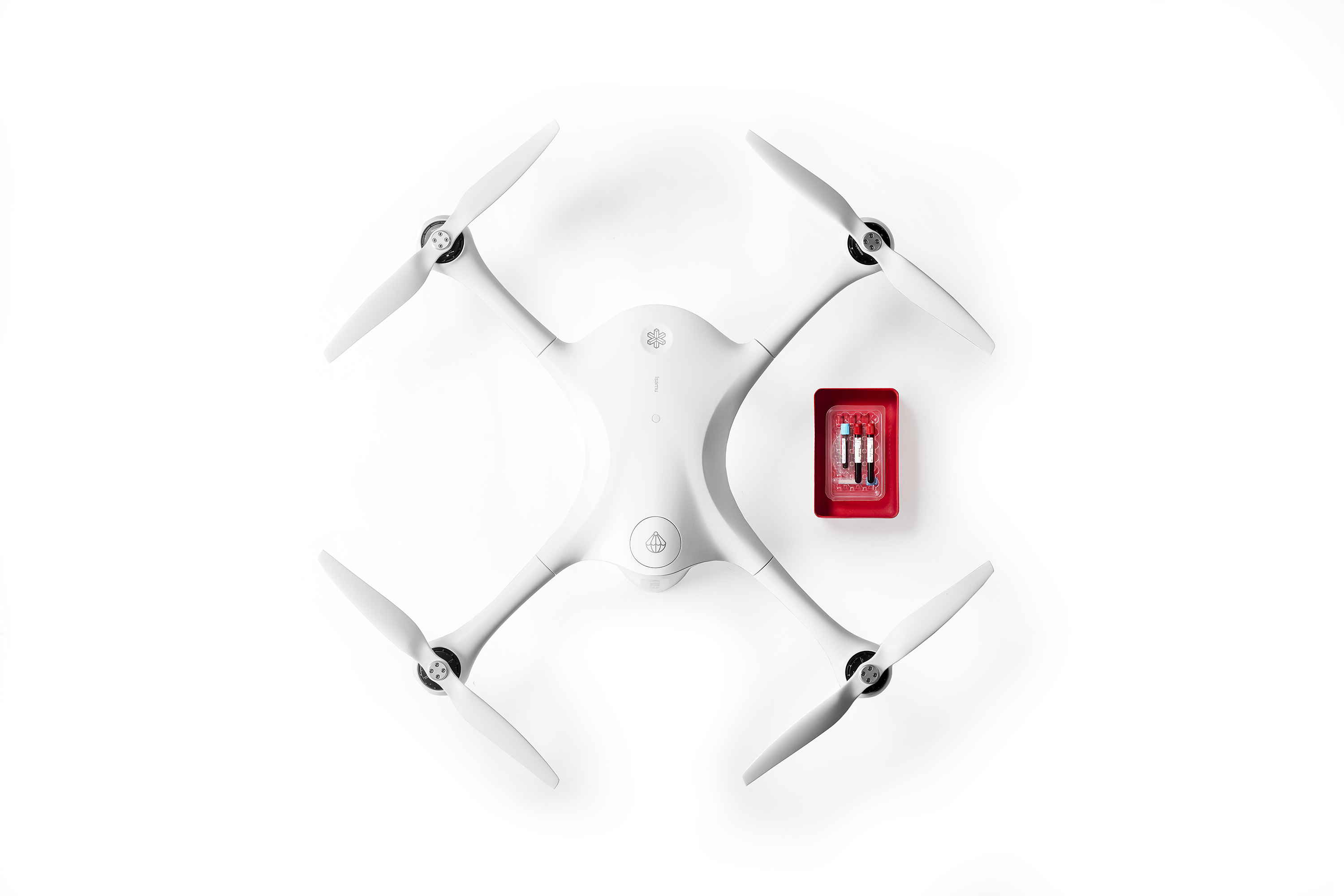 The Matternet M2 drone is the first FAA-approved drone for medical supply delivery. It will deliver blood samples from a medical park to WakeMed Hospital's main campus. Photo:Matternet Inc.
WakeMed's flagship hospital and campus in Raleigh, N.C., has become the first U.S. facility to use drones regularly to deliver medical samples, thanks to a partnership between UPS and Matternet Inc., a startup that develops drones to transport medicine and humanitarian aid.
It marks the first time the Federal Aviation Authority has allowed a drone to make routine revenue deliveries under a contractual delivery agreement. The FAA buy-in came one-and-a-half years after Matternet began teaming with Swiss Post to deliver medical materials in Switzerland.
Matternet will use its M2 drone to deliver blood samples between a medical park to the main hospital for lab testing at least five to six times per day, five days per week.
See how an Insect Drone Camera Flies Like a Bee
The M2 drone can carry a 5-lb payload up to 30 minutes and 12.5 miles on a single charge in no-wind conditions. Four electric brushless motors power the drone, delivering a top speed of 31 mph. It has a cruising flight speed of 18.6 mph and a maximum flight height of 1.3 miles.
The drone connects to the Matternet Cloud Gateway. It serves as a communications gateway to monitor drone flights and protect delivery contents, routes, and other sensitive information. It also enables a remote mission control center that tracks drones 24/7 and intervenes in emergencies.
The company also installed several Matternet Stations around the WakeMed campus for the drones to dock, recharge, and pick up or drop off packages automatically.
Deploying drones in densely inhabited major cities proved a different type of challenge because of airspace regulations. Matternet received regulatory approval through an FAA drone initiative—the Unmanned Aircraft System (UAS) Integration Pilot Program (IPP)—which is introducing a new level of regulated airspace for drone flight.
Before receiving FAA approval, the firm partnered with the Swiss Federal Office for Civil Aviation and Swiss Post in 2017, the state-owned public company that manages the postal system.
The agencies worked together to ensure the drones did not interfere with nearby airport traffic or hospital helicopter landing pads. They certified Matternet to deliver lab samples between two hospitals in Lugano, slashing delivery times to 5 minutes, from 35 minutes. Swiss Post extended the service to Berne and Zurich in 2018.
These flights led Swiss Post (and Boeing) to invest in Matternet. They also gave Matternet the data it needed to partner with FAA, Paolo Resmini, the company's head of platform and flight safety, said.
"Switzerland was a country that declared very early on that they wanted to be a leader in drone innovation," he said. "We were able to take that opportunity and work with the [Swiss] regulators to develop a safety concept, functional processes, and establish an organization that could implement those processes.
"We then could take that framework to the United States and show U.S. regulators we know what we are doing in the drone space," Resmini said.
Matternet traces its founding to 2011 when CEO Andreas Raptopoulos was attending Singularity University. The school encourages students to think big and use today's "exponential technologies" to tackle global challenges.
Raptopoulos was inspired and believed that drones could provide medical relief in developing countries where medical facilities are sparse, transportation infrastructure often poor, and the clock is always ticking. He developed Matternet's M1 drone as an automated supply delivery system.
The initial test flight took place three years later, in Papua New Guinea. Working with Doctors without Borders, Matternet launched a fleet of six prototype drones. Since then, Matternet drones have delivered medical materials in Haiti, Bhutan, the Dominican Republic, and Malawi.
Recommended for You: Iron Man Lives
Resmini says that Matternet's main focus is on the medical space, where it has found the most success and provides the greatest benefit for society.
"Right now we are hyper-focused on the medical space use case," Resmini said. "If you zoom out, we are building a system that can move physical goods of any size anywhere."
There is plenty of room for Matternet and other drone companies to grow. By 2025, worldwide revenue for commercial drone applications will approach $12 billion, according to Statista.com. This should drive demand for aviation engineers and drone companies.
"Scaling up our drones to handle a larger payload is easy," Resmini said. "The more complex problems to solve are how does one coordinate flight safety, work with federal regulators, and ensure the drones are flying safely in the air."
Carlos M. Gonzalez is special projects manager
Related Content