Microgrids Where the Big Grids Don't Go
Microgrids Where the Big Grids Don't Go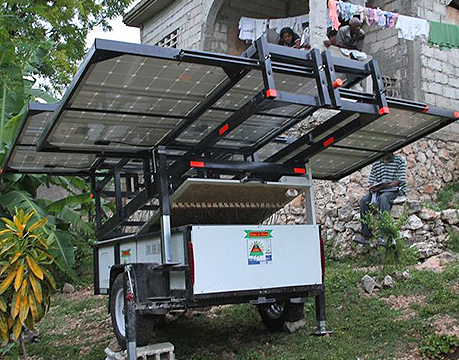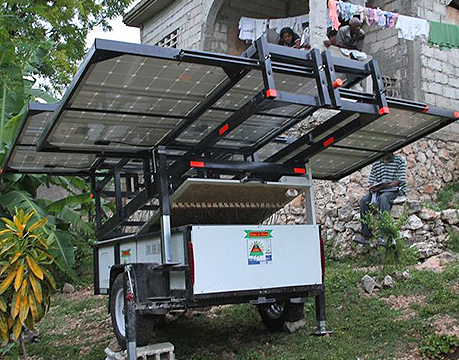 A SunBlazer unit providing electricity to the off-grid community in Haiti. Image: IEEE
Samuel Egbu used to pay 50 naira (32 cents) to charge his phone battery in Umuagwu, a village in Rivers State, Nigeria. Or sometimes he would wait with his dead phone in the small crowds gathered around a neighbor's portable generator.
Electricity was scarce until solar power changed the community. "Life used to be very difficult and uncomfortable in the village because there was no light," Egbu said. "As soon as it is dusk, everybody retires to their houses."
Now he charges his phone at his own home using a large rechargeable battery. The battery draws its charge from a solar photovoltaic array in the neighboring community of Egbeke.
Street lights, powered by the solar array, shine on the main street of Umuagwu for the first time. "We now feel like we are living in the big cities," Egbu said.
The PV array and the battery kit are part of an electrification pilot project by Green Village Electricity to deliver power to households not connected to a central grid or traditional power plants. The Nigerian company uses technology and a business plan developed in the U.S. by IEEE Smart Village. Smart Village proposes to work with GVE and other partners to light up places like Umuagwu and Egbeke all over the world. The goal is to deliver electricity and educational services to 50 million people by 2025.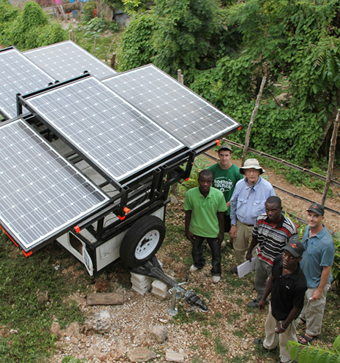 The project started small in Haiti after the earthquake in 2010. Ray Larsen, a Smart Village co-founder, and his colleagues helped deliver 15 solar microgrids in trailers to communities that had never been on a central power grid.
The power stations, which they called Sunblazers, shipped as kits of panels that produce 4 kilowatt-hours of electricity per day, plus 40 to 80 12-volt lead-acid battery packs. Local technicians cut and welded frames and wired the panels.
Then they hauled the finished products into remote communities where they powered homes through the battery packs. The kits were composed almost entirely of off-the-shelf parts configured for efficiency and portability.
Today, 10 of the units are still running. One of the original 15 was destroyed in a riot and the others are under repair after heat and humidity rotted the wood floors of their chassis. The poor mix of wood with a wet climate is one lesson learned from that first project.
Now Sunblazer is in its second and third generations, Sunblazer II and Sunblazer Lite. Both new models are lighter and more portable than the first, and their panels are more efficient. Sunblazer II includes six 300-watt panels that deliver 9 kWh of electricity per day in equatorial sun. The panels store power in four station batteries that can charge a portable household battery pack in about four hours. The chassis is steel tubing with a floor of sealed plywood or steel.
Sunblazer Lite is about half the size and weight with two panels that deliver nearly 3 kWh per day. It has a stainless steel frame and an enclosure of high-density polyethylene plastic.
The new models also include mostly off-the-shelf components, and the designs are intentionally fluid, open to adaptation to suit changing conditions in communities and countries around the world. Each station can expand to deploy more panels and charge more batteries.
"You can couple them together and drive big loads. We're taking a broader look than just home lighting," Larsen said. "We're trying to be more than just a lighting company. We're looking not just at lighting, but at clean water, water purification, education, refrigeration, pumping.
We build somewhat larger systems to handle those loads." Smart Village has since branched into Kenya, Cameroon, South Sudan, and Nigeria.
In Nigeria, GVE is deploying 24 kW of solar power to three different villages to put power in 200 homes. In September, Nigeria's Bank of Industry invested more than $675,000 in the company and Smart Village added an additional $65,500 to fund the pilot program. If it is successful, the Bank of Industry plans to fund an expansion that would reach 200,000 homes in the next five years, according to Ifeanyi Orajaka, chief executive officer of GVE.
"So far from the pilot projects we have deployed, the business model has proven to be very sustainable as well as very scalable," Orajaka said. The service appears to be working, as customers spend less and receive more.
"Before now I spend about 450 naira daily (for 3 liters of fuel) but now I spend 200 naira and yet I have a better value for my money, I have longer hours of electricity and without generator noise and fumes," one customer told Orajaka. Learn about the latest energy solutions at ASME's Power & Energy Conference and Exhibition.

For Further Discussion
Before now I spend about 450 naira daily (for 3 liters of fuel) but now I spend 200 naira and yet I have a better value for my money.Sunblazer II Customer
Related Content