Manufacturing Blog: Connect with Engineers via the Open COVID-19 Community
Manufacturing Blog: Connect with Engineers via the Open COVID-19 Community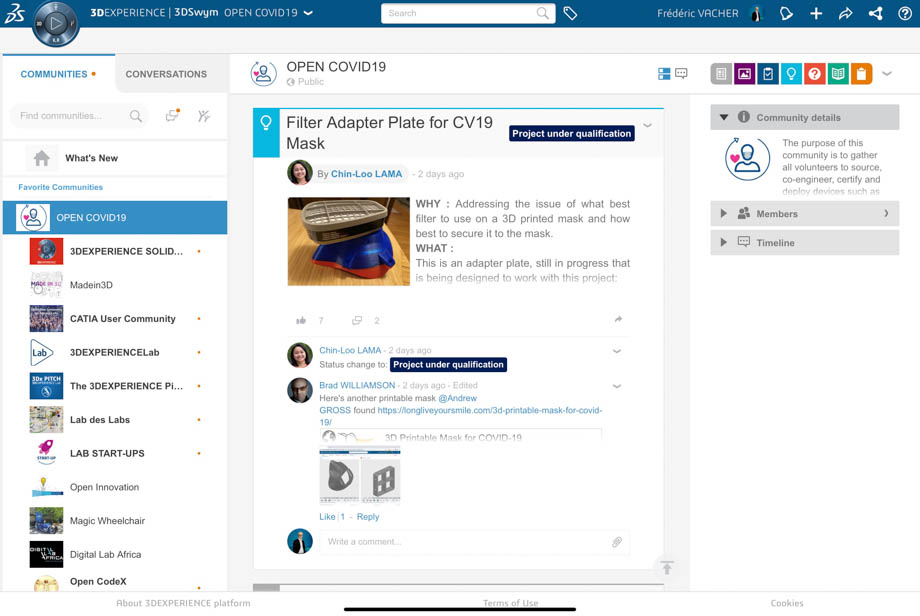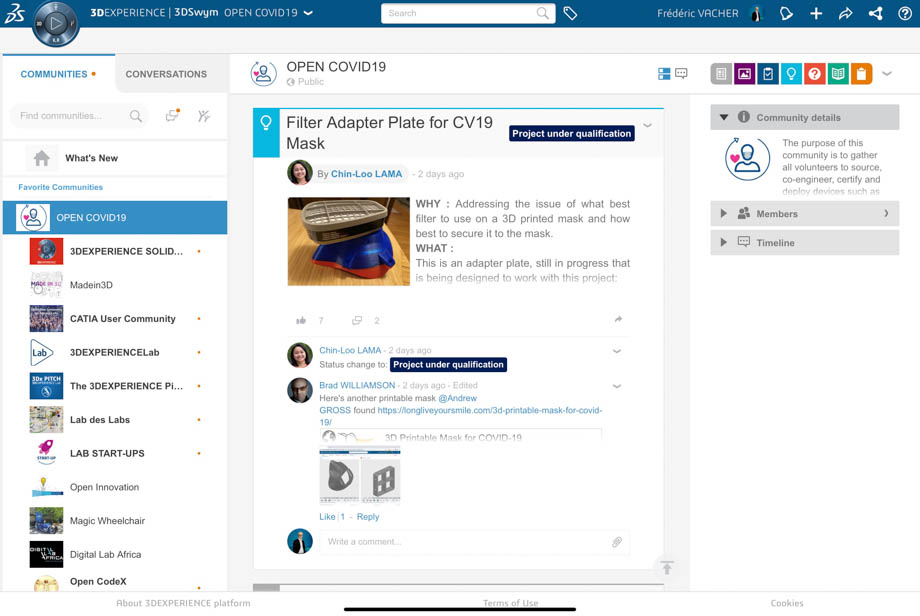 Dassault Systèmes has created the Open COVID-19 Community, an open network platform of engineers, FabLabs, and medical professionals to crowdsource the design of medical parts.
Currently, engineers are scattered across the world, separated not only by distance but also by the COVID-19 pandemic. The current coronavirus has forced many engineers into isolation, working from home with limited resources.
To help engineers collaborate and be active participants in this pandemic, Dassault Syst
è
mes, a leading 3D design, 3D digital mock-up, and product lifecycle management software company, has created the Open COVID-19 Community, a crowdsource open network platform of engineers, fab labs, makers, hospitals, and medical professionals. Their goal is to expedite the design and manufacturing of parts and equipment to help treat COVID-19 patients.
"When faced with a global crisis, time is of the essence. Fast design and fabrication can help bridge the shortage gap while companies are mobilizing resources to launch new products that are critical to put out in the market," said
Fréderic Vacher
, head of innovation for Dassault Systèmes 3DEXPERIENCELab.
Recommended for You:
Sharing Ventilators: Will Hacks Really Work?
"In such a charged atmosphere, empowering makers and startups while ensuring they receive fast but steady mentoring from experts and professionals will be key. Doing so will help them quickly bring ideas to life, moving from prototype stage to production," he said.
The community is leveraging Dassault Systemes design and simulation software, along with 3D printing, to create spare parts for ventilators and face shields and to advanced new designs that can help medical professionals.
The Open COVID-19 Community builds upon Dassault Syst
è
mes' current FabLab network. Vacher created the Dassault Syst
è
mes' FabLab network five years ago and has gone on to connect 300,000 of designers, makers, and engineers. The community connects individuals to harness engineering power from all over the globe. Currently, there are online members from the U.S., the U.K., India, France, the Netherlands, and more members are joining daily.
When a new member joins the community, they will have access to SOLIDWORKS xDesign online environment. xDesign is a series of design and collaboration cloud-based apps that run entirely in a web browser. Besides being a 3D modeling tool, users can also manage data, assign tasks, and collaborate with other individuals. They also have access to SIMULIA experts. SIMULIA allows user to verify their designs in real-world environment simulations. Other benefits of the community include:
Blog posting, commenting and sharing
Idea funneling to qualify the projects
Wiki and Q&A community services
3D model storage, viewing, and sharing
Millions of standard components and parts
Access to manufacturing resources
Geo-mapping of all Fab labs, MarketPlace resources and hospitals to connect people locally
Product communities for support in particular for CATIA, SOLIDWORKS, and xDesign
Besides the tools and expert resources, the community also offers around-the-clock comprehensive dashboards and curated information and relevant news sources regarding the COVID-19 pandemic. Community users can stay informed and help target their efforts to profoundly affected communities.
You May Also Like:
8 Ways 3D Printing is Helping to Fight Coronavirus
One of the design concepts that has seen an advanced design timeline has been the ventilator designed by Inali, a nonprofit organization, creating assistive health care products based out of India. They developed a smart ventilator using the 3DEXPERIENCE platform and from resources found on the Open COVID-19 Community.
"In India, one of the most pressing shortages hospitals are facing during the COVID-19 emergency is a lack of ventilators. The country is believed to have around 30,000 ventilators, many of which are already in use. Imported ventilators cost around USD $20,000 each," said Prashant Gade, founder, and CEO of Inali Assistive Tech. Gade is also the head of the research & development at Inali.
"Our aim was to make a ventilator available at an affordable cost. We've created and designed the DIY Ventilator. Designed and built entirely on the 3DEXPERIENCE platform on the cloud," he said.
The DIY ventilator is a smart product, and it has controls for volume and pressure, as well as alarms and other digital monitoring features. They shared their design with the Indian startup community to accelerate the design and are now working with local doctors and hospitals also on the community to validate the model. Once approved, Inali will conduct patient trails under medical supervision and guidelines established by the World Health Organization.
"Connecting with local hospitals is key for any product developed via the community," said Abhishek Bali, manager of North American operations of the Global Innovation program at Dassault Systèmes. "For example, we have a local contact at New York-Presbyterian, Dr. Sidney Bunshaft, and she has spoken with and help guide makers in the community. She has helped us verify designs New York-Presbyterian, to ensure the hospital facilities would accept products made."
Editors' Pick:
How Engineers are Working Through the Coronavirus Pandemic
Ultimately, the goal of the community is to give power to users and help them contribute to the ongoing pandemic. "Sitting here in my apartment building, the ability to help somebody in France just by responding to a comment on the community is empowering," said Bali. "I just wrote to them saying that I'm part of the source systems and we would like to help, can we help? And I was amazed at the spirit of humanity around that, that actually defies all borders."
Carlos M. González is special projects manager.
Related Content