How to Get a Theme Park Engineer Job
How to Get a Theme Park Engineer Job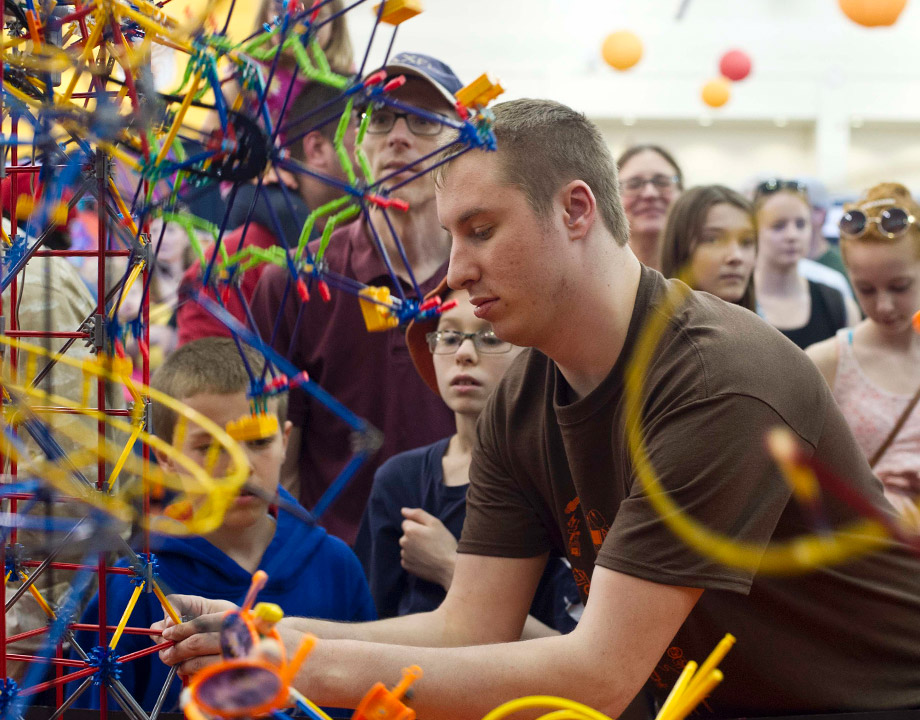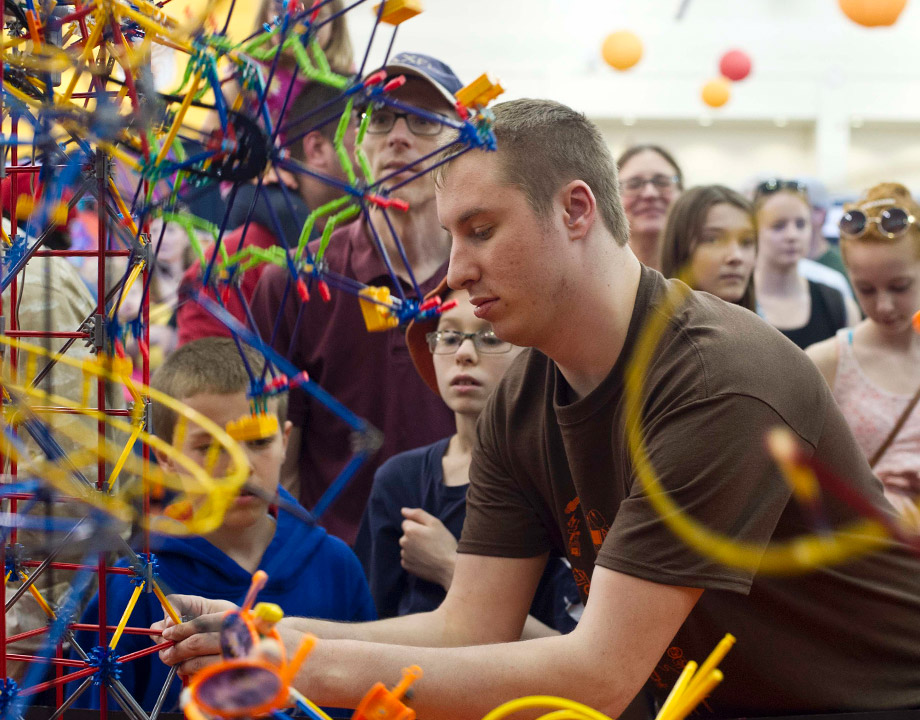 David Swerzenski paved the way for students to find careers in the entertainment and theme park industries. Photo: A. Sue Weisler, RIT
David Swerzenski was fascinated with theme parks from toddlerhood through elementary, middle, and high school. Once in college, at the Rochester Institute of Technology, he studied mechanical engineering and continued to dream of amusement parks.
Several years later, no one is surprised that he has been instrumental in helping pave the way for RIT students to find engineering jobs and internships in the entertainment and theme park industry.
Swerzenski was certain of his career goals and chose RIT even though there was no entertainment and theme park major at the time. Now, seven years later with a mechanical engineering degree under his belt, he is an associate engineer at Universal Creative, a division of Universal Parks and Resorts that is responsible for master planning, creative development, design, engineering, and research and development.
Swerzenski and his fellow mechanical engineering students, Mike Troise and Robert Cybulski, spent hours and hours reaching out to companies asking how to get into the field and inviting senior executives to come to the campus to speak or to have online sessions with students interested. Starting in 2014, the three were influential in creating the Theme Park Enthusiasts (TPE) club.
"It's a hard industry to break into," said Tim Landschoot, principal lecturer in RIT's mechanical engineering department, who serves as the faculty advisor for the TPE club. "In 2014, we didn't have a lot of contacts in the industry. Those early passionate students worked on their own to reach out to industry folks initially, and it really worked. Considering the TPE group was created just five years ago, it is impressive that [so many] students have been able to break into the industry."
Although TPE started out with a few students, the club quickly gained traction in the spring of 2015 when it wowed judges and thousands of visitors at the school's annual campus-wide Imagine RIT festival that showcases creativity and innovation. TPE's entry was a miniature motorized amusement park built with K'Nex construction pieces, demonstrating gears, motors, pulleys, and other basic mechanical concepts behind simple machines.
Further Reading:
Engineering Thrills from Cedar Point Rides
The following November the same team entered and swept a national collegiate competition, which was judged and hosted by Universal Creative in Orlando. Each of the four colleges competing had three tasks to complete: Retrofitting a Ferris wheel to keep children in open gondolas; designing a rollercoaster that couldn't go faster than 40 mph; and redesigning a Teacup ride to make it more appealing to teenagers. The TPE team won first place in all three and then, naturally, took the overall award. Shortly after, several team members were offered internships.
From there, the offers of internships and full-time positions started coming to RIT students. In addition to Universal, RIT students and graduates have held internships or are currently employed at several other entertainment companies.
In November, this year's team entering the same competition, the Ryerson Invitation Thrill Design Competition, again won first place having won the most points among the 16 competitors in the multiple challenges they entered, including first place for mechanical design and first place for safety and user experience.
Troise, now a mechanical designer at TAIT—a company specializing in live events—spends his days engineering and designing custom solutions for staging and automation of large scale concert tours for the likes of Taylor Swift, Lady Gaga, U2, and Queen.
Cybulski, who interned at Great Coasters International, is now a computer-aided engineering analyst for Roush Industries, where he analyzes amusement rides for theme parks to ensure that visitors have an enjoyable, exciting, and safe experience.
Catherine Osadciw, who will graduate in June 2020, spent five months earlier this year interning in the sustaining engineering group at Walt Disney World. Her team was focused on textiles, transportation, and water parks. This is a behind-the-scenes area where, as she said, "If everything is running smoothly you don't know that team is there."
In addition to having more than 26 hotels, the resort has four giant textile facilities for processing everything from resort linens and towels to all of the cast members' costumes to all the textile products for restaurants and food service. Osadciw's job was to write software for tracking and compiling data collected in each of the textile facilities to be used by the plant managers in order to improve operations.
Further Reading:
Five Job Interview Questions Young Engineers Can Expect
As for Swerzenski, for the better part of the last two years, he was the special effects engineer on the recently released, wildly popular Hagrid's Magical Creatures Motorbike Adventure that is part of the park's Wizarding World of Harry Potter.
Now assigned to another project, with expertise in fluid mechanics, general dynamics, and renewable energy systems, his job is to create the atmospheric effect intended and then, as he said, "make magic happen."
It could involve water, fog, or flame systems. For example, it could be a wind system to make guests feel the chill in the air when something happens in the show; or it could be choreographed fountains or a foggy alleyway or a dragon breathing fire.
But why would someone interested in theme parks attend a school that had no such major nor connections in the field?
When he visited the school, he was impressed with the school's emphasis on innovation and technology. "They talked about creativity in engineering," he said, "and I thought, 'wow, what better creativity is there in engineering than in the theme park industry?' So I figured, if I went there, I could accomplish what I wanted to do."
And that's exactly what he did.
Nancy S. Giges is a technology writer.
Related Content