Global Cooling: The History of Air Conditioning
Global Cooling: The History of Air Conditioning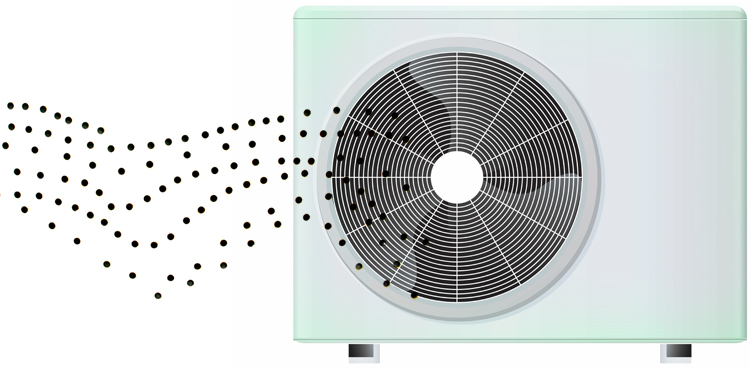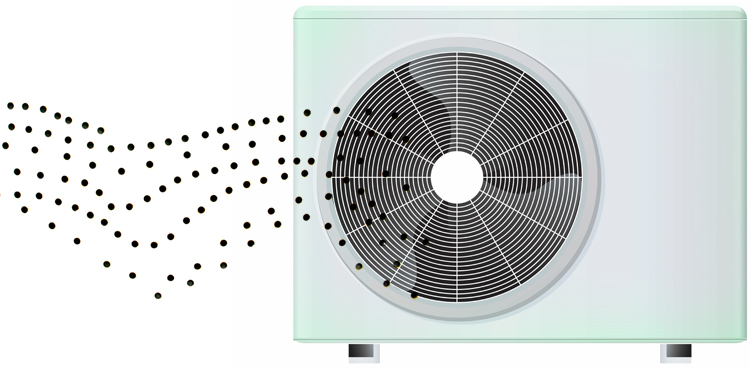 As summer approaches, bringing with it soaring temperatures and unbearable humidity, millions of people will turn on that marvel of discovery and invention–the air conditioner.
This story was updated on 10/7/2022.
With summer's soaring temperatures and unbearable humidity, millions of people turn to a marvel of discovery and invention: the air conditioner.
These comfort units that homeowners activate with the ease of flipping a switch are complex electromechanical systems—the end products of nearly a century of engineering development in cooling, thermodynamics, controls, and energy efficiency. In fact, in 2000, air conditioning/refrigeration was named among the ten greatest mechanical engineering achievements of the 20th century, according to a survey of ASME members.
That said, air conditioning actually has roots in second-century China, where an inventor named Ding Huane crafted a manually powered rotary fan. The concept of air cooling also intrigued the great American inventor and statesman Benjamin Franklin, who, in 1758, conducted experiments with evaporation and alcohol to attain freezing temperatures.
Willis Carrier: The Father of the Air Conditioner
The first modern air conditioner was invented in 1902 by Willis Haviland Carrier, a skilled engineer who began experimenting with the laws of humidity control to solve an application problem at a printing plant in Brooklyn, NY. Borrowing from the concepts of mechanical refrigeration established in earlier years, Carrier's system sent air through coils filled with cold water, cooling the air while simultaneously removing moisture to control room humidity.
In 1933, the Carrier Air Conditioning Company of America developed an air conditioner using a belt-driven condensing unit and associated blower, mechanical controls, and evaporator coil. This device became the model in the growing U.S. marketplace for air-cooling systems.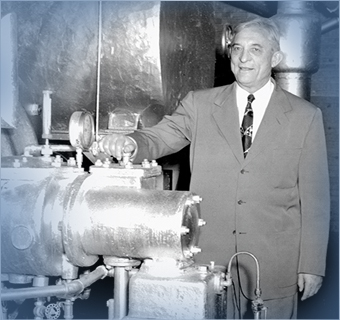 Willis Haviland Carrier was an American engineer and inventor and is known as the man who invented modern air conditioning.
Today's air conditioners—while operating on the same fundamental science as Carrier's 1933 system—incorporate advancements in vapor compression, diagnostics and controls, electronic sensors, materials, and energy efficiency.
Take, for example, Carrier's top-of-the-line central air conditioner, the Infinity. This state-of-the-art model is far different from the founder's early models, featuring advanced components including a two-stage scroll compressor for quieter, more energy-efficient performance.
In fact, energy efficiency standards set by the U.S. Department of Energy are driving improvements in a variety of air-conditioning systems.
"Minimum efficiency standards for air-conditioning systems have progressively increased," says Ingersoll Rand's—which markets the popular Trane line of air conditioners—Vice President of Engineering and Technology Dennis Thoren. "[This requires] manufacturers to optimize systems to reduce energy consumption."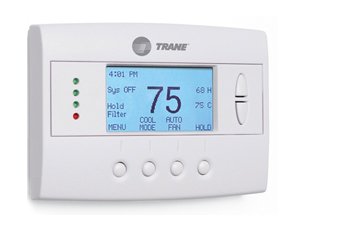 To comply with the regulations, air-conditioning manufacturers have successfully increased the Seasonal Energy Efficiency Ratio (SEER) to 16 or 18, exceeding the DOE's efficiency standards. In addition to the Infinity, some high-end models like the Lennox XC21 and Trane XL20i are rated up to 21 SEER, further aiding the environment while enabling energy cost savings for customers.
Smart Technologies
In a further effort to reduce energy usage, some air-conditioning manufacturers have begun to stretch the capabilities of the standard wall thermostat, developing sophisticated microprocessor-based diagnostic and control kits that automate the operation of the compressor and air-flow system.
The Trane ComfortLink II remote thermostat, for example, allows the homeowner to adjust functions and settings on the air conditioner from off-site computers and web-enabled cell phones. ComfortLink will even send text and email alerts when it's time to replace the filter or arrange routine service inspections.
"We are using innovation to put a whole new level of control in the consumer's hands, in the process reducing home energy consumption," explains Thoren, a longtime ASME member. According to Thoren, Trane views the air conditioner as one component in the automated, energy-efficient home of the future.
In the next wave of technology development, Ingersoll Rand and other manufacturers will advance smart technologies to interface their systems with the national electric grid, allowing units to be regulated according to geography and changing weather conditions. Grid interoperability could push air-conditioning research down the pathway of fully variable speed systems, further reducing energy consumption.
According to the Energy Information Administration, some 80 percent of American households have air conditioners—mostly central systems—today. Air conditioning has grown from a luxury to a necessity, and has contributed in many ways to the quality of life in America and the industrialized world.
In addition to the obvious benefits of comfort cooling, the air conditioner has also altered architectural design, allowing for windowless office buildings and houses without porches. Air conditioning has also played a major role in migration patterns and economic development in the U.S., allowing millions of people to live, work, and establish businesses in locations known for their hot and steamy climates.
Related links:
Temperature Control
Detroit Edison School District Heating System
Holly District Heating System
Magma Copper Mine AC
Milam High Rise AC
Thermo King Refrigeration Unit
Refrigeration Research Museum
Commonwealth Building Heat Pump
Holland Tunnel Ventilation System
Icing Research Tunnel at NASA Glenn Research Center
Pullman Sleeping Car Glengyle
McKinley Climatic Laboratory
Air conditioning has grown from a luxury to a necessity and contributed in many ways to the quality of life in both the U.S. and the industrialized world.
Related Content