Girl Scouts Journeys Focus on STEM Ed...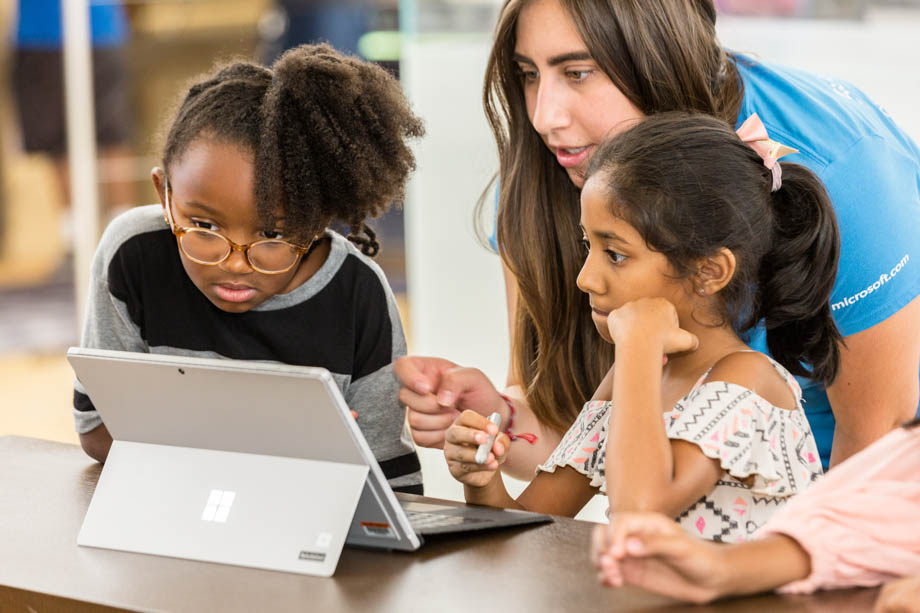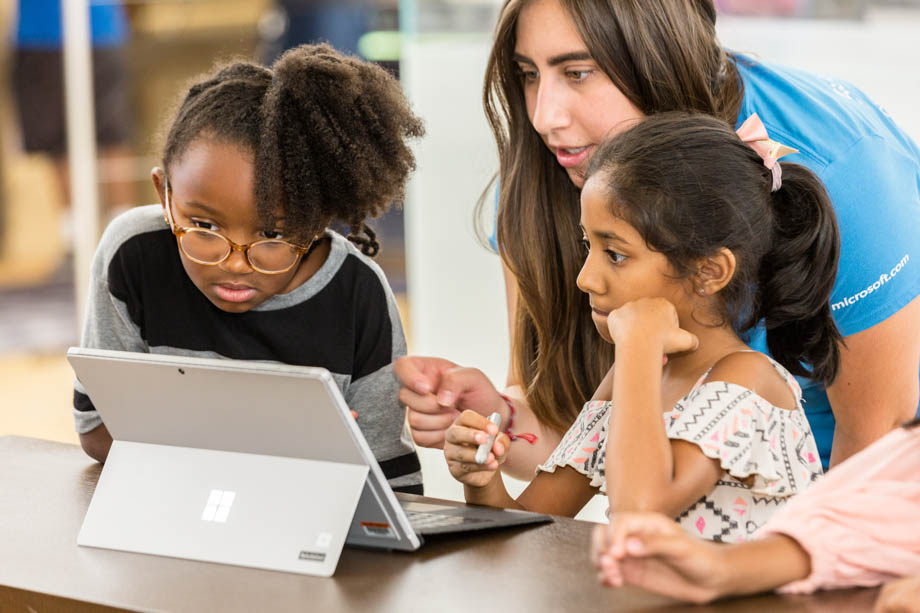 Girl Scouts work on earning a robotics badge at the Microsoft Store in Dallas. Photo: Girl Scouts of the USA
Girl Scouts Journeys Focus on STEM Education
Dec 19, 2019
The Girl Scouts of the U.S.A. has been involved with science, technology, engineering, and math (STEM) since the beginning. Founded in 1912 by Juliette Gordon Low, the organization's first STEM-related badge was an electrician's badge introduced in 1916, embracing the cutting-edge technology of the time. Now, there are 115 STEM badges to earn.
In 2017, the Girl Scouts reorganized its educational model and created four pillars of content: STEM, outdoor skills, life skills, and entrepreneurship. Each pillar is meant to have a focused leader, who develops a complete curriculum for each topic.
Suzanne Harper, the senior director of the organization's national STEM strategy, is a former Girl Scout herself. She has been in charge of developing different journeys to encourage all the Daisies, Brownies, Juniors, Cadets, Seniors, and Ambassadors to participate in STEM activities.
What Are Girl Scouts Journeys?
After surveying the 111 Girl Scout Councils across the country, three core focus areas were chosen: engineering, computer science, and outdoor STEM. In these three areas, 24 new journeys were created. These journeys are leadership development programs designed to educate the Girl Scouts in the core areas and encourage them to take action in their communities—to practice the skills they've learned.
"Think Like an Engineer" journeys focus on design thinking; "Think Like a Programmer" highlight computational thinking; and "Think Like a Citizen Scientist" journeys are about the scientific method and how to use it in the world.
The journeys are accompanied by 87 new badges related to each topic area, while 12 new badges will be released next year.
These journeys are available to members on all levels, because the younger one gets interested in STEM, the more likely they are to pursue it as a profession.
You May Also Like: How to Get a Theme Park Engineer Job
"Research shows that young people, both boys and girls, develop their STEM identity by seven or eight years old. By second and third grade, they are deciding in their minds, if STEM is interesting and whether they feel confident enough to do it," Harper said. "Once they have reached middle or high school, it is hard to change their minds and bring them back to STEM."
This past October, the Girl Scouts organization held its first all-day Cyber Challenge event in which 2,500 girls from middle and high schools were solving a ransomware attack on a moon base. The girls walked away not only with stronger confidence in their computer programming skills but also with an understanding of how computer science can become a future career.
How to Teach Engineering to Young Girls?
The journeys serve as a confidence booster and as an introduction into engineering and other fields. For instance, engineering can be overwhelming to young kids, filled with high-level abstract ideas of physics, design, and mathematics. But by breaking down the concept into simpler ideas of creation and design, young children can grab onto STEM sooner and embrace it for years to come.
"We introduce engineering to young girls with the basic question: 'Do you want to learn how to build and invent things?' Guaranteed every girl is going to say yes," Harper said. "We then walk them through the design thinking process and what engineers do. The main goal is that we want them to feel from a young age that engineering is fun and that it is achievable. Then they learn about how the engineering process works."
To that end, the Girl Scouts of America has partnered with different companies to help provide its members with the tools they need to be active in STEM. One such partnership is a collaboration with Microsoft.
"With the Girl Scouts having a presence in every zip code of the U.S., it made sense that we help expand their program and offer our workshop programs," said Sandra Andrews, head of marketing at Microsoft Stores. "Together, our partnership is empowering girls to achieve more through digital skills and providing role models to look up to so they can go and become leaders of the future."
Microsoft provides tablets to the Girl Scouts and is planning to organize a series of leadership events at the company's stores, where middle and high school members can hear firsthand from accomplished Girl Scout alums about their career paths. The company has also launched workshops to help young girls to master digital skills with hands-on technology and earn five STEM badges—in computer expertise, digital photography, movie-making, and robotics.
How to Overcome Challenges in STEM Education?
The Girl Scouts wants to ensure that technology does not act as a deterrent towards STEM education. Across various communities, access to technology and broadband is not equal. So to help those members with limited access to computers, each journey and every badge have a plugged and an unplugged version. Most activities can be completed without any devices or digital technology.
But even a bigger obstacle to girls pursuing careers in STEM is the loss of interest.
Last year, Microsoft completed
a research study
into why young girls lose interest in STEM and what can be done to change the tendency. The most surprising answer was simple: encouragement.
"A parent's encouragement can improve the chances of young girls staying in STEM fields by twice as much," Andrews said. "Having examples of female STEM mentors and role models—including parents—also helps build young girls' confidence, so they can succeed in STEM.
"Finally, giving teachers access to engaging and relatable STEM curriculum, has proven to help retain girls' interest in STEM over the long haul."
From ASME's Archives: The White House Celebrates STEM
As young girls progress in their academic careers, the social pressures start to pile up. As they become teenagers, they become more self-conscious, and the insecurities may prevent them from participating in class, and the lack of support pulls them even further away from STEM.
"The reason we're doing this is that we want to take that initial spark and keep it alive," Harper said. "We at the Girl Scouts want to support girls from kindergarten through 12th grade. So we asked ourselves, what can we do in addition to teaching them STEM skills?
"So we are also focusing on the concept of perseverance. Sometimes, what discourages students in STEM classes is that it can be challenging. And no matter how brilliant you are, at some point, you will hit a roadblock and will need some help. Being able to reach out to a support group, whether it's a friend, a teacher, or other members of the Girl Scouts, helps provide you the confidence and the support you need to persevere."
Carlos M. González is special projects manager.