Floating Turbines Harness Offshore Wind
Floating Turbines Harness Offshore Wind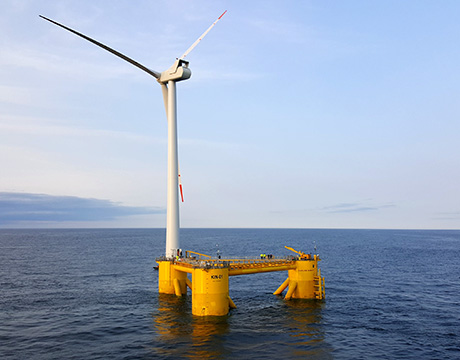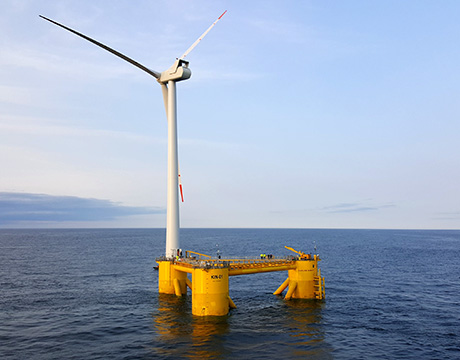 Offshore floating wind turbine WindFloat. Image: Principle Power
Until now, offshore wind has meant fixed wind towers built into the seabed near the shore. Their proximity to the shoreline often raises issues, ranging from marring the seascape and unwanted noise to killing birds that fly near them. Locating them further from shore resolves some of those problems, which is likely to speed permitting needed to build wind farms. It also opens up more real estate on which to build.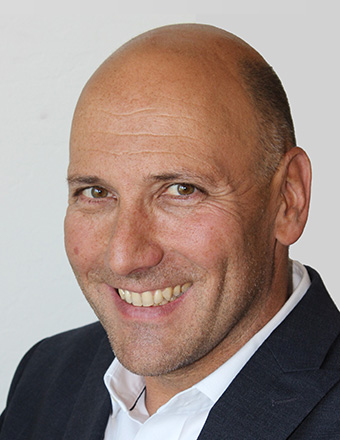 Floating wind turbines is still new technology, and Principle Power is one of the few companies with hands-on experience with full scale prototypes and financed contracts. ASME.org recently spoke with Principle Power CTO Dominique Roddier about how his company's WindFloat— a floating wind turbine platform—works.
ASME: You did not start your career with wind power in mind, did you?
DR: I always loved the ocean, and being out on the ocean was always a big part of my life. In college, I studied ocean engineering and naval architecture and other ocean related activities. I also taught sailing—that was my side job and a pretty good one. After college, I worked for ExxonMobile on offshore projects and later co-founded a consulting company, Marine Innovation & Technology.
Hear more on ASME TechCast: Renewable Energy Experts Shine Light on Solar Farms and Grids
ASME: How did you make the move to wind energy?
DR: What became our WindFloat technology was a little side project we started at Marine Innovation & Technology. Eventually, it grew on us and we decided to go full speed ahead and form a company, Principle Power. Later, we merged Marine Innovation & Technology and Principle Power into one business and now we are focused entirely on offshore wind.
ASME: Does Principle Power build and install its platforms?
DR: At Principle Power, we make thousands of engineering documents that we send to a fabricator in a shipyard who then builds the WindFloat platform based on our specifications. The end result is a floating platform with a turbine placed on top.
Move in the Right Direction: Five Steps from Engineer to Leadership
ASME: A lot of companies are offering something similar. What make your platforms different?
DR: The WindFloat platform uses an active ballast system that helps the tower remain vertical and water entrapment plates at the tower's base that help keep it balanced. These innovative features let our WindFloat platform withstand winds of 25-30 meter per second and waves over 25 feet high. In rare circumstances, when winds or waves exceed the limits, the turbines automatically shut down.
ASME: Your platforms are designed to be built in a shipyard and towed to their location, much like an offshore oil platform. How do you anchor it?
DR: Prior to towing, another vessel would have already set the anchor lines at the location. These lines are similar to those used by sailboats [or offshore platforms]—they have anchors and chains, only much bigger, and we place them in the seabed beforehand. When the platform arrives, we pick up the anchor lines from the seabed and connect them to the platform so it keeps its position.
Our towers are very slender structures, so they incur low wave exciting forces. This reduces the wave loading on the platform and lets us have a relatively small mooring system. Consequently, we are a fairly light operation. We don't have to do heavy drilling, or use lots of concrete, or bring cranes offshore, which makes the economics of our setup very good.
With our WindFloat, we strive to be very competitive with other forms of offshore wind production—we try to be under 10 cents per kilowatt when doing commercial projects. And we are very much on track to get there.
Join ASME and Leading Industry Experts for Offshore Wind Turbine Webinar series
ASME: Principle Power's first WindFloat project was off the coast of Portugal. How did you launch it?
DR: At the time, few companies were willing to take a chance on this very new technology, but a local electricity company, Energias de Portugal, financed our prototypes. So in 2011, Principle Power deployed a full-scale 2 MW WindFloat prototype, which was fully assembled onshore and then towed about 400 kilometers along the Portuguese coast. The system produced over 16 GW of electricity delivered by sub-sea cable to the local grid until it was decommissioned five years later. It completed all of its project objectives. From this project, Principle Power gained important operational data and experience for future WindFloat systems.
ASME: What projects are you working on now?
DR: Currently, we have three ongoing projects that are already financed. We plan to install the first one, a 25-MW project with three 8.3 MW turbines in Portugal this summer. Right now, we are spending a lot of time in the shipyard, and we are almost done. The second is in Scotland, a 50-MW installation with five 9.5-MW turbines for which we have just bought steel. And the third one is in southern France. It is a 24-MW project that will receive four next-generation turbines. In the pipeline, we also have projects in California, Hawaii, Korea, and Taiwan.
ASME: What is your take on the current state of the offshore wind industry?
DR: The fixed offshore wind industry is very mature. Last year, capacity was 16 GW and now it is at 18 GW. The floating industry is starting to grow now, as well. There are players that do believe in it now, and it's pretty awesome to see that. We are really active all over the world, and we look forward to working on new projects.
Lina Zeldovich is a freelance writer based in Woodside, N.Y.
Register today for ASME's Offshore Wind Summit to learn about the latest technologies, opportunities, and supply chain strategies from leaders in the oil, gas and wind energy industries.
The Best Stories of the Month! Insect Drone with Camera Flies Like a Bee Research into Kids' Knees Could Prevent ACL Tears Rats Play VR Game to Explain How Human Brain Works
The fixed offshore wind industry is very mature. Last year, capacity was 16 GW and now it is at 18 GW. The floating industry is starting to grow now, as well.Dominique Roddier, Principle Power
Related Content