Five 3D Printing Apps for Engineers
Five 3D Printing Apps for Engineers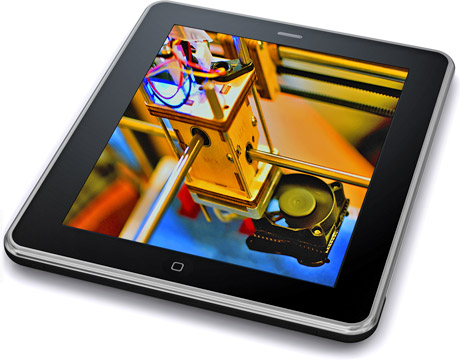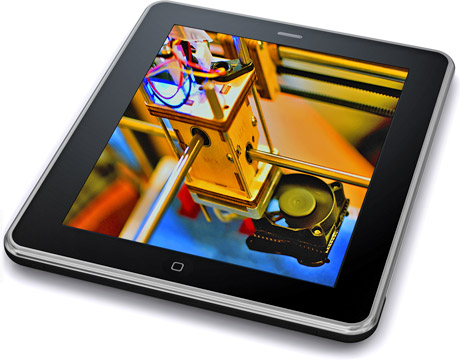 Think. Design. 3D Print. If you are an engineer, chances are that you are already doing this for rapidly prototyping products or complex machine parts. 3D printing is helping bridge the distance between the virtual and physical by enabling engineers to turn their designs into reality.
From jigs and fixtures to tools in space, from houses to cars, from prosthetics to valve tissue, engineers have been exploring the potential of 3D printing to give shape to their ideas.
However, an idea doesn't itself turn into a 3D printed product overnight. You first need a 3D design to 3D print. While there are many desktop design software programs available for modeling, there are also several on-the-go mobile apps. ASME.org rounds up a list of five 3D printing-related apps engineers could use for designing, viewing, and 3D printing.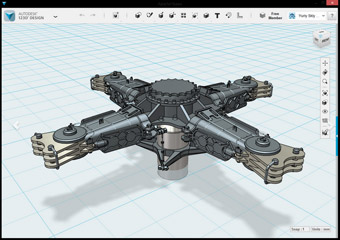 Autodesk 123D
Autodesk 123D is a family of free 3D apps linked together in the cloud. Using 123D Design, engineers can design their own products or parts and also view projects created by other 123D Design users, right in the app. Whether it is a building or part of a machine, engineers can turn their photos into realistic 3D models using 123D Catch by taking a series of photographs with an iPhone or iPad from different angles. After snapping photos on the phone and uploading to Autodesk Cloud, where the photos are transformed into a 3D model, they can then use the 123D Catch web app to edit the model or send for 3D printing. Autodesk's online app, Tinkercad, also enables users to create and print 3D models.
Morphi
An iOS app called Morphi is a 3D modeling and design app for creating printable 3D models using a touchscreen. Engineers can explore libraries of 3D shapes, from basic to platonic solids. The app simplifies modeling tools that allow users to add, subtract, and rotate objects to build 3D models. Using these libraries and tools, users can create 3D-printable models, which can be exported in .STL format for uploading to 3D printers using third-party slicing software or printing through 3D printing services. The app developer, Inventery, Inc., envisions many uses for Morphi including creating prototypes and building models to teach STEAM (science, technology, engineering, art, and math) subjects.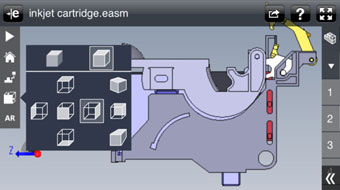 eDrawings
Created by SolidWorks, a 3D mechanical CAD program widely used among engineers and designers, eDrawings is a CAD viewer available for both iOS and Android platforms that allows users to view native SolidWorks parts, assemblies, and drawings files. By simply activating the device's camera, engineers can bring their virtual 3D designs in a real context. They can interpret any SolidWorks drawing by dynamically viewing the 3D model as it automatically rotates through each drawing view. Another version of the app, eDrawings Professional, helps create review-enabled eDrawings files that allow multiple users to mark up and provide feedback on product designs before exporting and 3D printing.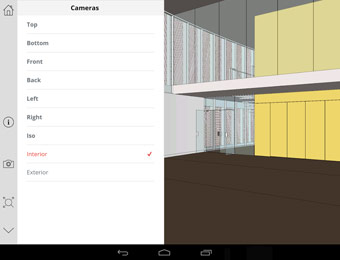 SketchUp Mobile Viewer
A popular 3D modeling program for applications such as architectural, interior design, civil, and mechanical engineering called SketchUp also offers a free SketchUp Mobile Viewer to view and print models created in SketchUp. With the viewer, users can orbit, explore, and present their 3D models. Engineers can also navigate complex models using intuitive multi-touch gestures and use the camera menu to select any of the standard camera views or choose from the list of scene-based camera angles. The app offers zoom out to the extent of a model to reorient view, and models can also be exported using the desktop version for 3D printing. The app is available for the iOS and Android.
MakerBot Mobile
MakerBot offers apps for different skill levels that are designed to work with Fifth Generation MakerBot Replicator 3D Printers. With MakerBot Mobile, engineers can use their smartphones to prepare files from their MakerBot Cloud Library for 3D printing. With mobile access to Thingiverse, they can have access to multiple 3D downloadable digital designs. They can also monitor, pause, and cancel prints right from their mobile device. MakerBot also offers a suite of apps for users new to prototyping in 3D printing. For example, Zotebook allows makers without extensive 3D design experience to quickly prototype concepts and Leopoly offers a number of modeling tools to work on 3D designs.
With 2D printer companies like HP and Xerox also entering the 3D printing market and many crowdfunded projects being launched online, 3D printers are becoming more affordable. However, for engineers who don't have a 3D printer, they can order their prints using online services and apps such as Shapeways, i.materialise, and 3D hubs.
Are there are any 3D printing apps that you are using? Please let us know in the comments below.
Learn more about the latest technologies in 3D printing at ASME's AM3D 2015 in India and Boston

For Further Discussion
Related Content