Engineering the Stadium Experience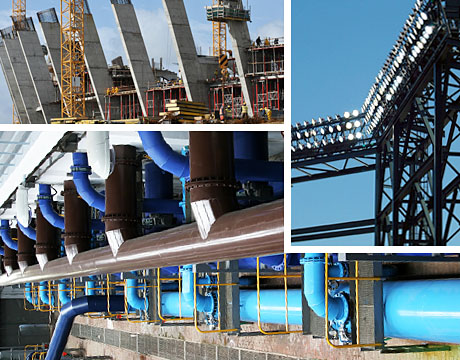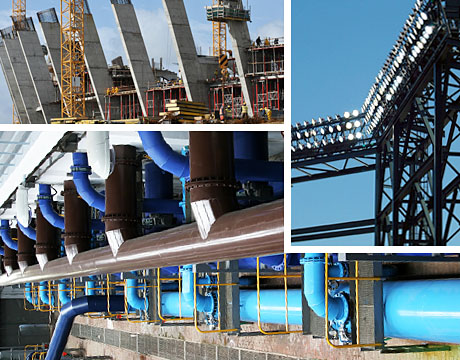 Engineering the Stadium Experience
Oct 24, 2012
by Eric Butterman ASME.org
You stand there with your very fashionable foam finger, your hot dog, and a t-shirt that shows the team you root for. Or possibly bleed for. But did you ever wonder about the people who helped that stadium become reality, the ones who created your experience?
Some of them are mechanical engineers.
Plumbing Is Critical
Duane Pinnix and his company RMF Engineering helped make MT & T Bank Stadium, home of the Baltimore Ravens, happen. "The first thing you have to understand is that stadiums are large projects, not something that takes a couple months—it might be two to four years," says Pinnix, president of RMF. "From an engineering standpoint, people don't realize what main areas we work on."
In the case of the Ravens' stadium, one of those is plumbing. "It's actually a huge part, as big as hospitals or labs but not as many system types as those," says Pinnix. One big difference between a sporting venue and other facilities is accommodating toilet facilities. In laboratories or hospitals, everyone doesn't use the rest room at the same time; a sporting event is quite the opposite. "We had to test with tons of people using it at once. I think it was 40,000," he says. "Good thing we did. There were problems. We found obstructions in drainage lines. It was valuable testing for the first game, so only clean water would come out of the bottom drains."
Pinnix says as much as 50% of the stadium hits the restroom in a 30-minute time period. That makes water supply and drainage critical.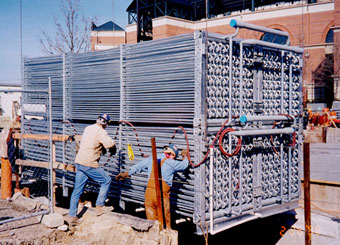 Energy Analysis Is Key
Another major undertaking for the Ravens' Stadium was on the energy services side. A new emergency power plant between the Baltimore Orioles' and Baltimore Raven's facilities created a need for lifecycle costing on how to serve both of them. "That all came down to energy analysis and also looking at the field drainage only five feet above the flood plain," he says.
As far as air specifications, according to his company's web site: "The HVAC systems deliver low temperature chilled water (36 degrees F), low temperature air (45 degrees F) and heating hot water (200 degrees F) to over thirty air-handling systems providing 600,000 cfm of conditioned and ventilation air for the facility."
Pinnix says the longevity of the building and its electrical systems definitely don't match up. Systems are designed to have about 20 years of longevity whereas the structure is designed for a 50-100-year lifespan. "It's important to have fixtures that are sustainable long-term, public lighting that's efficient," he says. According to the company's web site: "The electrical design included dual incoming 15,000-volt services from the local utility, and fourteen facility owned and maintained 4,160-volt substations located throughout the stadium. The emergency electrical loads for the stadium are supplied from a generator plant which is located on the site outside of the building."
Pinnix says engineers bring organization to a stadium project. "Our job is to get involved and firm up schedules that tie to an opening day," he says. "And the recognition of when it's done is seeing thousands of fans out there."
Eric Butterman is an independent writer.
The first thing you have to understand is that stadiums are large projects, not something that takes a couple months—it might be two to four years.Duane Pinnix, president, RMF Engineering