Drone Racing is Built for Speed
Drone Racing is Built for Speed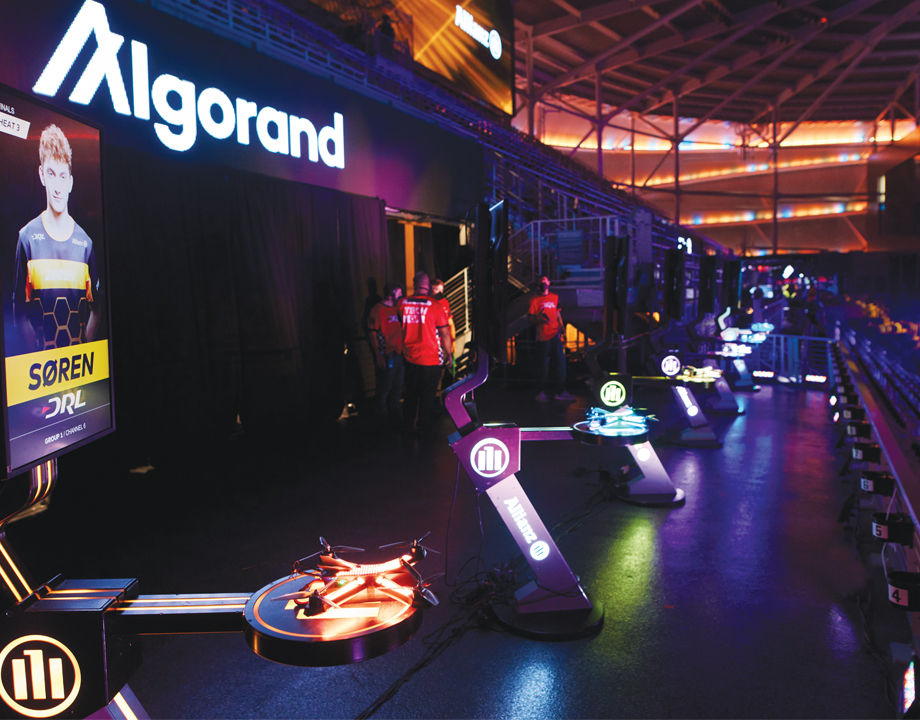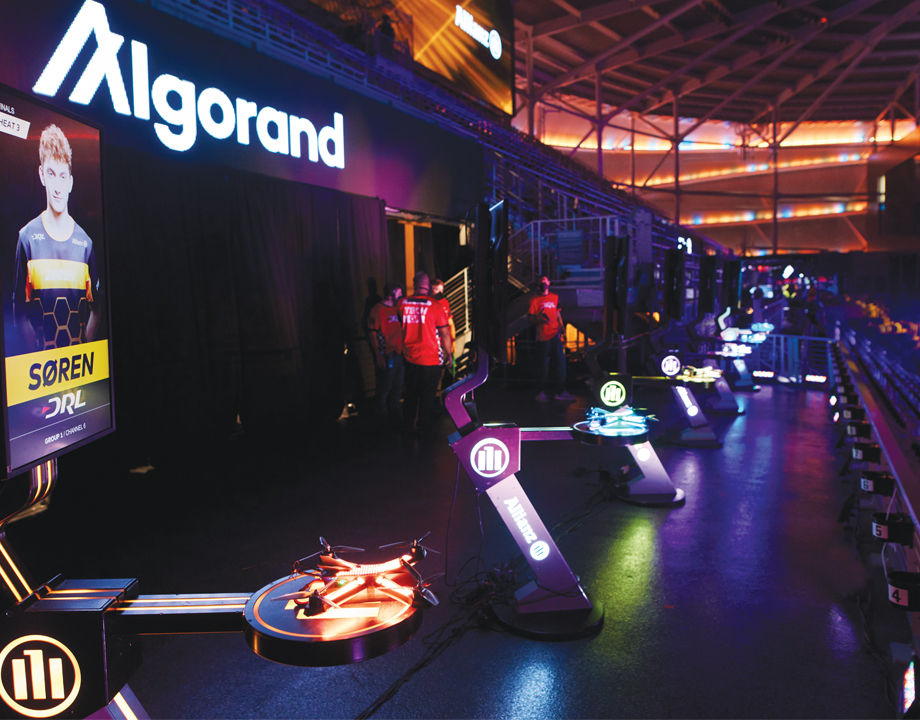 Creating a new sport for a generation raised on video games requires flashy lights, first-person view headsets, and the world's fastest racing drones.
Suburban big-box store parking lots aren't known to be inspiring. But the dreary space behind a Long Island Home Depot was where Nicholas Horbaczewski first glimpsed an amateur drone race in 2015, and he was thunderstruck.
"At the time, I think people were trying to figure out how to think about drones," Horbaczewski said years later in an interview with
Cognitive Times
, "and when you bring them in a sporting context, you kind of sit back and enjoy all the excitement without having to interrupt it with all the broader questions associated with them."
Racing aircraft dates nearly as far back as the Wright Brothers. The first major flying competition, during 1909's
Grande Semaine d'Aviation de la Champagne
in France, featured aviation pioneers such as Glenn Curtiss and Louis Blériot. Air races were staged throughout the 1920s and 1930s, sometimes to large crowds. But the planes were often high up and far away, which made for a poor viewing experience.
Drone racing, Horbaczewski realized, could be different. He wasn't simply standing in a parking lot looking at the sky. Instead, he had slipped on virtual reality goggles and was using the first-person view to fly the drone himself.
"I was just blown away. I thought we should be sharing it with more people," said Horbaczewski, a young Harvard graduate with experience in military equipment and extreme sports. Horbaczewski realized the potential and quickly founded the Drone Racing League.
The races began in abandoned power plants and malls and then went on to competitions in iconic sports arenas, international landmarks, and even palaces in London. Fast forward to 2022, the DRL has a loyal following of 75 million global fans and airs in 250 million households in over 140 countries.
The league's aspirations are more than just providing exhilarating races, however. It is working to innovate drone technology at a large scale.
Selected for You:
Driverless Tractor for Hands-Off Farming
"While other leagues have creatively leveraged new technology to enhance athletes, fan engagement, and media experiences, the DRL is the only property that is truly innovating our sport through technology," said DRL President Rachel Jacobson. "More than half of our team are brilliant tech engineers. We own the entire sports ecosystem, so we're constantly advancing the technology behind our performance drones, radio network, and timing and scoring systems, which all power our global competition."
With 5G drones and FAA partnerships, the DRL is creating more than just a sports league. It is helping usher in the next wave of drone technology.
From Parking Lots to Sports Stadiums
A DRL race is held in stages and multiple heats in large venues. The courses twist and bend down narrow halls and corridors, through tunnels, up and down flights of stairs, and around sharp turns. Pilots fly their drones through gates and checkpoints, and points are awarded based on completing checkpoints and finishing time. All DRL pilots compete in the world championship event and the pilot that has earned the most points will win the season and title of the World's Best Drone Pilot.
The DRL pilots that compete in the world championship event go by gaming usernames such as Nubb, Mewo, and AlexFPV. HeadsUp is Evan Turner, a teenager from Maryville, Tenn., who most recently won the 2021-22 DRL Algorand World Championship. Turner has been on a hot steak, earning his first championship win last season, which was his rookie season. Like many drone pilots and engineers, his interest in drones came from experiences with science and technology.
"Flying drones branched from my previous STEM-related hobby, flying remote-controlled airplanes competitively. These planes had wingspans of over 10 feet, and I flew them in competition from the age of 11," Turner said. "As drones and drone technology progressed, I found more and more interest in them and all of their unique applications."
The focus on STEM is crucial to the DRL's success. The league understands that its pilots and many of its fans come from tech backgrounds or are interested in emerging technologies. It isn't uncommon for those invested in the DRL to discuss 5G, blockchain, cryptocurrency, and artificial intelligence. This is the language of the DRL.
More on This Topic:
FAA and the Future of Drone Regulation
"We love inspiring the next generation of engineers, technologists, and innovators through our DRL Academy program," Jacobson said. "We recently unveiled our 'Science of Drone Racing' curriculum with Steve Wozniak's 'Woz Ed,' the leader in demand-driven K-12 education, and Robotify, a virtual platform that teaches students about coding using robots, to teach middle school students how to code, build, and fly racing drones. We're excited for the program to create exciting, tech-driven career-pathing opportunities for students."
The 2022 DRL Championship Race was staged at the T-Mobile Arena in Las Vegas, coinciding with the opening night of CES, the annual Consumer Electronics Show. (The event was filmed for later broadcast on NBC.) It's fitting that the DRL partnered with the Consumer Technology Association to showcase the championship match since the very concept of the DRL is to blur the line between mainstream sports and engineering.
Engineering Drone Innovation
Auto racing can tap into the experience of motorists speeding along an open highway. But obviously, typical Toyota Camrys and Chevrolet Silverados are not built for racing. And that's also true for the DRL, which has invested significant resources into constructing its own racing drones.
"We learned early on that off-the-shelf drone technology would not work on the professional sports level," said Andrey Katsman, DRL vice president of engineering.
"In 2015, before we publicly launched, external vendors promised us their 'silver bullets' would bring our grand vision of visually spectacular, high-speed drone races to life. But instead, we saw drones fall from the sky, barely lift off the podium, and fail to compete at all," Katsman recalled. "We began inventing and innovating new racing technology, including custom drones and a proprietary radio system from scratch."
The current DRL drone model is the Racer4, a high-performance FPV racer with high acceleration bedazzled with close to a thousand LED lights across its airframe. While the Racer4 can scoot at 90 mph, another DRL model, the RacerX, holds the Guinness World Record for the fastest racing drone, with an official record speed of 163.5 mph. The DRL motors are customized to generate over 16 pounds of thrust, providing a steep acceleration. The body frame is made of carbon fiber and the canopies are injection molded, making it lightweight and well-balanced.
With the DRL designing and engineering its own drones, the league can achieve a higher level of connected systems that rival Industry 4.0 standards.
"We design all of the hardware and software from scratch, which includes our own integrated system designed to host and deploy professional drone racing events around the world. It's made up of several technologies that we've innovated all in-house. This includes our proprietary radio frequency network, software that analyzes diagnostics, telemetry, enactment of remote commands across our drone fleet, and an integrated hardware and software system to provide remote timing and scoring for racing drones in competition," Katsman said.
The DRL has partnered with Draganfly, a drone solution and system developer, to launch DRL Labs, an innovation hub to research and develop next-generation drone technology. The DRL races provide a real-time testing ground to research solutions regarding drone autonomy, advanced sensing, AI solutions, and even health monitoring. The league has used Draganfly's Vital Intelligence platform to monitor the pilots' in-race heart and respiratory rates using advanced cameras and sensors. The diagnostics system will analyze pilots' physiological response to competition, fast speeds, crashes, and even crowd reactions.
Engineering Careers:
Explore New Careers within the Drone Industry
Along with creating a connected network, the DRL is advancing 5G technology in partnership with T-Mobile, the cellular phone carrier. The 5G magenta drone taps into the T-Mobile network to send live-streamed high-definition video directly to the internet.
"Our 5G magenta drone creates immersive experiences for fans to feel closer to the action. It's designed to capture one-of-a-kind, exhilarating, and crisp video footage," Katsman said.
The low latency of 5G allows live streaming with little to no lag. That capability makes the drones useful beyond racing. For instance, the 5G magenta drones provided video coverage of Major League Baseball's "Field of Dreams" game in 2021, flying through the cornfields, onto the house, and the original ballfield, all while transmitting data to fans in real-time.
Along with advancing drone technology, the DRL is also actively involved in drone safety, including incorporating a high-tech kill switch to terminate drones mid-flight if necessary. In December 2021, the DRL was awarded accreditation by the Federal Aviation Administration and joined the FAA's Partnership for the Safety Plan (PSP) program, which supports drone technology and services integration.
"We are the first accredited UAS organization by the FAA, and we participate in the FAA's PSP plan to help set safety guidelines for drone events," Katsman said. The FAA and DRL will work together to outline safety protocols for drone operators, especially those in public spaces such as unmanned aircraft systems (UAS) demonstrations, air shows, exhibitions, and live events.
Future of Drone Racing
The quick success of the DRL is often attributed to the ability of the league to take emerging drone technology and make it accessible to the masses. That creates pressure for the league to stay on the cutting edge.
"Whether it's partnering with a brand developing cloud technologies, AI, 5G, blockchain, or other innovations, we create technical-use cases and amazing visual content together to showcase how DRL and our partner advanced sports and entertainment through groundbreaking tech-nology," Katsman said.
Editor's Choice:
Smarter Drone Navigation
The DRL plans to expand its reach into virtual spaces, so that any fan can experience the thrill of flying racing drones. The DRL recently launched a new partnership with Playground Labs to develop the first play-to-own sports metaverse competition on Algorand, a high-performance blockchain platform. In this virtual race metaverse, players will race DRL drones for cryptocurrency and non-fungible tokens (NFTs) of ownership for digital assets.
According to Jacobson, the global gaming, cryptocurrency, and drone markets are worth over $2 trillion. The DRL is eager to lead the way for sports properties and brands to start creating blockchain-powered drone racing games.
In spite of that high-end technology, the draw of the league to its fans is its accessibility. Drone pilot Turner points to low barrier of entry into the sport, as well as the increased use of technology in our everyday lives.
"Drone racing is one of the most affordable and most technologically advanced forms of racing in the world. Car racing, bike racing, horse racing—they are far more expensive than drone racing, yet they contain little to no leading-edge technology. You can practice flying drones like the DRL pros on the DRL SIM, a true-to-life drone racing video game, for less than $10 on almost any gaming system," Turner said. "The growth of tech-related sports only means good for the world, and competition will push the same technology we use in our everyday lives to be better. I cannot wait to see tech-related sports continue to gain popularity, and I'm even more excited to be a part of it."
Carlos M. González is special projects manager
.
Related Content