Cubic Crystals Preserve Organs
Xu Han and his team have developed a cryopreservation medium that eliminates the need for liquid nitrogen. Image: Amy Parris / CryoCrate
Cubic Crystals Preserve Organs
Nov 15, 2017
by Eric Butterman ASME.org
When it comes to research, you don't often hear about the cost of shipping cells and tissue, not to mention the related safety requirements to follow. Xan Hu, assistant research professor of mechanical and aerospace engineering at the University of Missouri, believes his team can improve those factors with nanoscale cubic crystal technology.
As CryoCrate CEO Tim Wheeler explains, to cryopreserve cells many researchers need them to be cooled to -200 °C, which requires liquid nitrogen. The CryoCrate method allows researchers to preserve cells at much higher temperatures (even to -20 °C), he says, adding that they don't require the use of liquid nitrogen and have the potential to save costs.
Hu explains that cryopreservation of cells for shipping relies on hexagonal ice crystals while the method of nanoscale cubic crystals can potentially add advantages to the process.
"It uses a cocktail of biological polymers and other additions to effectively force water into a cubic state," Wheeler says. "The media is not allowing water to form nucleation centers crystals because of being really tightly packed."
It also may mean not having to go to liquid nitrogen for storage, says Hu, who also is CryoCrate's president and graduated with a Ph.D. in mechanical engineering from the University of Kentucky. "You can still use it with what we've done, but you don't have to."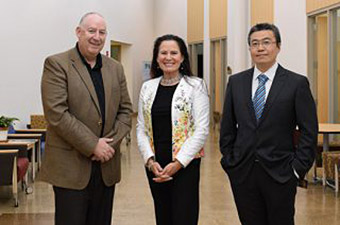 Get the Research Going
One hope is that cryopreservation will become an activity for clinical therapy, Wheeler says. "Historically they took cells and tissues, varieties of both, that have been preserved to do additional research or share them," he says. "Within the constellation of cells and tissue types are those that can't even be cryopreserved."
Cornea tissue in particular is well-suited for the CryoCrate method, he says, because it doesn't require a large supply of blood, which means that the tissue isn't susceptible to cryogenic temperatures like other tissue might be.
According to the company website, the cryopreservation media allows for cryopreservation of primary neurons and blood cells, which it says traditionally can't be cryopreserved. The site also states that you don't need BSA, FBS, or serum replacements because of the CryoCrate product.
"For cornea surgery, imagine having the burden of cold crate management, considering extraction to transplantation," Wheeler says. "How do you get cells from the United States to a country far away in good fashion? Researchers who want to work together can use this mechanism literally and figuratively on ice. Research has enough barriers and we're hoping we can play a little part in making medical breakthroughs easier." Eric Butterman is an independent writer.

For Further Discussion
Cryopreservation is a key platform activity here but also soon hopefully for clinical therapy.Tim Wheeler, CEO, CryoCrate