Coronavirus Update: Engineers to the Rescue
Coronavirus Update: Engineers to the Rescue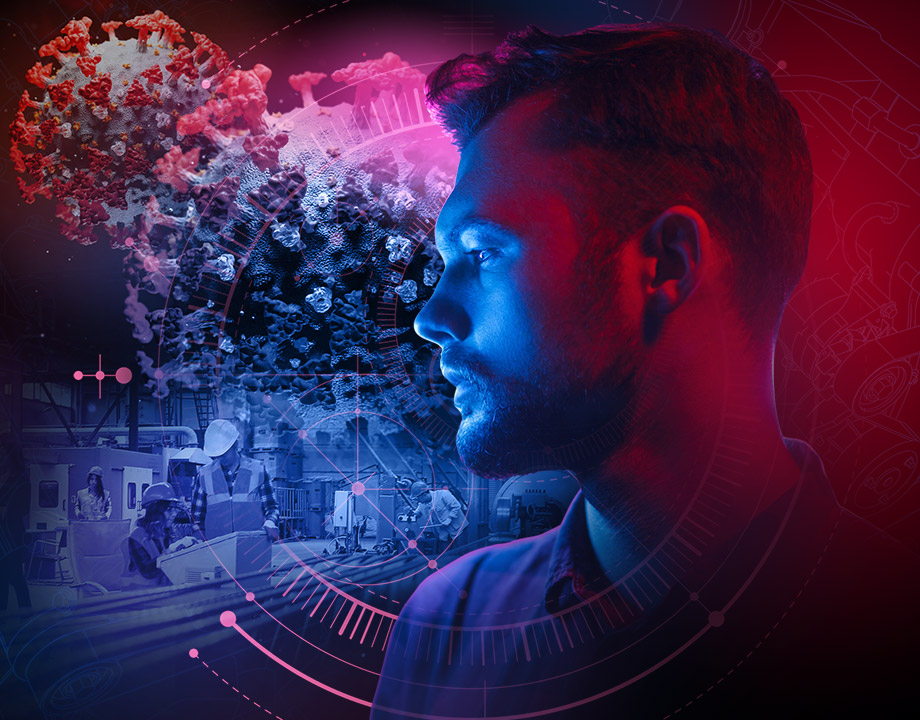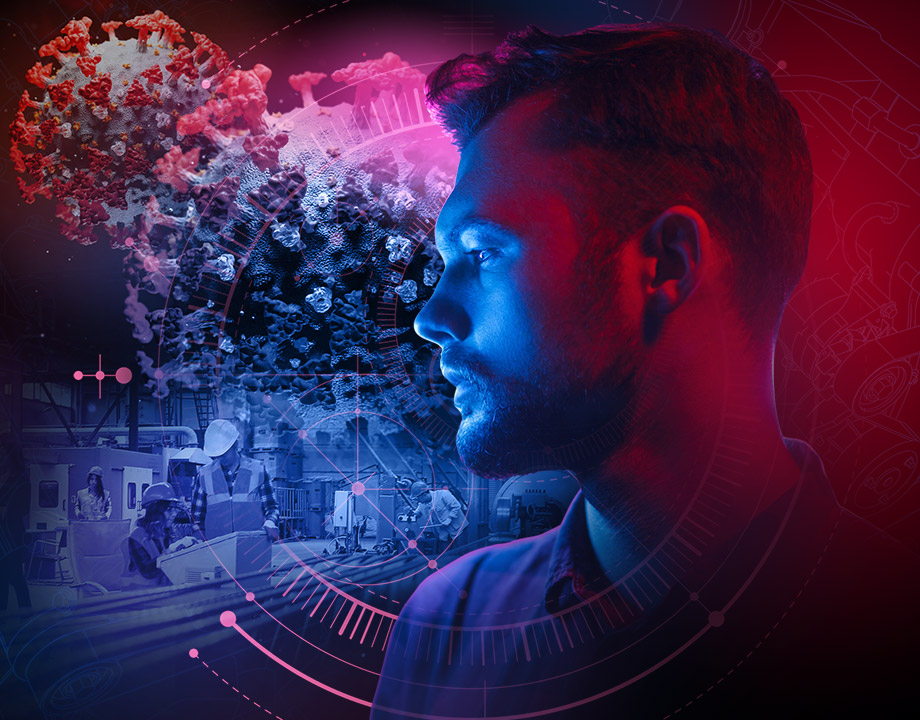 Engineers step up to fight the coronavirus pandemic.
Over the past weeks, engineers have been racing to prevent the coronavirus outbreak from growing even more deadly. They are revamping factories to make ventilator parts, designing and 3D printing critical medical supplies, setting up virtual hackathons and open-source groups to develop ventilators and face shields, and boosting production of N95 respirators. This week, we'll look at some of those efforts.
Repurposing Factories
Ventilators keep patients alive by delivering oxygen—often pure oxygen—when their lungs fill with fluid. According to the Centers for Disease Control, 40 percent to 70 percent of Covid-19 critical care patients in China received ventilation. Yet this vital device is in critically short supply. New York State, the epicenter of the outbreak, has only 7,000 ventilators (after buying 1,000 on the open market). It will need 30,000 more within the next two to three weeks as the virus peaks. Without them, the death toll will spike.
GM and Ford want to convert auto plants idled by the outbreak—and the plants of their suppliers—to make parts for ventilators.
GM, for example, is teaming with medical equipment maker Ventec Life Systems to make ventilators. GM has arranged to supply 95 percent of the parts and source the remaining 37 parts. It will make the ventilators at its Kokomo, Ind., plant, which makes small electronic parts that could be repurposed for control systems. It will also tap into its supply chain for parts.
Another company, employee-owned Twin City Die Castings, is working nonstop to convert its plant to make parts for up to 20,000 ventilators per month, a number based on its conversations with GM.
Further Reading:
How Coronavirus is Reshaping the Engineering World
Meanwhile, Ford is teaming with GE Healthcare to make a simplified version of GE's ventilator. It is also working with 3M to make powered air-purifying respirator (PAPR) masks using HEPA filters and the seat cooling fan from its F-150 truck and 3M's power tool battery packs.
In Europe, Fiat Chrysler and Ferrari are trying to boost ventilator output in Italy. The British government has asked manufacturers, including Airbus, JCB, Nissan, and Rolls-Royce to make up to 30,000 ventilators within weeks. To sweeten the deal, the government is providing fast, low-rate loans and extended repayment terms.
Engineering Ventilators
Ventilators are not easy to make, and the UK specifications for a "minimally acceptable" rapidly manufactured ventilator systems (RMVS) show why: They must work 100 percent of the time for at least 14 days, survive a fall from a bed to the floor, switch between breathing for the patient and supporting a patient who breathes independently, have 20 minutes of backup battery power, and have detachable parts that techs can disinfect manually.
They also need intuitive controls, clear measurement information, and an alarm if something goes wrong. They must also have an all-UK supply chain in case there are disruptions to overseas supplies.
There are other technical issues as well. The system must make a strong seal to the face and not leak to maintain positive pressure. It must not only monitor how much air goes to the patient, but how much goes out—and filter the virus out of that exhaled air. The air must be warm and moist to prevent spasms and mucus production, which blocks the lungs. And any ventilator will need lots of sensors and a sophisticated control system to do its job.
Ventilator Hackathons
Engineers everywhere are jumping to help, and many of them have wound up submitting ideas and designs to virtual hackathons. The Department of Defense, for example, sponsored the two-week DIY Hack-a-Vent Innovation Challenge in mid-March. Its goal is to develop a low-cost ventilator that can be made locally using widely available resources. One company, Brownie's Marine Group, submitted a proposal to convert its Nemo breathing air diving system—the only one with an electronic regulator—into a ventilator. The system already includes a breathing air pump, respiration sensor, and a microcontroller.
The Code Life Ventilator Challenge, sponsored by the Montreal General Hospital Foundation and Research Institute of the McGill University Health Center, is also a two-week sprint to design a simple, low-cost, easy-to-make-and-maintain unit.
On Facebook, hundreds of engineers joined the Open Source Ventilator Project to design and build a prototype from 3D-printed parts and open-source hardware resources. One such unit is under evaluation by the Irish government.
Sometimes It's the Small Things
In Italy, ventilator shortages have led to the highest Covid-19 death rate in the world, "nearly 10 percent." Another issue that has cropped up is local shortages of disposable ventilator venturi valves. Italian 3D printing start-up Isinnova reverse-engineered the valves and saved the lives of at least 10 patients at Chiari Hospital in Brescia.
Recommended for You:
Bioengineering Blog: Supply Chains and the Health Crisis
Isinnova founder Cristian Fracassi came to the rescue in a true engineering fashion. He and engineer Alessandro Romaioli brought a filament extrusion 3D printer to the hospital, where he reverse-engineered the valve and produced several prototypes until he got it right. The process took six hours. His shop can now produce 100 valves per day.
Another firm, Lonati, is printing similar valves using a laser powder bed fusion process with polyamide, which produces a more precise geometry. In Ukraine, Revel Laboratory is doing the same.
Personal Respiratory Protection
Ventilators are not the only medical equipment in short supply. N95 respirators are also in high demand. Made for medical and industrial use, the respirators filter out 95 percent of particles 0.3 microns in size. While the coronavirus is smaller, 0.12 microns, the respirators significantly reduce the risk of infection when worn properly (they require a tight seal to the face).
The U.S. stockpile was never replenished after the swine flu (H1N1) epidemic and has only 12 million N95 respirators. They are going quickly. New York-Presbyterian Hospital, just one facility, goes through more than 40,000 of the masks daily.
To fill the gap, Congress passed a law to protect industrial mask makers from liability for medical use. This has enabled Honeywell and 3M, two large industrial mask producers, to divert output for medical use. Honeywell plans to open a new line and hire 500 workers at its Rhode Island facility within 30 days, a bravura engineering performance. 3M, meanwhile, is shipping New York 500,000 N95 respirators immediately and plans to double production to 2 billion masks at plants in the United States, China, Europe, and Latin America.
Makers to the Rescue
Companies and makers with 3D printers want to help, but there is no easy way to make N95 respirators. Many printers do not print elastomers, which are needed for form-fitting the mask to the face, even when the wearer talks. The filter, usually a thin layer of nonwoven polypropylene, must be sourced and cannot be printed. Also, many printed parts have some porosity and would act as a breeding ground for the virus.
That is why Prusa Research, which makes printers and operates a large 3D printer farm in the Czechia, decided to make face shields. These look a bit like a transparent welder's mask, with a headband and a clear piece of replaceable plastic protecting the eyes, nose, and mouth. When worn with a surgical mask, the shield protects medical personnel against coughs and sneezes.
The masks were a true maker product. Josef Prusa started with a reusable mask design that Gizeh Triana, a Mexican mechatronics engineer, had placed on GrabCad. Prusa's team redesigned it to eliminate supports and maximize the number of headbands that fit on a print sheet. They purchased clear plastic and laser-cut it to fit over knobs on the headband. Within three days, they had built dozens of prototypes that went through two verifications with the Czech Ministry of Health. Their prototypes are now out for testing and can print up to 800 units per day.
While their factory is not sterile, Prusa figures high printing temperatures will kill any virus. Employees put on fresh gloves and face masks before placing the headbands in a sealable bag. They keep the foils on the clear plastic when cutting, then mask and glove before bagging. Others have followed Prusa's lead and have begun to do the same.
Makers have picked up the design around the world. In Brooklyn, N.Y., for example, Luba Drozd, who owns two Prusa printers, downloaded Prusa's design on a Sunday and delivered 12 masks to medical workers on Monday. A friend then set up a Go Fund Me page so she could buy supplies and make more. Drozd looked at several designs before opting for the shield because it "was simple, straightforward, and didn't give a false sense of security as many of the 3D printed pseudo-N95 masks do."
Alan S. Brown is senior editor.
Related Content