Cooling Off the 2022 World Cup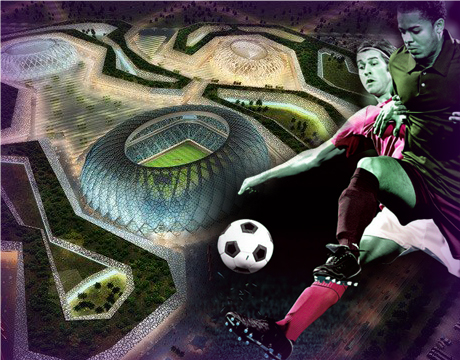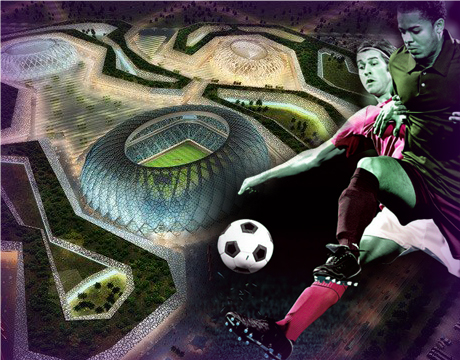 Cooling Off the 2022 World Cup
Jul 10, 2013
by John Kosowatz Senior Editor, ASME.org
When Brazil handed Spain an unexpected and dominating 3-0 defeat to win the Confederations Cup on June 30, soccer fans in Brazil and around the world began gearing up for next year's World Cup competition, to be held in South America's largest nation. Halfway around the world, organizers of the 2022 World Cup in Qatar are ramping up efforts to build eight new stadiums and revamp three others using new passive and mechanical cooling systems to keep players and spectators cool in the harsh, blazing Mideast summer.
The Qatari organizers are using the nine years before their World Cup to further transform the tiny sheikdom into a destination for world travelers. The government is poised to begin spending $200 billion on high-speed rail and other infrastructure to connect up to 12 venues, all but one of which will be reachable within 60 minutes from the others. Compare that to Brazil or Russia, which will host the 2018 World Cup, where venues will be spaced hundreds or thousands of miles from each other, making players, officials, and spectators dependent on planes to get there. In Qatar, high-speed rail and new and improved motorways will allow for what organizers say will be the most compact competition ever. If they can land the tickets, spectators will be able to speed to multiple stadiums, allowing them to catch multiple games in a day.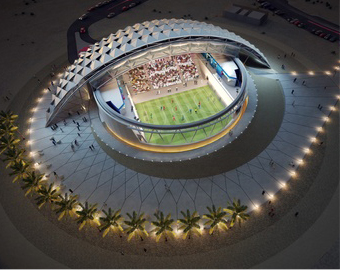 All of this hinges on stadium design and cooling to keep everyone from baking in summer temperatures that can reach 45° C. Officials from FIFA, soccer's governing body, wanted some sort of guarantee. They got it through design and construction of a 500-seat "mini stadium," designed by global engineering firm ARUP, which brought temperatures within the stadium and on the pitch to a manageable 23° C while outside temperatures soared into the 40s.
ARUP used existing technology and an innovative geometric design in the "Showcase Stadium" to prove that cooling could be accomplished. Using solar photovoltaic technology to generate electricity for cooling equipment, chilled air moves in layers through the stadium to reduce temperatures. The roof, fitted with reflective materials, keeps the sun off of the spectators. Beneath the pitch, absorption chillers send chilled air through pipes to keep the playing field cool, similar in concept to heating pipes set into the fields of northern stadiums to prevent freezing.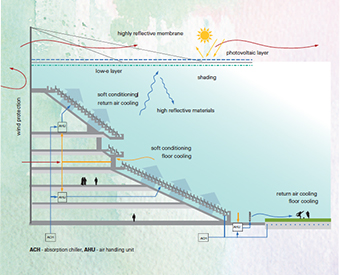 ARUP calls Showcase Stadium the world's first zero-carbon stadium because it does not use any fossil fuel to power systems, relying on the solar system. That theme is to be carried throughout the stadium buildout, along with modular designs that will allow entire sections of seating to be removed when the competition is over. Such a move will provide Qatar with venues that will seat between 10,000 and 25,000 people, a more suitable capacity for the small country.
Organizers plan to donate the excess stadium modules, along with an as-yet undetermined chilling system capacity, to developing countries that lack resources to build or renovate their own buildings. According to the organizing committee, not only will every stadium house technologies that provide maximum comfort for players and fans, but all of this will be accomplished in an environmentally friendly, sustainable way. Solar thermal collectors and PV panels will harness the sun's energy and export it to the energy grid, keeping plenty of energy in reserve to adjust climatic conditions throughout each match. Absorption chilling systems and Eutectic Storage areas will complement the solar components to maximize energy output. Air handling systems will re-circulate air throughout the stadium.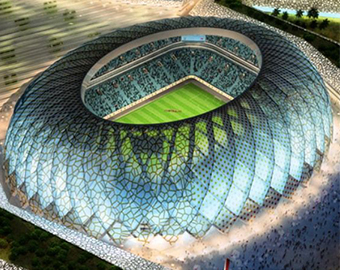 Organizers will not yet comment on specific design or construction issues, noting that the first contract for Al Wahrak Stadium was recently let, to Zaha Hadid Architects, London, and Los Angeles-based engineer AECOM as design consultants. The 45,000-seat stadium will be located 12 miles south of Doha, the capital. After the World Cup champion is crowned, the stadium capacity will be reduced to 20,000. Al Wahrak, along with seven other venues, will be designed by the German firm Albert Speer & Partners GmbH, Frankfurt, Germany.
Other architects include the U.K.'s Foster + Partners which designed the Lusail Iconic Stadium to be built in the Al-Daayen section of the new Lusail City. It will be the locus of the World Cup, hosting the opening and final matches. The building is oriented so that wind from the north-northwest to north-northeast can be harnessed for flow into and out of the stadium. The stadium's roof will be saddle-formed and incorporate the world's largest cable-net roof also to be fitted with computer-controlled vents. It includes a retractable or demountable central section, allowing the pitch to be open. The fixed roof will cover the seating area, providing shade and allowing internal climate control.
Infrastructure
The Qatari government also will build 32 hotels and training facilities for each of the World Cup teams. To handle the influx of people—organizers can expect 60,000 to 80,000 air passengers to land or depart in the ten hours before and after matches—the government has already opened the New Doha International Airport, with two new runways that will expand passenger handling capacity from 15 million to 50 million per year.
And Qatar for the first time is developing a rail network based on a $26-billion agreement between the state rail company and Deutsche Bahn to construct an "environmentally friendly" metro system in Doha, with 98 stations across 300 kilometers. It also sets out plans for a long-distance network linking to Bahrain and Saudi Arabia.
The Qatari venues, as planned, promise a relief from extreme weather and open possibilities for other sports in venues that have been too extreme. But organizers say their legacy will be in the modular design that will seed the construction of 22 new stadiums in the developing world, and the solar and mechanical systems that will make them work.
All of this [the 2022 World Cup] hinges on stadium design and cooling to keep everyone from baking in summer temperatures that can reach 45° C.