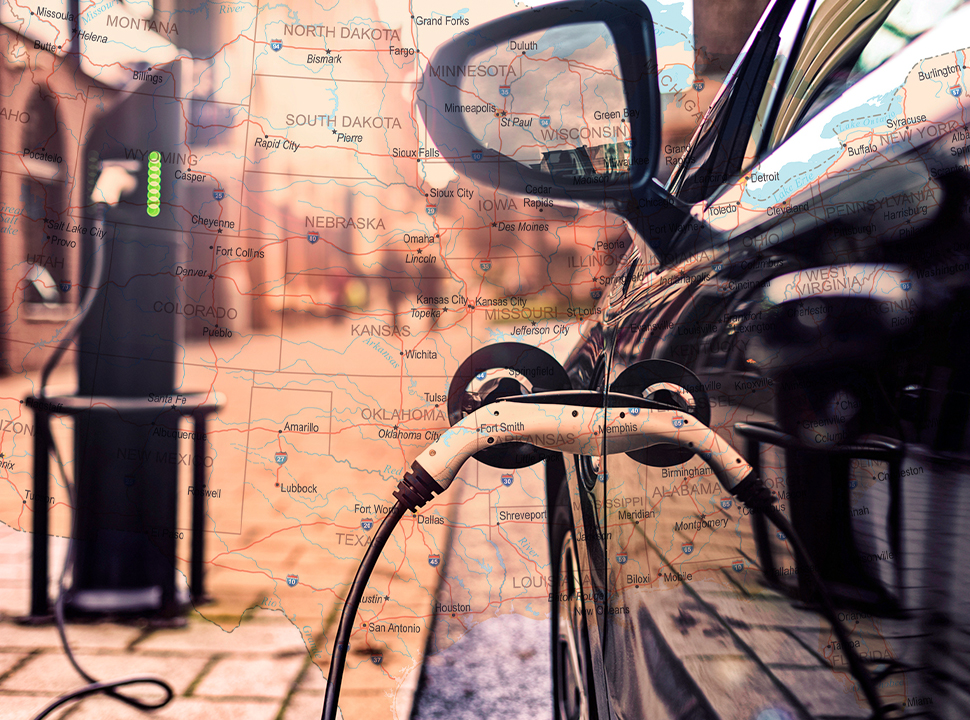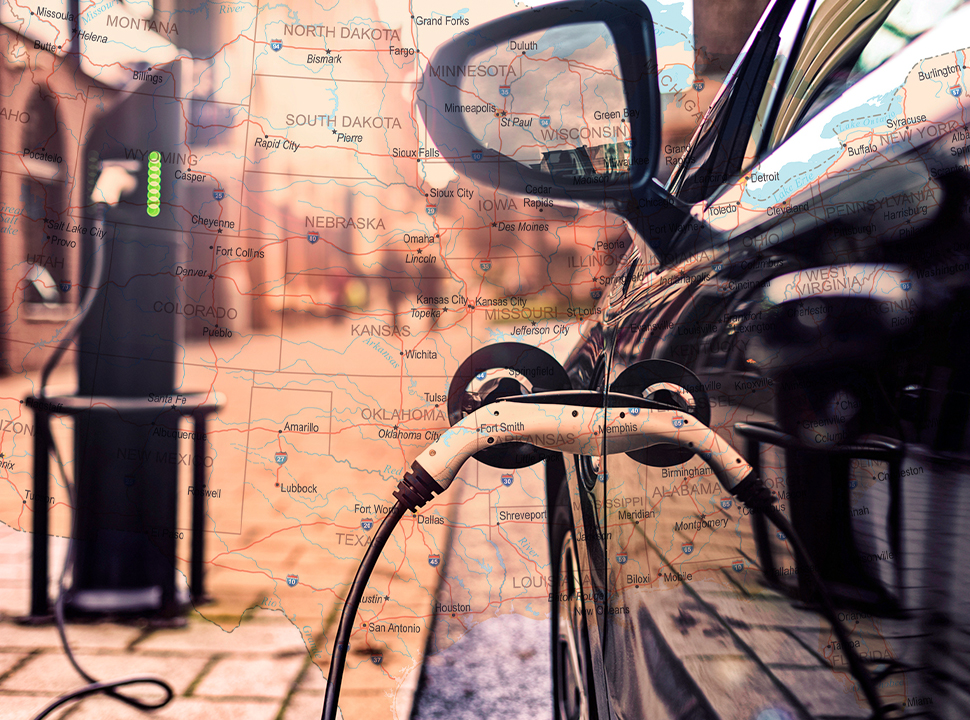 New initiatives begin to build EV charging stations in the Midwest and Southeast.
Call up a map that shows the locations of charging stations for electric vehicles and you get some not-very-surprising results. The map, provided by the U.S. Department of Energy, depicts masses of stations along the East Coast and West Coast and in clusters around the populated cities in between.
But if you live in North Dakota, especially the western part of the state, you're not going to be recharging your electric vehicle. You probably don't even have an electric vehicle (EV) and you're probably not looking to get one anytime soon.
The expansion of plug-in power stations and charging outlets across densely populated areas of the country is expected to help pave the way for widespread EV adoption. But for adoption to truly take off, power stations will need to be located across the country
,
including in rural a sparsely populated areas, said Gustavo Occhiuzzo, the chief executive officer of EVCS, which operates EV charging stations on the West Coast.
Drivers in either coast have been quick to embrace electric. As a result, EV owners can drive anywhere within those areas without worrying about access to charging stations, Occhiuzzo said.
More for You:
Infographic: New Charging Technologies for Electric Vehicles
"The rest of the country, however, is mired in a chicken-and-egg cycle of low EV ownership thanks to minimal infrastructure, which perpetuates low EV ownership, and so on," Occhiuzzo said.
Charging infrastructure in practically nonexistent in the middle of the country, aside from two dedicated routes—one between Washington, D.C., and Los Angeles, and the other between San Diego and Jacksonville, Miss., he said.
To prepare for EVs, companies must build charging stations in the same way that, 100 years ago, businesses and companies built gas stations along the road and highway systems that would eventually crisscross the nation, Occhiuzzo said.
"Car companies aren't investing in infrastructure, they're relying on companies like us to build these networks."
EVs are fewer in the Midwest
Still, the automotive industry expects EV adoption to grow from 1.5 million vehicles to 18.7 million vehicles by 2030, according to Ameren, an Illinois power company. That jump in EVs will require an estimated 9.6 million public charging stations, according to Ameren.
Yet, in February 2021, the United States had almost 100,000 charging outlets for plug-in electric vehicles, with 32,000 power outlets located in California, according to Statista, which compiles and reports business data.
Making matters even more unbalanced is the discrepancy between Level 1, Level 2, and Level 3 chargers. Faster charging Level 3 outlets can fully charge an electric vehicle in 30 to 40 minutes, while Level 2 chargers take three to four hours. Level One, which can be plugged into a normal 120-volt connection, typically takes overnight to charge an EV.
While charging stations aren't flush across the middle of the nation, states have been heading the call to increase charging stations across the country.
In March of this year, four utility companies added their names to six others that had signed an agreement to promote the construction of an EV charging network throughout the Midwest and Great Plains states by the end of 2022. Such a network would allow EV owners to drive from Detroit to Colorado, or from Michigan to Texas, because they could stop to charge their vehicles along those routes, said Patrick Parke, Midwest Energy's chief executive officer.
Midwest Energy signed the agreement in March for what is presently referred to as the EV Corridor Memorandum of Understanding
"Our customers will not be eager to purchase an EV unless they are confident it can be used for both local commuting and long-distance driving," Parke said. Western Kansas in particular would be served by the agreement, because charging stations are sparse to nonexistent across that part of the state.
Signatories to the EV Corridor Memorandum of Understanding include Detroit Edison Electric (Michigan); Ameren (Illinois), Amren (Missouri); Consumer Energy (Michigan); Evergy (Kansas and Missouri); Oklahoma Gas and Electric (Oklahoma and Arkansas); Mid-American Energy (Iowa); Duke Energy (Indiana); Liberty Utilities (Missouri, Kansas and Arkansas); and Midwest Energy (Kansas).
Editor's Pick:
Infographic: Defining the 6 Levels of Self-Driving Autonomy
Also in March 2021, six primarily southeastern U.S. utilities announced their own collaboration, with plants to build a charging network along major highways within and between their service territories.
Those utilities are: American Electric Power Co. Inc., Dominion Energy Inc., Duke Energy's North and South Carolina operations, Entergy Corp., Southern Co., and the Tennessee Valley Authority.
Capitalizing on Fines
Some of the funding for charging-station initiatives has come from each state's share of the Volkswagen emissions cheating settlement in which Volkswagen was ordered to pay restitution to U.S. states. In 2015, the carmaker was found to have cheated on U.S. diesel emissions tests for the past seven years.
Volkswagen paid states settlement funds based on the number of violating VW vehicles in their jurisdiction. In Minnesota, for example, ZEF Energy is building 22 fast-charging stations along state highways, in an effort to build a level-one charging network outside the Minneapolis and St. Paul metro area. The initiative is part of the $1.7 million the state received as part of its Volkswagen settlement.
A second Minnesota initiative calls for 38 additional Level 2 chargers in greater Minnesota to be paid for with $2.6 million from the settlement.
Reader's Choice:
5 Flying Cars Take to the Skies
Although the number of electric vehicles doubled from 2018 to 2019 in Minnesota, they still represent just a small slice of vehicle sales, said Rebecca Place, the Minnesota Pollution Control Agency's electric vehicle coordinator. The PCA manages the Volkswagen settlement monies.
Many Minnesota drivers see electric vehicles now as second cars to be used for short-distance travel. Additional chargers should give drivers the confidence they can drive their EV wherever they want to go, she said.
And that includes trips across western Kansas, up the California coast, from North Dakota to South Dakota and everywhere else in the United States.
Jean Thilmany is a freelance writer in Saint Paul, Minn., who writes about engineering issues.
Register for our upcoming webinar series: Driving Toward the Automotive Future
Related Content