Automating the Risk Out of Farming
Automating the Risk Out of Farming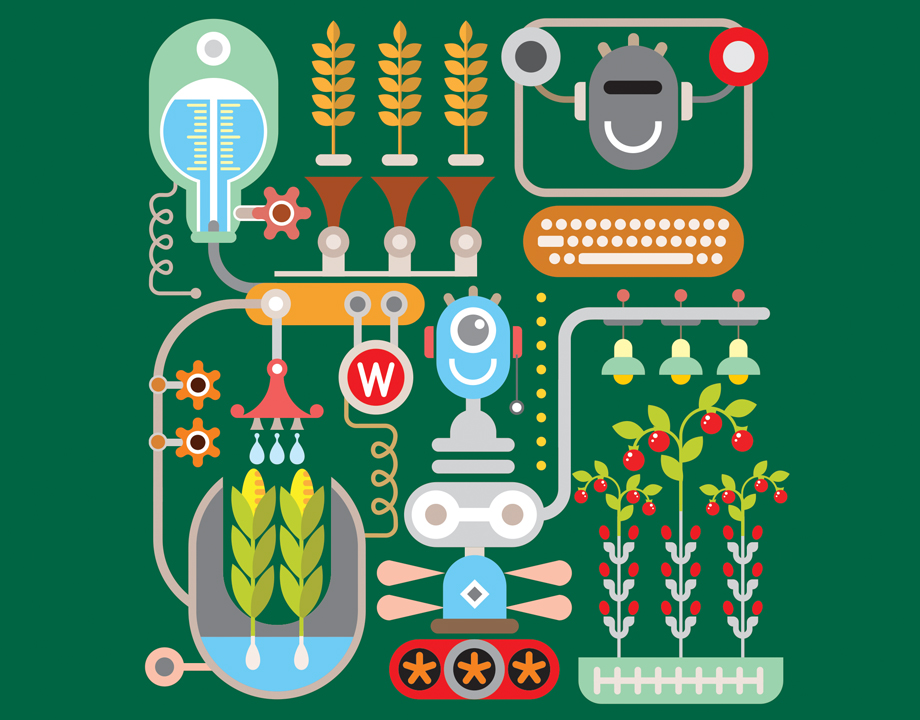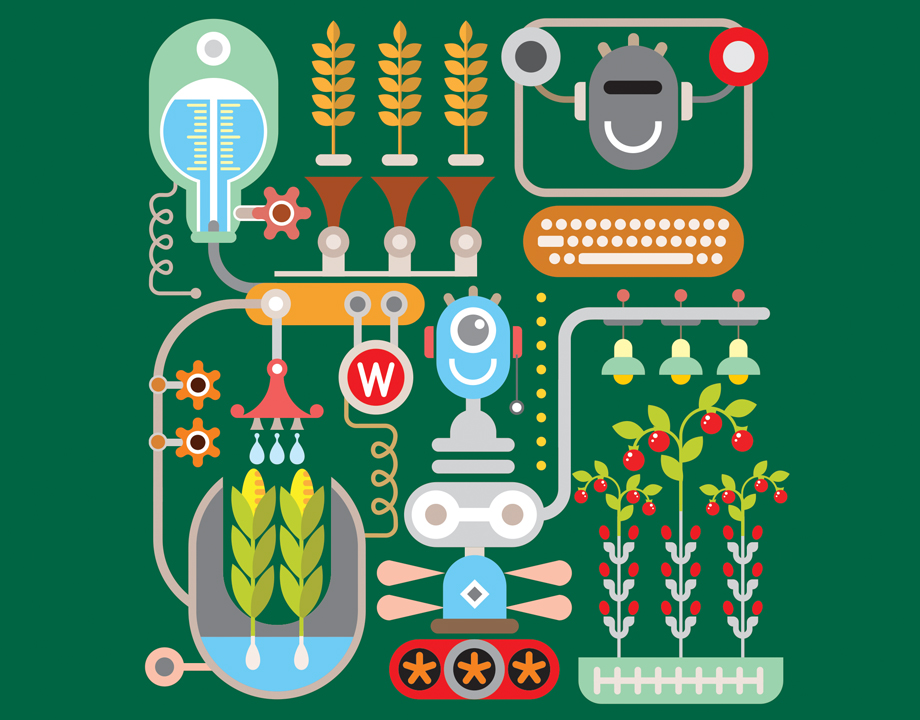 Automation can introduce flexibility and stability into the farming industry, to reduce waste and overcome labor shortages.
The farming and agriculture industry has had its fair share of problems over the last decade. According to the online magazine,
Successful Farming
, some of the top issues poised to affect American farmers in 2020 were food waste, labor shortages, the trade war with China, escalating climate change disasters, and even the impeachment of President Trump.
Then COVID-19 descended upon the world.
The pandemic of the novel coronavirus exposed systemic problems within several industries. Manu­facturing and shipping plants could not maintain the social distancing guidelines or provide the neces­sary amount of personal protective equipment to protect their workers. Transportation systems shut down services to determine how to clean and disinfect trains and buses properly. Hospitals could not keep pace with the number of people becoming infected, and the medical industry could not manufac­turer enough test kits, ventilators, and protective equipment to treat the increasing number of patients.
The problems besetting the farming systems did not disappear; instead, they were heightened. Bottle­necks in the supply chain and the lack of risk management and flexibility led to increasing food waste, and the labor shortage that existed before has only gotten worse with COVID-19.
In response, the industry has turned to automation as a solution.
"There was already a trend for automation and mechanization before the pandemic, and the extra labor shortage risks due to COVID-19 will accelerate automation adoption," said Arzum Akkas, a pro­fessor of operations and technology management at Boston University and an expert in food supply chain management. Several new technology areas, which were already starting to build up steam before COVID-19, have accelerated on to the scene and have taken center stage.
"Automation can assist the farming industry in three ways," Akkas said. "The first is in reducing labor costs substantially. Second, you are faster and can generate more output for a given period of time, meaning a reduction in cost per unit. And the third component is mitigating risk. COVID-19 has created and will continue to be a risk problem with regards to the availability of labor. By switching to automa­tion, you are controlling that risk."
Problems Impacting the Farming Industry
"The U.S. supply chain is fragmented, one for grocery stores and the other for food services like restaurants. Such special­ization makes operations efficient. Products from the farms are either packaged into a larger box size for food services, or barcoded and labeled for smaller size retail boxes," Akkas said.
Recommneded for You:
5 Ways How Digital Farm Technology Is Transforming Agriculture
As the pandemic hit, consumers ran to the store in droves, buying several items in bulk, and leaving stores with little to no supplies. At the same time, the sudden closure of restau­rants meant that large bulk orders of items such as flour, poultry, and vegetables had nowhere to go.
"When restaurants closed, all the orders coming from the restaurants to the processing plants dedicated to food service stopped, and we had an accumulation of inventory in the farms. The packaging facilities dedicated to the grocery chain, did not have the capacity or capability to process this food, and that's why we saw massive food waste happening on the farm side," Akkas said.
Food waste is one of the significant problems plaguing the farming industry. The U.S. Department of Agriculture estimates every year people throw out 40 million tons of food, resulting in a $161 billion loss. With the COVID-19 pandemic, it only got worse.
According to an April 9 article in the
Guardian
, one Florida farmer had to plow 5 million to 6 million pounds of vegetables back into his field due to lack of buyers.
The total economic impact for the farm industry could be a $1.32 billion loss from March to May, according to a National Sustainable Agriculture Coalition report.
Labor shortages have also hobbled the ag sector. The reduction in the number of immigrant laborers due to their uncertain legal status has not been made up by new domestic workers. "During the last recession from 2007 to 2009, farmers in North Carolina tried hiring domestic laborers. There were 6,500 job openings. Only 163 people showed up, and only seven of them kept their jobs," Akkas said. "The Georgia Fruit and Vegetable Growers Association estimated labor shortages for harvesting and packing cost the state 140 million in crop losses, about 25 percent of the total produc­tion value for those crops."
About 73 percent of the farm labor force is foreign-born, Akkas said. These laborers are seasonal, and half of them come on H2A visas, while the other half are undocumented. According to a May 29 article in Insurance Journal, as many as 2.7 million people in the U.S. are hired as farmworkers each year, including migrant, seasonal, year-round, and guest-pro­gram workers as reported by the Migrant Clinicians Network.
The increase in COVID-19 cases has significantly impacted the labor force. In the meatpacking industry, where many workers find themselves in confined spaces, 50 percent of the workforce had positive cases.
The federal government has tried to maintain a steady flow of migrant workers, waiving interview requirements and exempting them from the temporary immigration ban. They are not protected from infection, however.
Members of Congress have requested a coronavirus relief package, which includes funding dedicated to combating the spread of the virus among farmworkers.
Over the summer months, the impact on produce farming in particular was expected to be visible. To handle these risks as the ag industry moves forward, automation can be intro­duced to create flexibility and help reduce the reliance of an unstable workforce.
Greenhouse Farming All-Year Round
According to AgFunder's 2020 Farm Tech Investing Report, farm tech startups raised $4.7 billion in 2019. Novel farming startups, such as automated greenhouses, raised $945 million venture capital in 2019, a 37 percent increase in funding year-over-year.
Editor's Pick:
Weed-Fighting Robots Could Replace Spraying
One of those startups is Iron Ox. In 2019, it received $20 million in venture capital for its indoor robotic greenhouse farming system. "Iron Ox's primary goal and mission is to help address food security, to feed an ever-growing global population, by taking robotics, artificial intelligence, and plant science-first approach to farming," said CEO and co-founder Brandon Alexander.
Iron Ox's system is an automated greenhouse that can grow over 50 varieties of leafy greens and vegetables hydroponically all-year-round. Its custom robots manage all aspects of the growing operation. A robot moves hydroponic modules from the grow area to production areas for harvest and transplanta­tion. Those harvesting and transplanting activities are aided by a large robotic arm that does the more delicate tasks. Iron Ox has designed the greenhouse growing system around the sun to use less energy than other modern forms of farming. The hydroponic growing system uses one-tenth the water of traditional farming while producing yields 30 times greater.
"In general, robots can be pretty finicky. They like struc­tured environments more than unstructured spaces that can create unpredictable situations," Alexander said. "We took a step back and evaluated the entire growing process and developed a growing process that takes a robotics-first approach. Essentially, we realized we could make a huge impact by redesigning the growing process from the ground up with robotics and artificial intelligence at the core."
Artificial intelligence is a core component of how Iron Ox's robotics navigate about the greenhouse to transplant and har­vest plants, including how they provide the plants' nutrients. The AI helps to understand their crops' health and feed those learnings back into the system to grow better produce and provide a more reliable and closer farming network.
"Much of the produce that people have access to has trav­eled almost 2,000 miles before it reaches the grocery store shelf. There's bound to be food waste when food has to travel that far," Alexander said. "If we can place our farms closer to major population centers and provide fresher produce to our customers, we can cut down on supply chain complexity."
"The grocery supply chain has had a hard time finding truck drivers during the COVID-19 pandemic," said Akkas. "Finding people to load and drive the trucks was one of the bottlenecks in the grocery supply chain. When you have goods coming from farther locations and you have a labor shortage problem, then local farms are less risky."
Local automated greenhouse farms can develop systems to handle the entire growing process, from seed to packaging, closer to major population areas, and flexible enough to handle disruptions. "Automation offers an endless set of pos­sibilities that you can use to build protected growing facilities that create a year-round supply," said Josh Lessing, CEO and co-founder of Root A.I.
Root A.I. was established in 2018 with a mission to rein­vent the food supply chain to ensure people have continuous access to food. "Over 70 percent of the tomatoes you buy from major retailers come from greenhouse farms," Lessing said. "Farmers are building up greenhouse facilities now on the east coast of the U.S. because people want access to this food year-round and less dependence on imported goods during the off-season."
Root A.I.'s primary technology is the automated picking of delicate fruits. It has only been recently, according to Lessing, that AI neural networks and off-the-shelf sensing technology have become widespread and affordable enough to tackle that challenge. "The human hand does remarkable things, and we asked ourselves what are the salient features of human dexterity that are leveraged the most when picking fruits," said Lessing. "Instead of building a 'Terminator hand' with tons of joints and sensors and extensive programming for a complex grip, we took a simpler approach. We perfected an elegantly simple mechanism, through its structure and motion, gets that perfect pick by design."
Their robotic harvesting technology Virgo was based-on the human body. It grips the produce and uses an embed­ding and twisting motion, so the robotic fingers and the wrist mimic the human hand. The gripper, manipulator, and vision system travels on an autonomous mobile platform that can drive through a farm and harvest different kinds of perishable items. It picks and maintains the produce by using advanced AI and vision systems. Root A.I.'s proprietary vision hardware combined with the company's custom convolutional neural networks measures properties of the fruit like ripeness, size, and quality grading. All of this is done in the robot in real-time, without relying on remote access to a datacenter.
You May Also Like:
Drones Take Farming to a Whole New Level
Since COVID-19, Root A.I. has accelerated its summer launch across a series of customers in the U.S. and Canada. These initial customers will receive multiple copies of their robotic units and will have full harvesting service set up at their facilities.
"Automation in the food industry has already existed but now needs to happen in orders of greater magnitude," Lessing said. "For those who haven't adopted automation, pulling out of this crisis, are going to be faced with a lot of questions about how to adopt modern-age farming technology."
Automation for Smarter Dairy Farming
Automation is not only limited to produce farming. Lely was founded in the Netherlands and, for over 70 years, has introduced new mechanized methods to help eliminate redundant processes or labor requirements on the farm, par­ticularly in dairy farming. "If you look at the robotic farming systems over the last 10 to 12 years, it follows our vision of automating redundant manual tasks on the farm," said Chad Huyser, regional director and North America president of Lely International.
Lely's automatic dairy milking process uses automation and artificial intelligence for cows to feed and milk them­selves. The Astronaut-5 is a milking unit in which cows can freely walk into when they need to be milked. The unit identi­fies the cow via the animal's tags and tracks the cows' feeding ration and lactation cycle. Overall, Lely collects more than 120 data points per animal each milking. For a herd of 100 cows, that amounts to more than 10,000 data points each day.
When a cow walks into the milking unit, a laser-ranging system performs a 3D scan to locate the optimal position to attach the milking unit to the udder. The mechatronics and kinematic systems, supplied by Festo, the motion control supplier for the unit, move it into position. The whole process takes five to six minutes. According to Huyser, within three weeks, about 85 to 90 percent of the cows start to understand the automated process naturally.
The cows' feed intake significantly drives the milking pro­cess, and Lely is using data analytics to maximize the cows' feed intake and achieve high product yield.
Using this system, farmers can see a 10 to 15 percent increase in milk production.
"If you were to ask a dairy producer today, their single big­gest risk is not having enough labor to milk the cows," Huyser said. "Since labor is one of the main drivers in controlling price, you start to look at ways to mitigate labor risk and how to move your operation forward."
The COVID-19 pandemic has given dairy farmers a front-row seat to what real volatility can look like in a commodity market. In the case of dairy production, automation tech­nology can dramatically help them change their supply side. If dairy farmers had greater control of their supply chain during the early height of the pandemic, they could have restructured their cow milking schedule in response to the demand.
"Since cows are traditionally managed as a herd, you don't have individual cow data in most respects of their milking and feeding. Today, because of the way we can manage the individual cow data, the farmer can now look at individual animals, at their genetic potential and their milk production, and start to make smarter decisions," said Huyser. "With COVID-19 and everything as it relates to the labor situation, large-scale producers have seen a decrease of least 25 to 30 percent in their workforce. Dairy producers need more flex­ibility built into their operation."
Read Our List:
10 Best IoT Examples in 2020
With automation and data analytics systems, dairy pro­ducers can establish some fixed costs and decision-making power on how to scale their supply chain in response to drastic changes in the market.
Ultimately, automation in agriculture can provide greater and smarter control to the farmers. In a world struggling to feed many, especially during natural disasters and pandemics, the ability to produce sustainable food for all is crucial.
"The core of what we do is to is to further the cause of agriculture and solve the challenging problems the world will face in the coming years," Huyser said. "I don't think there's a more exciting time to be part agriculture than right now and be part of something bigger than yourself.
We are trying to help feed the world, and regardless of whatever role you might play in agriculture, that's a noble endeavor."
Carlos M. González is special projects manager.
Learn more about automation and agriculture in our Robotics Special Report 2020
Related Content