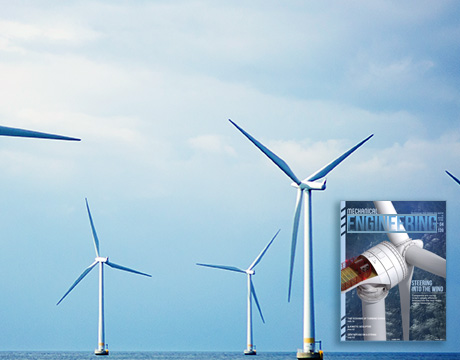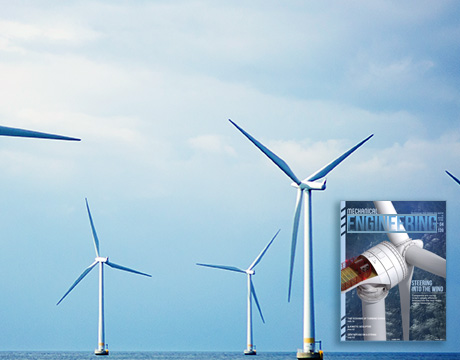 An Ocean of Promise
Mar 31, 2017
On a sunny day last November, Paul Rich stood in a conference room on the site of what had once been the world's largest steel plant, addressing representatives of companies that could make or break the offshore wind industry in the United States.
Rich knew that the first offshore wind turbines in U.S. history would soon begin generating electricity, feeding 30 MW of electricity to Block Island, R.I., a small community about 14 miles east of Long Island's eastern tip. After years of false starts for the U.S. offshore wind industry, getting the first wind farm built and working was a watershed moment.
But Rich was already thinking bigger—much bigger.
Rich's company, U.S. Wind, is owned by a subsidiary of the Toto Holding Group, an Italian large infrastructure construction company. It has made big strides toward building the first utility-scale wind farm in the United States. Rich's team plans to build a forest of up to 187 turbines, starting 15 miles off the coast of Ocean City, Md. The wind farm will ultimately cover 125 square miles and deliver 750 MW of electricity to the grid—enough to power 500,000 homes.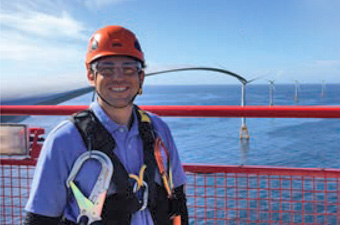 As U.S. Wind's director of project development, Rich is in charge of getting the wind farm built. But he doesn't want to stop there. He wants to build an industry.
For that, he needs a functioning supply chain. "Without local manufacturing capacity, there's no real incentive to build offshore wind," said Keegan Kruger, a global offshore wind analyst at Bloomberg New Energy Finance.
In the United States, however, a supply chain for offshore wind is nowhere to be found. Rich wants to create one.
For that reason, he had invited major offshore wind vendors, including leading manufacturers of wind turbines and specialized underwater electrical cables, as well as shipbuilders, steel companies, and marine-services companies, to a meeting in Maryland. About 30 people made the trip to the 3,100-acre Sparrows Point site, the former home of a sprawling Bethlehem Steel plant. A company called Tradepoint Atlantic had purchased the site, renamed it after itself, and was redeveloping it into an ultramodern logistics park accessible by road, rail, and ship.
In a conference room in Tradepoint Atlantic's marketing center, Rich told the attendees that as a former steel plant, the site was perfect for manufacturing heavy offshore wind turbine parts, including 250-ton foundations and 500-ton sections of turbine tower—not just for Maryland, but for the entire East Coast. It also came equipped with a 750-foot pier with a 40-foot-draft harbor. This, he said, made it ideal for the specialized deep-draft vessels called liftboats that carry the massive nacelles, tower sections, and turbine blades out to sea.
Establishing an offshore wind supply chain would do more than launch an industry. It could also spur development of better ways to manufacture turbine parts, ship them to sea, assemble them, and maintain them. This could create jobs for engineers of all stripes, including civil, electrical, and mechanical engineers. "The opportunities for engineers across the board are endless," said Elizabeth Burdock, executive director of the Business Network for Offshore Wind.
Endless, that is, if the industry can get off the ground.
Block Island Breakthrough
Since the world's first commercial offshore wind turbines began spinning off the coast of Vindeby, Denmark, in 1991, the European offshore wind industry has evolved into a juggernaut. Today, the seas off the coast of Europe are home to 3,600 offshore wind turbines—90 percent of the world's total. Those turbines have a total nameplate capacity of 12.6 GW, as much as 15 coal-fired power plants, and the Europe's offshore wind industry supports 58,000 jobs, according to data collected by the European Wind Energy Association.
What's more, the entire industry continues to grow. Last year global capital spending commitments on offshore wind reached $29.9 billion, up 40 percent from 2015, according to research by Bloomberg New Energy Finance.

The U.S. Department of Energy estimates that the United States has 404 GW of offshore wind power capacity—enough, in theory, to generate all the electricity currently consumed nationwide. But development of the first proposed major offshore wind farm, the Cape Wind project off the coast of Massachusetts, ground to a halt in 2015. Cape Wind's developers had gone big, planning a 131-turbine array across Nantucket Sound, and a coalition of wealthy local residents sued, in part to keep the wind farm from intruding on their ocean views. Ultimately, local utilities backed out of their power purchasing agreements, and financing for the project dried up.
In contrast, the Block Island wind farm's developers, Providence, R.I.-based Deepwater Wind, went small from the start. The company focused on an island community whose 1,000 residents relied on expensive electricity from diesel-based generators. Offshore wind, which produced significantly more expensive electricity than onshore wind, solar, or natural gas, was cheap by comparison.
The company spent several years navigating a maze of regulatory hurdles, gaining approvals one by one from more than 20 federal, state, and local government agencies.
Obtaining the turbine components was no easy task, either.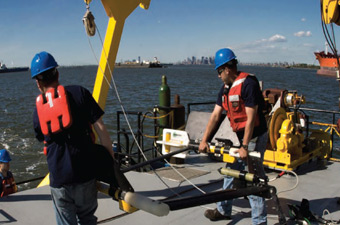 Offshore turbine components, including components of the five 6 MW GE Haliade turbines used at the Block Island wind farm, are manufactured in Europe to be close to the flourishing market there. This meant that Deepwater Wind had to import all of them.
For instance, the 600-ton nacelles, which sit atop 150-meter towers and contain the equipment that generates electricity, needed to be fabricated at a GE factory in France. To transport the nacelles from France to Rhode Island, Deepwater Wind hired a specially constructed vessel called a liftboat from a Norwegian firm called Fred. Olsen Windcarrier. Liftboats are designed to sink long legs to the sea floor, then jack the boat out of the water to create a platform stable enough for a large crane to operate.
Separately, the 27-ton turbine blades—15 in all—were manufactured in Denmark and transported by special trailer to a Spanish port for transport across the Atlantic.
Assembly Required
Assembling the turbines was also challenging, and the lack of local expertise didn't help. "Onshore, you rent a crane, drive it out to the site, and you move the turbine," Paul Murphy, Deepwater Wind's lead engineer, said. Offshore, you need a liftboat.
Since liftboats in the U.S. are primarily used to construct and maintain oil and gas platforms, they are generally based in the Gulf of Mexico rather than the East Coast. For that reason, in July 2015 Deepwater Wind called Joseph A. Orgeron, chief technology officer of a Louisiana firm called Montco that builds and operates liftboats.
The turbine towers are anchored by a four-pile jacket—a steel lattice foundation that needs to be nailed 200 feet into the sea floor with heavy steel piles. The first firm Deepwater hired struggled to do that from a floating barge, so it called Orgeron, who sent Montco's biggest liftboat, the L/B Robert.
The liftboat traveled two weeks from the Gulf to the work site, which was three miles off the coast of Block Island. There, it inserted the foundation's piles, affixed a giant hydraulic hammer to a deck-mounted crane, and hammered the piles into the sea floor.
A federal law called the Jones Act prohibits foreign-built or foreign-flagged vessels like the Maltese-flagged Brave Tern from transporting cargo between two points in the United States. To avoid violating that law, Deepwater Wind later hired two of Montco's smaller liftboats, which were U.S.-flagged, to deliver the turbine towers and blades from a dock in Providence to the work site. On one of the liftboats, Montco had to design and custom-build a box-beam cantilever and a carrier to transport the three blades, each as long as a football field, that attach to each turbine.
Ultimately, the Brave Tern and the three Montco liftboats assembled the five turbines. After four months of testing, the first commercial U.S. wind farm began spinning in mid-December 2016, generating up to 30 MW of electricity to power the homes of Block Island's 17,000 residents.
"Now that they've got steel in the water and turbines installed and generating electricity, it changes the landscape," Orgeron said. But there's still no U.S.-based supply chain, so it's still not enough to build an industry.
Making Markets
During the Obama administration, the Federal government pushed policies friendly to offshore wind, most notably by empowering the Bureau of Ocean Energy Management, a division of the U.S. Department of the Interior, to begin leasing tracts of U.S. coastal ocean to wind-farm developers. But in spite of the support, wind farms were not being built.
In 2014, Stephanie McClellan, director of the Special Initiative on Offshore Wind at the University of Delaware in Newark, launched an investigation to find out what was holding the U.S. offshore wind industry back. States, she found, were dragging their feet.
"State policymakers were saying, 'This is really expensive and we don't know what to do,'" McClellan said.
;custompagebreak;
After investigating conditions in the industry in Europe and the United States, McClellan and her colleagues reported in early 2015 that states that put in place policies to reduce the cost and financial risk of building an offshore wind farm could slash project financing costs and ultimately cut the levelized cost of electricity by 50 percent.
Since the report came out, state policies have finally begun to shift. Last year Massachusetts Governor Charlie Baker, a Republican, signed legislation requiring the state's utilities to buy a total of 1.6 GW offshore wind capacity by 2027.
New York State, for its part, has committed to obtaining 2.4 GW—the output of three large coal-fired power plants—of offshore wind power capacity by 2030. In January, at the urging of Governor Andrew Cuomo, the Long Island Power Authority approved Deepwater Wind's plan to build a 90 MW wind farm 30 miles off the eastern tip of Long Island.
By guaranteeing large and sustained markets for offshore wind, policies like these can entice large turbine vendors, blade manufacturers, and other major offshore wind vendors to bid on more U.S. projects, McClellan said.
Going Local
As the offshore wind power industry grows, costs continue to fall, in part because engineers in the industry are developing better and cheaper technologies. For example, offshore turbines have been getting larger and more efficient, enabling them to produce more electricity—and revenue—per turbine, while also lowering both construction costs and operation and maintenance costs.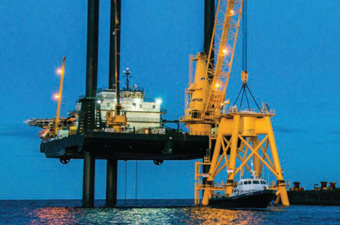 Turbines that produce 5 MW of electricity were standard just five years ago. Block Island's turbines produce 6 MW, and 8 MW turbines are already being installed commercially in Europe. In December 2016, a 9 MW turbine from MHI Vestas Offshore set a world record by producing 216,000 kilowatt-hours of electricity in 24 hours—enough to meet the daily demand of 7,300 average American homes.
Offshore substations are also getting smaller and cheaper.
Substations funnel electricity from individual turbines into transmission cable connected to shore. Early offshore substations were designed like their counterparts on land, complete with diesel generators, a room for the operator, and even a helicopter landing pad. Siemens got rid of all that to create a one-story, 700-ton platform with a single, air-cooled transformer that can be mounted on the same foundation as a wind turbine. The smaller substation can cut grid-connection costs by tens of millions of dollars.
Meanwhile, experience and better logistics are making the European offshore wind supply chain more efficient. And the financing costs of wind farms, which can run in the hundreds of millions of dollars, have dropped over the last five years as project financiers "get an adequate grip on the risk associated with construction," said Bloomberg's Kruger.
As costs tumble, Paul Rich and his colleagues at U.S. Wind are stepping up their effort to launch the industry in Maryland.
They're working to lure supply-chain companies to Tradepoint Atlantic so they can turn to local sources for turbine components and vessels, and ship the massive components to sea right from the site's waterfront. To manufacture wind-turbine tower sections, for example, "we can get flat steel from Pittsburgh brought in," Rich said. "We can get a manufacturer here to roll it into tubular forms, weld it, paint it, coat it, and put on all the accessories."
Ultimately, Rich said, Tradepoint Atlantic could make Baltimore a national offshore-wind center like Esbjerg, Denmark, which shipped more than 65 percent of the wind turbines manufactured in that country in 2015, thanks to its deep-water port, specialized turbine-assembly, shipping facilities, and resident offshore companies that share expertise.
"Baltimore will be a vibrant steel manufacturing and hopefully turbine manufacturing center" with government-funded R&D facilities, and it will serve the entire East Coast, Rich said.
A thriving offshore wind industry will also demand engineering expertise. Engineers will need to ensure that the installation process minimizes lift-boat time, which can cost $250,000 a day. Innovations are also needed to ensure gears fit, turbines swivel properly, turbine blades adjust to catch the wind, and more.
"I see offshore wind rapidly advancing on an industrial scale," Rich said. "Meanwhile, we're ready to put people to work right now." ME
Dan Ferber is a senior editor at Mechanical Engineering magazine.