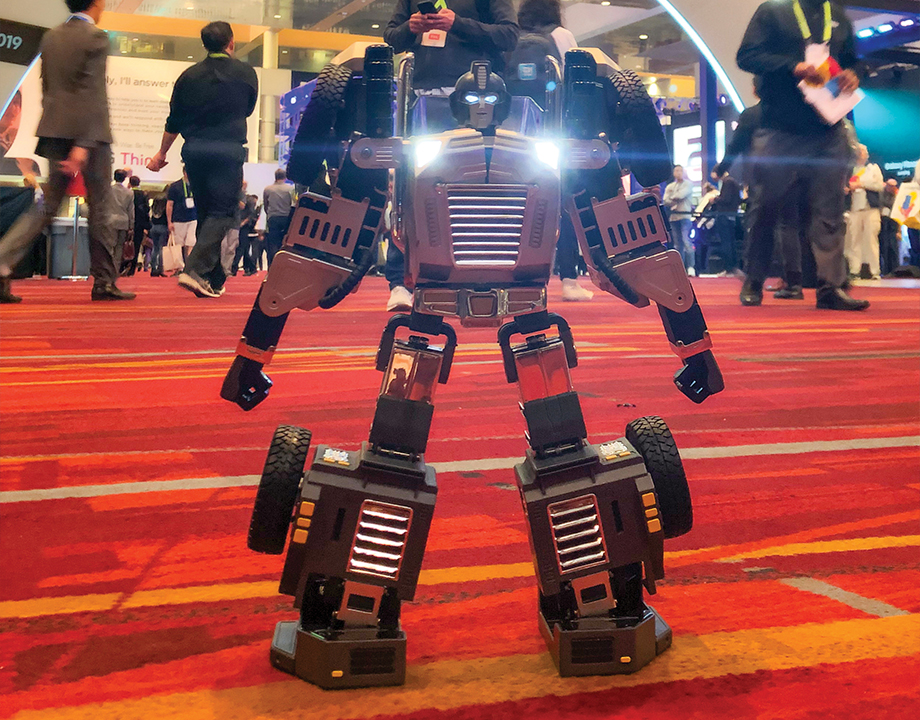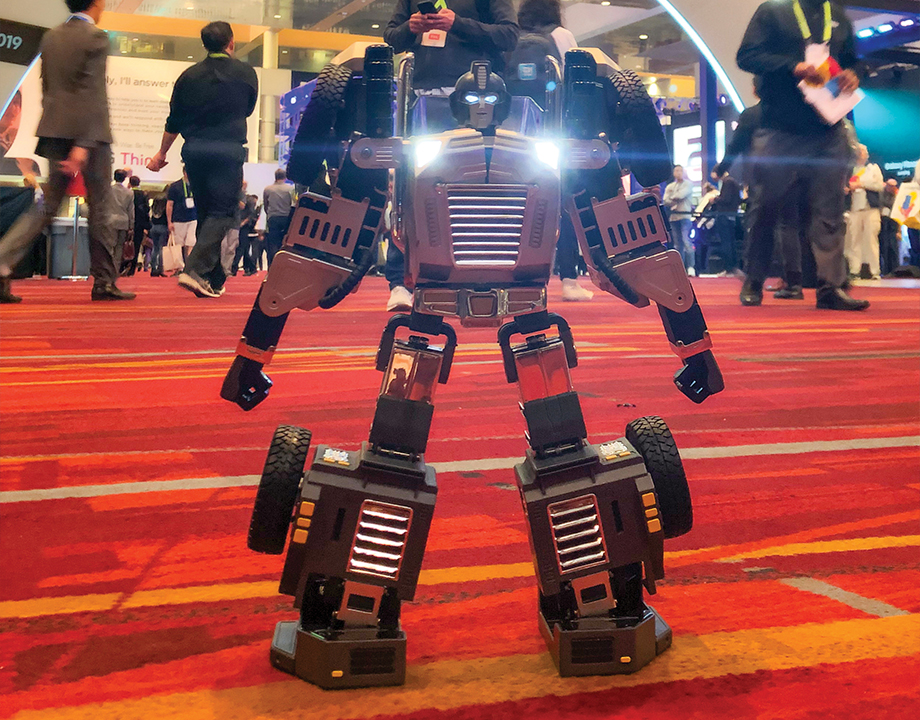 Robotic transformer turns into a vehicle.
A Robotic Transformation
Apr 17, 2020
Fans of Optimus Prime, pay attention. Upon voice command, a new programmable robot automatically converts from a robot man to a vehicle in a smooth and seamless transformer-like movement.
Robosen Robotics is the California firm that recently launched its T9 product, a programmable robot with more than 3,000 state-of-the-art components that enable features such as automatic convertible movement from vehicle to robot, bipedal walking ability in robot form, race function in vehicle form, programmable/code development, and robot control/commands by either voice or app.
The T9 is built with an aluminum alloy frame and is powered by a 2000mAh lithium battery pack. Twenty-three proprietary chips and 22 proprietary servo motors in the chest, hands, legs and drive wheels provide versatility, enabling it to perform high-speed, upright bipedal walking while also automatically converting from robot to vehicle form. Advances in artificial joint driving algorithms and digital electric drive technology supply T9's artificial intelligence (AI), including voice commands, complex motions and animations completed with precision control, dance performances, and other innovative stunts.
You May Also Like:
5 Questions with IBM's Lisa Seacat-DeLuca
The 3.2-pound robot performs a variety of tasks; it can walk, drive, pose, dance, even do some push-ups on cue. Users can program new gestures with different interfaces on a tablet or phone and control it directly with a touchscreen joystick and buttons.
These and other animations/motions are created using three different levels of intuitive and easy-to-use programming platforms, with enough memory to store tens of thousands of animations. "So, whether the user is a beginner, intermediate, or an advanced coder, T9's advanced robotics and AI will provide endless entertainment and opportunity to teach logical-based skills," said Alex Skillman, vice president of public relations for Robosen Robotics.
The three programming platforms are:
Manual programming: T9 actions can be created by hand. "Manual programming is easy to execute and turns playtime into an opportunity to enhance thoughtful and logic-based thinking skills," said Skillman.
Visual programming: Obscure and sophisticated programming codes can be converted into simple and easy-to-understand graphical blocks. Simply drag and drop blocks together to program the T9 to act out your creations. "Visual Programming is based on Scratch, a programming language developed by MIT Media Lab and used by millions of people around the world," added Skillman.
3D graphic programming: This level of programming allows the user to create more complex, precise, and interactive moments via PC.
Recommended for You:
One Indestructable Bug in a Soft Robotic Body
T9 is controlled by voice as well as the T9 app, in iOS and Android. A built-in knowledge base helps children learn about topics such as science, engineering, math, and languages by interacting with their T9. Video calls to family and friends are possible through the T9 with the camera and remote control. Users can collaborate, create and connect with a global community of robotics fans through the Robosen Hub, where they can upload and download popular user-created animations, share programming tips, and participate in fun events and competitions.
"T9 was meticulously designed and crafted using a classic industrial design, combined with cutting-edge robotic technology," says Skillman. "Our vision was to provide the consumer, both young and old, with an ultimate entertaining experience filled with AI, programming, and pure fun."
Robosen Robotics offers free online tutorials to learn T9 coding, and retails for $499.
Mark Crawford is an independent writer in Corrales, N.M.