5 Biggest Tunnel Boring Machines in the World
5 Biggest Tunnel Boring Machines in the World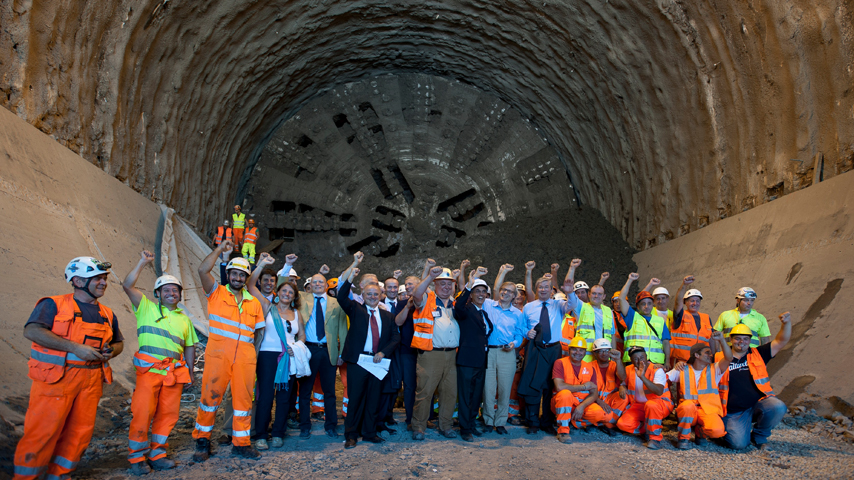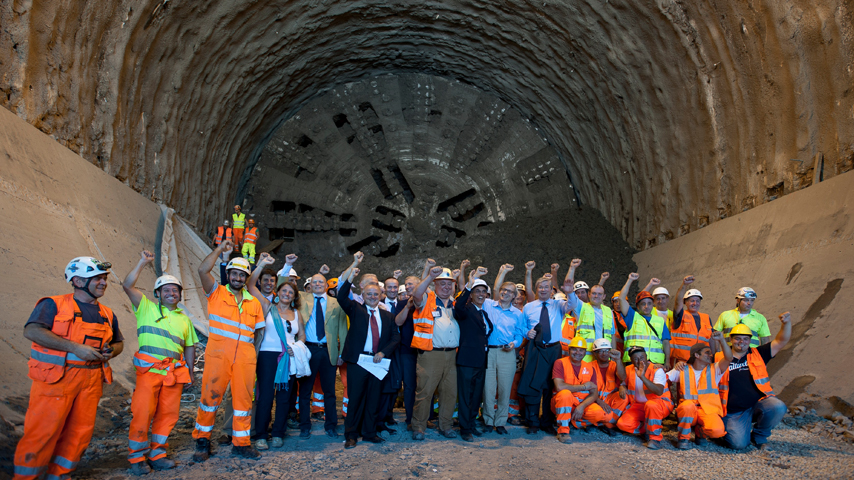 Powerful tunnel boring machines excavate, remove materials, and install walls. The world's largest measures 17.63 m. Here are the five biggest in the world.
Powerful tunnel boring machines (TBM) excavate through dirt and solid rock, carry away the materials, and install concrete—ready for construction of road or railway, mining shafts, or exploratory tunnels. Consisting of a large, powerful circular rotating cutting face, it has enclosed machinery that also stabilizes the newly dug tunnel.
While most people think of traffic tunnels under harbors and rivers when we talk about TBMs, specially trained crews travel around the globe to lay water lines and drill mines. These pressurized machines not only create the tunnel but line the walls behind them with a watertight combination of grout and precast interlocking concrete blocks.
Become a Member:
How to Join ASME
More than five decades have passed when the world's largest boring machine (Big John) wowed the world with a head with a diameter of 11.8 m. Now the distinction of the world's largest TBM measures at a colossal 17.63 m and the best equipment handles longer routes, lower overburdens, higher groundwater pressures, and more heterogeneous ground conditions. Here are the five largest TBMs in the world.
Qin Liangyu
The German engineering firm Herrenknecht designed the "Qin Liangyu" or Mixshield S-880. With a power output of 5,600 kW and a torque of 27,000 kNm, the machine operates in heavy, saturated earth and rock and yet tunnel 30 meters a day.
French firm Dragages Hong Kong (a Bouygues Construction subsidiary) used the TBM to excavate the Chek Lap Kok to Tuen Mun subsea road tunnel in Hong Kong, China. With a huge shield diameter of 17.63 m (57 ft. 10 in.), an overall length of 120 m (393 ft. 8 in.), and weighing weighs 4,850 tonnes (5,346 tons), according to the Guinness World Records, it is the world's largest TBM.
In 2015, this machine cleared the first tunnel section, then crews converted its shield to a smaller one (14 m) to complete the rest of the tunnel. It worked alongside another Herrenknecht borer and the two TBMs worked 30 meters below sea level and completed the tunnels in 2019.
Bertha
The second largest TBM is Bertha, a closed-shield machine with a cutting head a bit smaller at 17.45 m in diameter (57 ft. 3 in.). It, however, remains the largest earth pressure balance machine. Manufactured by Hitachi Zosen Sakai Works in Osaka, Japan, crew assembled it on site in Seattle.
This $80-million machine has 600 cutting disks mounted on a steel face, measures 91 m in length (300 ft.) and weighs 6,900 tons. With an installed power of 22,000 kWs and a maximum thrust of 392,000 kN, Bertha can rotate up to 1.8 revolutions per minute and has a torque of 147,000 kNm.
More for You: Big Data Spurs Autonomous Tunneling
Bertha's crew completed work on the State Route 99, a 3.2 kM long (2 mile) tunnel under Seattle in 2017. The Washington State Department of Transportation's Alaskan Way Viaduct replacement tunnel project began in 2013 and had to stop various times over the years, due to different problems including a sinkhole opening-up in the machine's path.
Santa Lucia
Herrenknecht also manufactured the largest TBM ever used in Europe. In 2020, this machine completed the Santa Lucia Tunnel in Italy. The Pavimental firm used this closed-shield machine that and a diameter of 15.8 m, a length of 130 m, and a total weight of 5,000 tons.
With an installed power of 17,600 kW and a maximum thrust of 314,000 kNs, crews used it to construct a 7.7 kM long connector tunnel between Bologna and Florence in 2017. The TBM can extract materials at a rate of 2,100 tons per hour with the added safeguard of a German design that shields employees from any methane gas leaks during material extraction.
Martina
Built by Herrenknecht, the largest hard rock TBM drilled the 2.4 m Sparvo Tunnel in 2013. The $60 million, German Martina TBM is a closed-shield machine with a diameter of 15.62 m (51 ft. 3 in.), a length of 130 m (430 ft.), and a total weight of 4,500 tons.
With cutting components made from tungsten steel, it has a 192 m
2
(2,070 sq. ft.) excavation area and thrust value 39,485 t, and an 18 MW total installed capacity. Its yearly energy consumption is about 62 million kWh. Martina can work up to 24 m per day.
Listen Now: Podcast: Automated Tunnel Boring Machines
Part of the Variante di Valico project in Italy, the Italian construction company Toto S.p.A Costruczioni General (Toto Group) used the tunnel boring equipment in 2013 to create the 2.4 KM long tunnel near Florence (image above).

Caucasus
With an excavation diameter of 15.08 m, the Caucasus is the largest single-shield hard rock TBM in the world. Manufactured by the China Railway Tunnel Group firm in China, it is 182 m long and weighs 3,900 tons. It has a maximum thrust of 22,600 tons and a total power of 9,900 kW.
In 2019, it was a critical part of construction of a 9-kilometer-long tunnel in Georgia's highlands. This tunnel moves through the Caucasus mountains and connects multiple countries.
Cathy Cecere is Membership Content Program Manager.
Related Content