University of Michigan's TurtleCell T...
University of Michigan's TurtleCell Takes Top Honors at 2013 ASME IShow
Jun 28, 2013
by Jeff O'Heir Senior Content Manager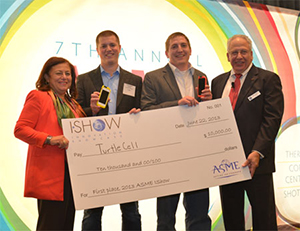 ASME President Madiha El Mehelmy Kotb (far left) and ASME Immediate Past President Marc Goldsmith (far right) present the ASME IShow's first prize to Nick Turnbull and Paul Schrems of the TurtleCell team from the University of Michigan.
ASME hosted its 2013 Innovation Showcase (or "IShow") on Saturday, June 22, as part of the Society's Annual Meeting in Indianapolis. 
First place honors and a corresponding check for $10,000 went to the University of Michigan team for TurtleCell, a protective iPhone 5 case featuring proprietary technology that builds tangle-free, retractable earbuds right into the case. Second place went to Sparo Labs of Washington University in St. Louis for its Low Cost Spirometer, a novel solution for asthma sufferers around the world. Third place went to Harvard's Theratech, an innovative improvement on current methods for concentrated drug delivery.
Hosted this year at the JW Marriott Hotel in downtown Indianapolis, the 2013 IShow featured 10 teams representing universities around the U.S. and the world, including Bournemouth University (United Kingdom) Brigham Young University, Harvard, Johns Hopkins, Massachusetts Institute of Technology (with three different teams in the competition), Tufts, the University of Michigan, and Washington University in St. Louis.
"It's been two years that we've been working on it now, and we've been through over 40 prototype iterations," said Paul Schrems of the victorious TurtleCell team. "The honor of winning the IShow will go a long way for us."
TurtleCell, like each of the projects it beat out for top honors, has young engineer/entrepreneurs behind it focused laser-like on bringing a great design to success in the marketplace. Said TurtleCell's Nick Turner: "We launched on Kickstarter on Thursday night, and we're blitzing the market right now. Social media, optimized press releases, and getting people's eyes on our website — we're trying to drive sales there. Hopefully, by the end of the year, not only are we shipping but we're moving into retail stores. We should have units ready to go by December, hopefully, you know — stocking stuffers."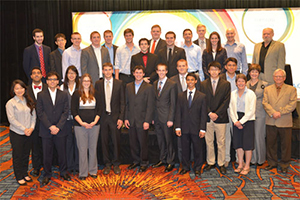 More than two dozen students from 10 universities competed in the 2013 Innovation Showcase in Indianapolis.
The teams were often participants in innovative programs at their schools designed to teach students the range of skills needed to bring a product from the drawing board to the real world. MIT's OneBin, for example, which aims to offer the world a better way to pass through heightened airport security, was conceived that way. As Jon Hickey of the OneBin team put it, "We're all part of the System Design & Management program at MIT, and we had a product development and design class together. Our professors said, 'Go think about the things that frustrate you in the area of travel, and come up with an idea to solve it.' And so that's what we did."
The full-day competition featured a presentation from each of the teams. They pitched their projects to and then faced stark questioning from a world-class panel of judges. Each of the engineers on the judging panel was a proven innovator with deep expertise in the process of designing a product and bringing it to market.
"I love the idea of having people compete just on innovation, versus on a certain technology," said judge Stacy DelVecchio of Caterpillar, who is also the new president-elect of the Society of Women Engineers. "The IShow reminds me of Edison talking about how he never invented anything that he didn't already know the market for. The fact that they have to do financials, competitive analysis, who are the customers, it really gets them thinking."
All in attendance might have agreed with the words of Dave Dugan, the event's master of ceremonies, who said, "These kids are amazing. Those judges question them hard — and there isn't anything they haven't got the answer to! They're going to succeed at whatever they put their minds to."
Thank you Dave — we agree and couldn't have said it better ourselves.
Mark your calendars: the 2014 IShow will take place on April 28, 2014 in Washington, D.C.
Joshua Olesker, ASME Public Information