Students from Texas and Ontario named...
Students from Texas and Ontario Named Winning Alliance at FIRST Robotics Championship
May 9, 2013
by Eric Butterman ASME.org
ASME President Marc Goldsmith (second from left) visits the FIRST robotics team from Team 1816, Edina Robotics, from Edina, Minn.
More than 2,500 teams of high school students from around the world honed their engineering design skills creating and building custom-made robots for this year's nearly 80 regional FIRST (For Inspiration and Recognition of Science and Technology) Robotics Competitions. Last month, 400 of those teams advanced to the FIRST Robotics Championship, where an alliance of three teams consisting of students from The Woodlands, Texas, and Ontario, Canada emerged as winners of the competition.
ASME President Marc Goldsmith and President-Elect Madiha Kotb were among the crowd of more than 25,000 gathered at the Edward Johns Dome in St. Louis, Mo., to cheer on the contestants during the Championship, which took place from April 24-27. ASME has been an ardent supporter the FIRST Program, with many members serving as judges and team mentors over the past 20 years. Each year, the Society also awards ASME-ASME Auxiliary First Scholarships to high school students who participate on FIRST teams.
In addition to ASME's Goldsmith and Kotb, the audience at the Edward Johns Dome featured a number of celebrities and engineering luminaries — including FIRST founder Dean Kamen, pop music icon will.i.am, and Noel Lee, chief executive officer of Monster — who turned out to show their support for the students and FIRST, which not only helps introduce young people to engineering, but shows them how exciting it can be.
"We think FIRST is critically important … because we need more science, math, engineering and technology educated kids," Goldsmith said in an on-site interview with FIRST staff. "We need more science, math engineering and technology educated citizens. And you start them off when they're young. When you see the enthusiasm and excitement – the fun of engineering – as reflected by these kids at FIRST, you've got to contribute. You don't have a choice."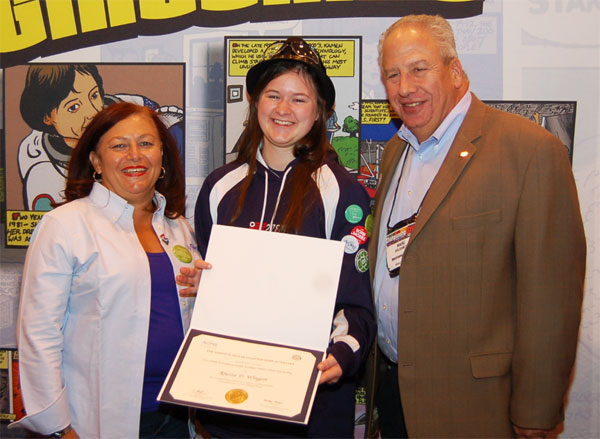 ASME President-Elect Madiha Kotb (left) and President Marc Goldsmith (right) present Rhetta Wingert of Smithfield, Ky., with a certificate naming her as one of winners of the 2013 ASME-ASME Auxiliary FIRST Clarke Scholarships. Eleven of the $5,000 scholarships were awarded this year.
In this year's robotics challenge, "Ultimate Ascent," alliances made up of three teams each competed against each other to toss as many flying discs into their goals as possible during the two-minute and 15-second match. By the end of final match, a trio of teams — Team 1241, "THEORY6" from Mississauga, Ontario, Canada; Team 1477, "Texas Torque" from The Woodlands, Texas; and Team 610, "The Coyotes" from Toronto, Ontario, Canada — were named the event's Winning Alliance, beating out the alliance of Team 33, "Killer Bees" of Auburn Hills, Mich., Team 469, "Las Guerrillas" from Bloomfield Hills, Mich., and Team 1519, "Mechanical Mayhem" of Milford, N.H.
The Chairman's Award, which is the highest honor given to an individual team at the FIRST Robotics Championship, was presented to Team 1538, "The Holy Cows" of San Diego, Calif. The Chairman's Award recognizes the team that best represents a model for other teams to emulate and best embodies the purpose and goals of FIRST.
Ten students were named to the 2013 Dean's List for outstanding FIRST Robotics Championship competitors: Kaley Bibic, Team 4476, "W.A.F.F.L.E.S.," Kingston, Ontario, Canada; Ephraim Bililign, Team 1533, "Triple Strange," Greensboro, N.C.; William Blaser, Team 359, "Hawaiian Kids," Waialua, Hawaii; Naoka Gunawardena, Team 3504, "Girls of Steel," Pittsburgh, Pa.; Ofri Harlev, Team 4159, "CardinalBotics," San Francisco, Calif.; Kathryn Hite, Team 3547, "Virus," Monroe, Mich.; Kristina Landen, Team 2093, "Bowtie Brigade," Portland, Ore.; Kristen Law, Team 2834, "Bionic Barons," Bloomfield Hills, Mich.; Isabel Martos-Repath, Team 589, "Falkon Robotics," La Crescenta, Calif.; and Joshua Thomas, Team 704, "Warriors," Grand Prairie, Texas.
Other distinctions conferred at the Championship event included the Engineering Inspiration Award, going to Team 3478, "LamBot" from San Luis Potosí, Mexico; the Creativity Award from Xerox, given to Team 3018, "Nordic Storm" of Saint Peter, Minn.; Delphi's Engineering Excellence Award, going to Team 1986, "Team Titanium" from Lee's Summit, Mo.; the Entrepreneurship Award from Kleiner Perkins Caufield & Byers, presented to Team 2614, "MARS" of Morgantown, W.Va.; Johnson & Johnson's Gracious Professionalism Award, going to Team 3138, "Innovators Robotics" from Dayton, Ohio; the Industrial Design Award from General Motors, given to Team 254, "The Cheesy Poofs" of San Jose, Calif.; UL's Industrial Safety Award, presented to Team 2638, "Rebels" from Great Neck, N.Y.; the Innovation in Control Award from Rockwell Automation, going to Team 1717, "D'Penguineers" of Goleta, Calif.; and Chrysler's Team Spirit Award, given to Team 233, "The Pink Team" from Rockledge and Cocoa Beach, Fla.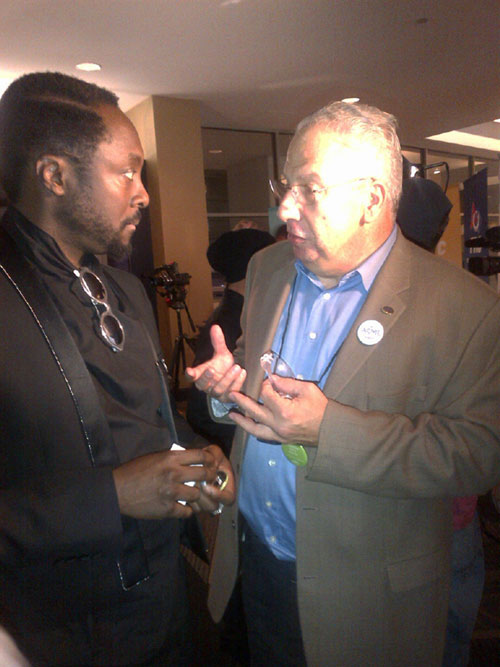 President Goldsmith talks with pop music star will.i.am at the FIRST Championship in St. Louis. During the event, FIRST founder Dean Kamen commended the musician for his volunteer work with FIRST and support of science, technology, engineering and math (STEM) education.
This year, ASME recognized 11 high school seniors who participated in the FIRST Program with ASME-ASME Auxiliary FIRST Clarke Scholarships at the FIRST Championship. The $5,000 scholarships, which are to be used for the first year of study in an accredited mechanical engineering or mechanical engineering technology program, recognize and reward students whose FIRST experience has inspired an interest in pursuing an engineering career. The scholarship program is sponsored by the ASME Foundation and the ASME Auxiliary.
This year's scholarship winners were: Nicholas (Gus) Albers of Victor Senior High School, Victor, N.Y.; Michelle Lynn Bakker from Holland High School, Holland, Mich.; Vanessa G. Costilla, Booker T. Washington, Houston, Texas; Thomas Fogwell, Owen J. Roberts, Pottstown, Pa.; John Gee, Calhoun High School, Port Lavaca, Texas; Trevor Greenwood, Eastside Catholic High School, Sammamish, Wash.; Daniel Mead, St. Joseph Public High School, St. Joseph, Mich.; David Ovies, Southeast Raleigh Magnet High School, Raleigh, N.C.; Chelsea Silberglied, Plainview Old Bethpage High School, Plainview, N.Y.; Nicholas Taylor, Fossil Ridge High School, Fort Collins, Colo.; and Rhetta D. Wingert, Coram Deo Academy, Smithfield, Ky.
To watch the video clip of Marc Goldsmith at the FIRST Championship discussing the benefits of FIRST participation, now available on YouTube. To watch an interview with ASME-ASME Auxiliary FIRST Clarke Scholarship winner Gus Albers.
To see the winners of other awards presented at the FIRST Robotics Championship, or to learn more about the FIRST program, which includes other competitions including the FIRST Tech Challenge and FIRST LEGO League, visit www.usfirst.org.