Register Now for IMECE 2019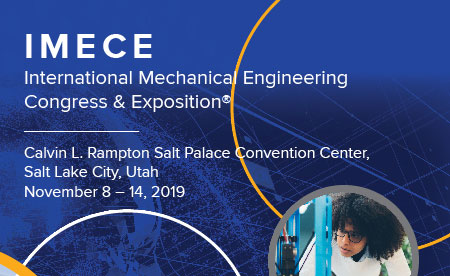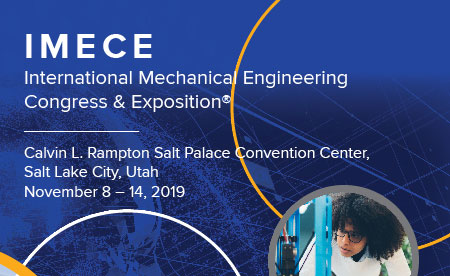 Register Now for IMECE 2019
Aug 9, 2019
Registration is now open for ASME's International Mechanical Engineering Congress and Exposition (IMECE), the world's largest research and development conference focused primarily on mechanical engineering, but encompassing perspectives from many engineering disciplines. Registrants who sign up for the conference by Aug. 12 will receive a discount of up to $100 on the cost of registration.
IMECE 2019, which will take place from Nov. 8-14 at the Calvin L. Rampton Salt Palace Convention Center in Salt Lake City, Utah, is expected to bring together attendees from a variety of industry sectors, including advanced manufacturing, aerospace, advanced energy, fluids engineering, heat transfer, design engineering, materials, energy production, conservation and recovery, applied mechanics, power, rail transportation, nanotechnology, bioengineering, and environmental engineering.
In addition to hundreds of technical sessions across 17 technical tracks, more than 20 plenary speakers, and 6 technical tours, the IMECE program will feature three keynote speakers. Laura McGill, vice president of engineering for Raytheon Missile Systems, will present the first of these keynotes, titled "Converging Technology and Engineering to Meet Changing Global Needs," on Nov. 11.
The second keynote presentation, "Climate Change and Innovative Paths to a Sustainable Future" on Nov. 12, will be delivered by Steven Chu, former U.S. Secretary of Energy and co-recipient of the Nobel Prize in Physics. Dr. Chu, who is the inaugural recipient of the ASME Richard J. Goldstein Energy Lecture Award, is the William R. Kenan Jr. Professor of Physics and professor of molecular and cellular physiology in the Stanford University Medical School at Stanford University.
Barbara Humpton, chief executive officer of Siemens USA, will present the closing lunch keynote at IMECE 2019 on Nov. 14. As CEO of Siemens, Humpton manages the company's strategy and engagement in serving the company's largest market, with more than 50,000 employees and over $23 billion in revenues and $5 billion in annual exports.
Registration for the full conference by Aug. 12 will cost $740 for ASME members and $890 for non-members ― a $100 savings on the regular price of registration. ASME Life Members and student members who register by Aug. 12 can register for $350 and $400, respectively. One-day registration for the conference is also available.
For more information on ASME 2019 International Mechanical Engineering Congress and Exposition or to register, visit
https://event.asme.org/imece
.