Register for ASME's Offshore Wind Dig...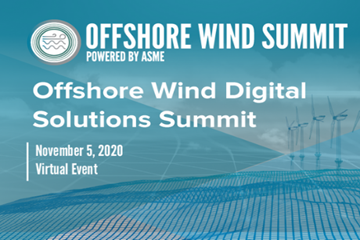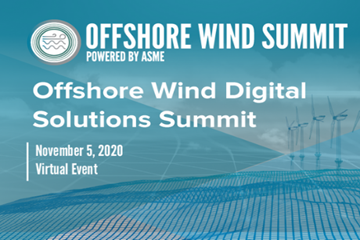 Register for ASME's Offshore Wind Digital Solutions Summit
Oct 7, 2020
The ASME Offshore Wind Digital Solutions Summit will take place virtually on November 5, 2020. As the U.S. offshore wind market begins to move projects from planning to commercial execution, it will happen alongside a digital transformation. Offshore wind professionals from around the world will come together to discuss how to leverage technologies like additive manufacturing, artificial intelligence, digital twins, drones, machine learning and robotics to help bring down costs of production, installation and maintenance, ultimately improving productivity and safety. Registration is now open and attendees can book for just $199 (a savings of $100) by October 9, 2020.
Industry influencers include: GE Chief Digital Officer Brian Case
;
Manas Pathak, global AI lead for oil & gas at Intel Corporation; Sonny Garg, global energy lead for Uptake Technologies
;
and Mona Dajani, global co-head of the energy and infrastructure projects team for Pillsbury Winthrop Shaw Pittman LLP
.
They will share how they've helped their companies improve operational decision making, created efficiencies and reduced lifecycle costs.
The Offshore Wind Digital Solutions Summit is the only event in the wind industry that is focused solely on the power of digitalization. Many organizations are working remotely and embracing the shift to digital so now is the time to explore strategic technologies that will drive costs down and increase productivity. Attendees will leave with answers and implementable solutions that will address their organizations' most pressing pain points, including what the offshore wind industry needs for digital transformation, best practices the industry can leverage, and how to accelerate this transformation.
For more information on the ASME 2020 Offshore Wind Digital Solutions Summit program and speakers, and to register, visit
offshorewind.asme.org
.