New Virtual Summit to Focus on Aerosp...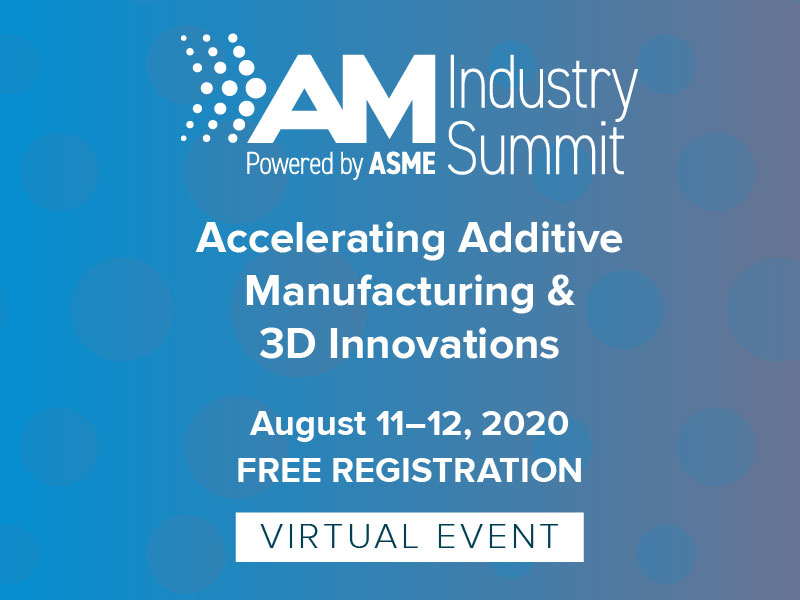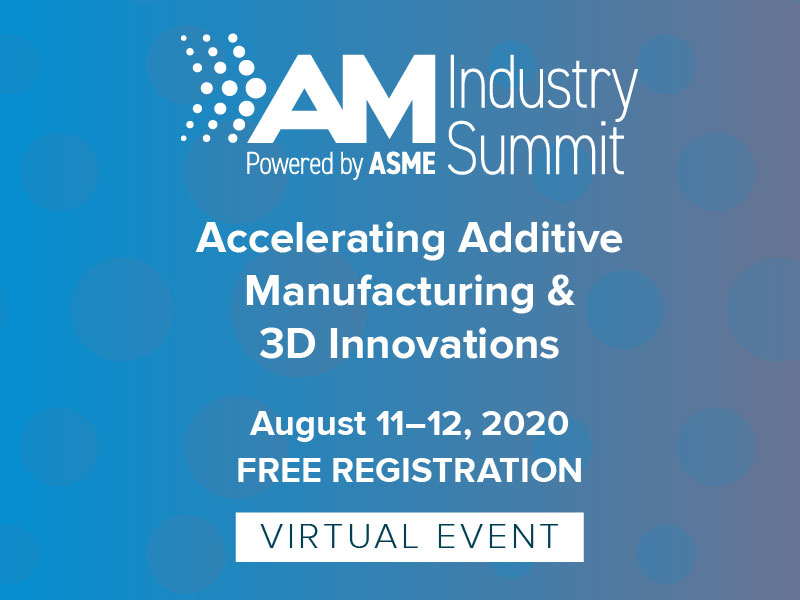 New Virtual Summit to Focus on Aerospace and Medical Device Additive Manufacturing
Jul 24, 2020
Building on the success of the AM Medical Virtual Summit in May, ASME invites all additive manufacturing professionals to attend a new virtual event,
AM Industry Summit
, focused on accelerating additive manufacturing and 3D printing innovations in aerospace and defense and medical device applications. The summit will take place August 11-12, from 8:30 AM-6:30 PM EDT, featuring compelling keynotes, general sessions with both medical and aerospace leaders, informative technical breakout session by industry, lunch and learns with solution providers, networking, and more than 30 technology and solution providers. Thanks to the generous support of the sponsors, registration is free (valued at $599).
Register today
for this valuable event.
The two-day virtual event will highlight the medical and aerospace convergence, their shared challenges, and unique opportunities in additive manufacturing. Attendees will be able to gain knowledge in materials, processes, equipment, regulatory issues, quality, repeatability, integration with digitalization, and more. With more than 4,000 additive manufacturing and 3D printing professionals from around the world, attendees will be able to connect with industry professionals from the comfort of their home.
Robert "Bobby" Lee Satcher, Jr., M.D., Ph.D., surgeon, engineer, astronaut, will kick off the event with his keynote focusing on pursuit of knowledge and doing things that may be difficult to conceive. As both an engineer and surgeon, Satcher became a NASA astronaut and the first orthopedic surgeon in space. Satcher will share insights on how different ideas and worlds like aerospace and medical devices can come together to explore, find answers, and do more.
Eugene Boland, Ph.D., chief scientist of Techshot, will wrap up the program by sharing how some of the work for 3D printing and bioprinting on the International Space Station could impact what you can do with additive manufacturing. The unique work in microgravity with tools to control from earth promises to allow more additive manufacturing in remote locations.
The AM Industry Summit technical sessions on the Main Stage will focus on two tracks: aerospace and defense and medical device manufacturing. AM Aerospace will focus on advanced applications and processes driving safety, performance, and cost reduction. AM Medical will highlight innovative device designs and production efficiencies driving healthcare solutions.
Featured General Sessions will highlight the convergence of aerospace and medical. "Digital Twin: Integration with Additive Manufacturing" will explore how digital twins are being used throughout the value chain and connected to additive manufacturing. "Quality, Standards & Regulatory Considerations" panel will feature regulatory experts from both the FAA and FDA, sharing some of the discussions they have had on the use of additive manufacturing and applicable standards in a highly regulated environment.
Both technical tracks will begin with panel discussions on applications of additive manufacturing. "Aerospace Additive Manufacturing Applications" will feature leaders Anna Tomzynska, additive manufacturing chief engineer from Boeing and Robert Ghobrial, technology fellow, Lockheed Martin, with moderation by Mark Barfoot, director of AM programs at EWI. "Medical Device Additive Manufacturing Applications" will include Tirth Patel, general manager, KLS Martin and Naomi Murray, director, advanced operations, Stryker, moderated by Brandon Ribic, technology director at America Makes.
The virtual event will also include several interactive sessions within the Solutions Center Auditorium including additive manufacturing innovation case studies in the InnoZone sessions, quick video demonstrations of technologies, processes, materials, and software in the Demo Jams, and more in-depth discussions with solution providers during the Lunch and Learn sessions. Informal discussions are also open to everyone in the topic-designated chat rooms. Attendees will be able to connect with other professionals and find solution providers in the chat as well as the virtual hall.
To learn more about the AM Industry Summit program and to register for free, visit
https://amvirtual.vfairs.com/
.