Mechanical Engineering Magazine Intro...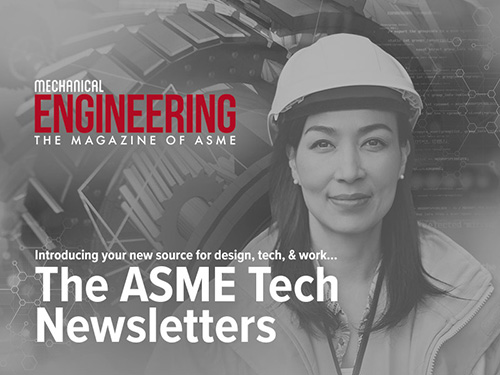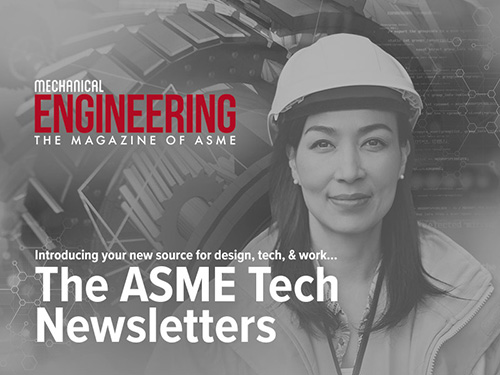 Mechanical Engineering Magazine Introduces Three Digital Newsletters
Jan 10, 2020
This month, Mechanical Engineering magazine will launch three new digital newsletters designed especially for you. We are adding these as part of your membership benefits package at no additional cost.
The editors of Mechanical Engineering magazine, ASME's flagship publication, are launching TechReboot, TechDesign, and TechWorkforce. You'll start receiving them next week.
Each of the newsletters will deliver the information you need to navigate today's techno world, which is filled with disruptive breakthroughs that are impacting industries and changing the workforce at lightning speed. Our content will help you better navigate this new age and make sense of it all.
Every Tuesday, you'll find TechDesign in your mailbox, a newsletter focused on the latest trends in robotics, automation, and engineering design. On Thursdays, you will receive TechReboot, focusing on the stories of the week that you may have missed, especially in energy, bioengineering, and other big topics impacting our world. Every other Thursday, you'll receive TechWorkforce, which spotlights the changing landscape of the workplace and what you need to know to remain successful.
You've told us how much you've come to rely on Mechanical Engineering magazine. Now we'll bring you more timely and engaging content, right in your inbox. In the end, our goal is to help make you a more informed and a better engineer for the world of tomorrow.
—John G. Falcioni, Editor-in-Chief, Mechanical Engineering magazine