Interactive Sessions to Be Featured a...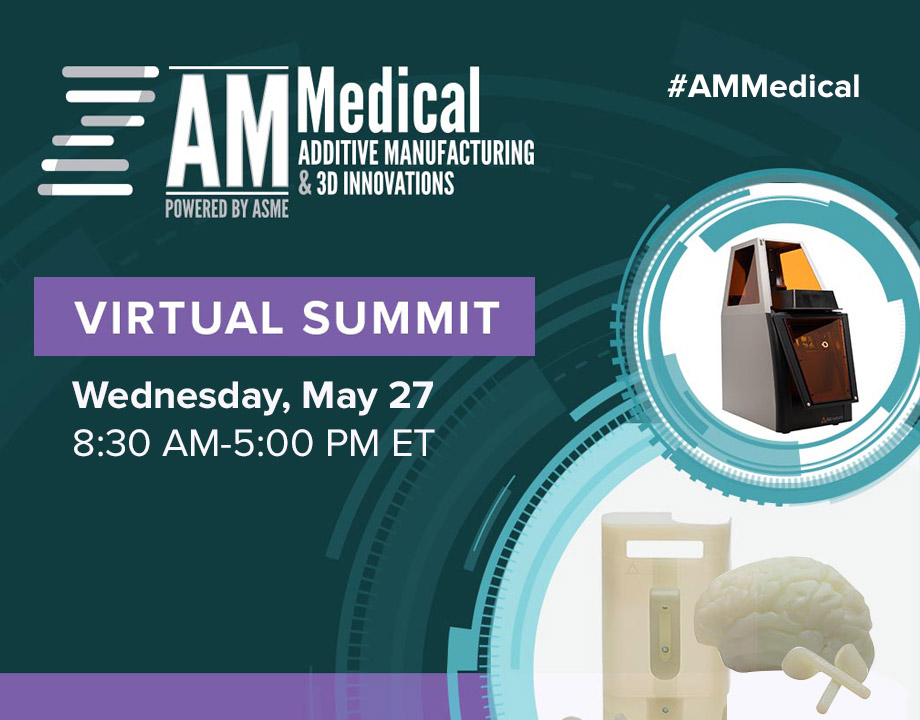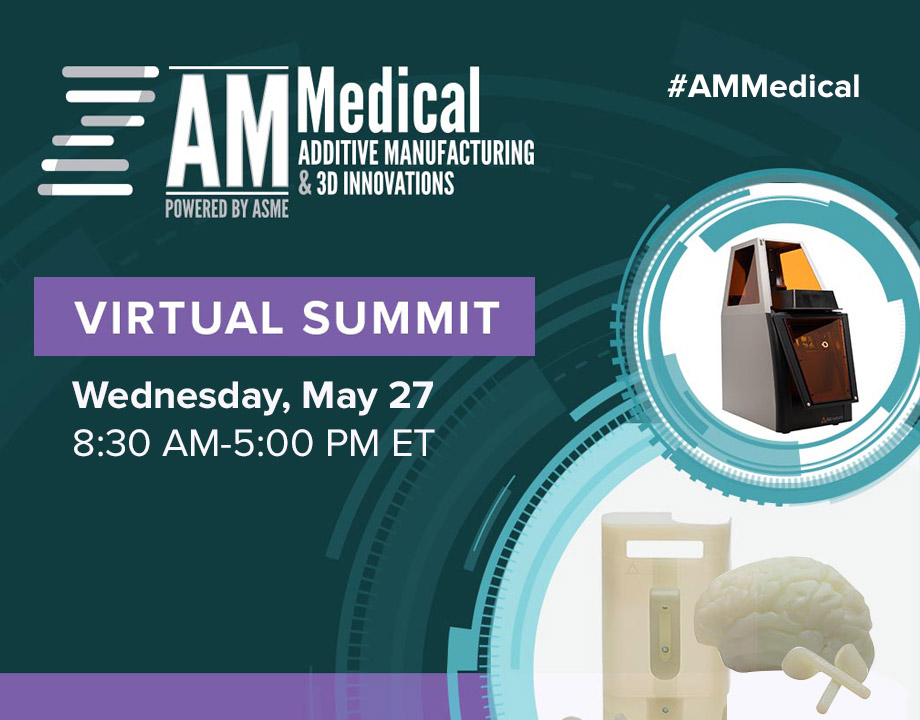 Interactive Sessions to Be Featured at AM Medical Virtual Summit
May 22, 2020
On May 27, ASME will present its first
AM Medical Virtual Summit: Additive Manufacturing & 3D Innovations
, an online event on the latest advances in additive manufacturing (AM) and 3D printing for medical applications. Registration for the new event is free, thanks to the support of the event's sponsors. It will take place from 8:30 a.m. to 5:00 p.m. Eastern Time on May 27.
In addition to the event's technical presentations and panel discussions, which you can read about in ASME News, the daylong virtual summit will also include a number of interactive sessions where participants can get better acquainted with the event's speakers and fellow attendees. These special sessions will include roundtable discussions where participants can ask experts about their AM challenges, a series of "InnoZone" presentations exploring key technological innovations, and three "Lunch & Learn" virtual networking gatherings.
These interactive sessions will begin with a Coffee Talk Roundtable, to be held from 9:00 a.m.-9:30 a.m. The presentation, "Next Level Productivity in Medical AM Production Through End-to-End Solutions," will discuss the latest developments in secure and high productivity additive manufacturing and give attendees the chance to interact with experts from the session's sponsor, DMG MORI. The speakers, DMG MORI senior product manager Nitin Chaphalkar and regional AM products sales manager Robert Chiari, will discuss the company's future AM production facility as well its end-to-end process chain and field questions from attendees.
A second Coffee Talk Roundtable, sponsored by Empire Group, will address the topic "Massive Capabilities at Micro-scale." During the session, attendees will learn how industrial micro-precision 3D printing with projection micro-stereolithography (PμSL) is helping Empire Group's medical customers make significant advances in the emerging field of microfabrication.
The summit will also feature eight 20-minute InnoZone sessions throughout the day. Each session will include a presentation focusing on a key AM technology, followed by a live Q&A with the session's presenters.
InnoZone presentations will include "3D Metal Printing: Into the Dental Lab"; "Advanced Additive Manufacturing Solutions for the Medical Device Industry — High Strength Titanium, Ni-Free Stainless Steel and Nitinol Printing"; "EBM and/or DMLM in Medical — Design and Production Considerations"; "Adopting Additive Technology at the Point of Care"; "Medical and Dental Application with Additive Manufacturing"; "Unlocking the Possibilities of High Fatigue Orthopedic Applications in Titanium Additive Manufacturing"; "Mass Customization Is Arriving in Healthcare — Are You Ready?"; and "3D Printed PEKK Polymer: Enabling a Family of Medical Devices that Inhibit Bacterial Growth without the Use of Antibiotics."
Sponsors for these sessions include 3D Systems, CAD BLU, Carpenter Technology, Coherent Inc., EOS, GE Additive, NCS Technologies, and Oxford Performance Materials.
The three Lunch & Learn virtual networking lunches will be held from 12:15 p.m.-1:00 p.m.
The first, sponsored by Protolabs, is titled "How to Implement an Integrated 3D Printing Strategy from Concept to Production." Led by Protolabs 3D printing applications engineer Amber Farmer, the session will use case studies and common applications to help attendees understand the nuances of six of the most common 3D-printing technologies and how they can use each technology to produce medical parts.
The second Lunch & Learn will be "Unplugged: A Conversation with the World's Biggest Brands on 3D Printing, Medical Devices, and the Future of Design." The session, sponsored by B9Creations, will feature speakers from Medtronic and Johnson & Johnson. They will discuss how their companies use additive manufacturing, how AM has changed the way they design, and what the technology's future looks like.
Zeiss will sponsor the third Lunch & Learn, "Holistic Characterization of Materials and Processes in AM Using Correlative Multi-scale Multi-modal Workflow." Presented by Pradeep Bhattad, business development manager at ZEISS Industrial Quality Solutions, the session will cover how the company's new holistic measurement approach — ZEISS Blueline — quantifies the effects of process controls to understand how they cause variation in part quality.
The program will also include a 30-minute "Brew & View" conversation and networking roundtable discussion, "Lowering Production Costs of AM Medical Implants." The session, sponsored by Additive Industries, will provide an analysis of the costs typically associated with volume production of titanium implantable medical devices. The Brew & View, to be held from 4:15 p.m.-4:45 p.m., will also explore opportunities for cost savings, with the goal of making AM a replacement for conventional manufacturing techniques.
The Virtual Summit will also give participants a platform to interact with AM and 3D printing professionals in the Networking Lounge and solution providers in the Exhibit Hall.
To learn more about the AM Medical Virtual Summit program or to register, visit https://event.asme.org/am-medical-virtual-summit.