Advanced Manufacturing for Medical Ap...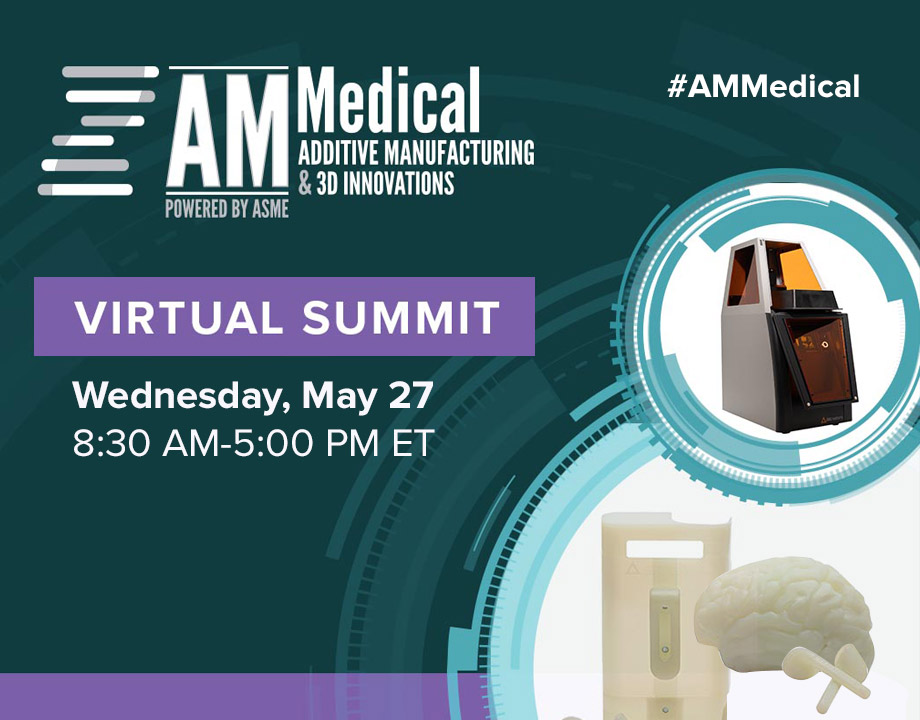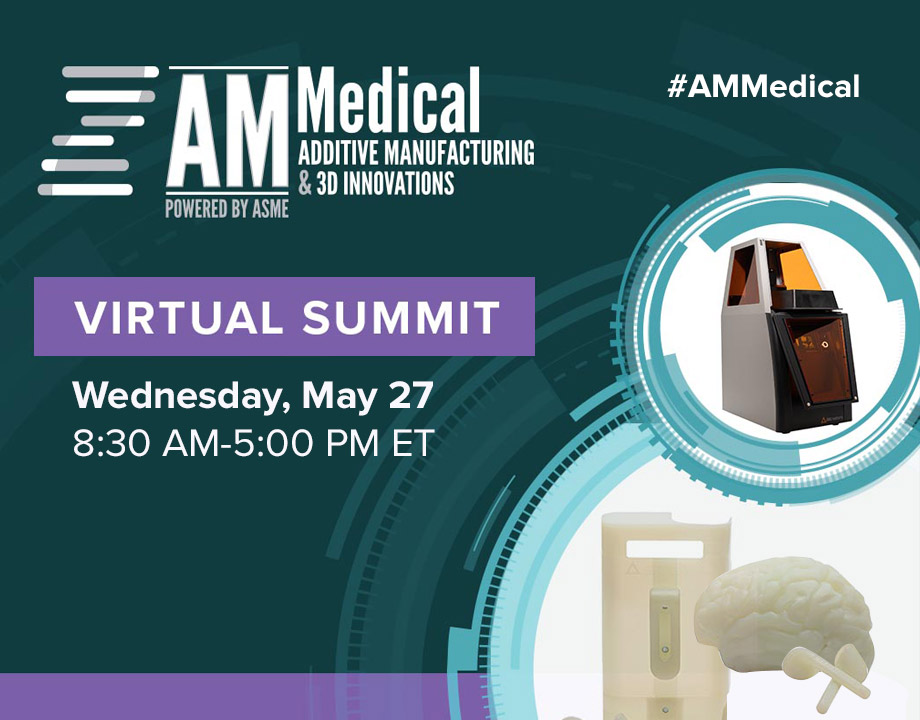 Advanced Manufacturing for Medical Applications and COVID-19 Community Response to Be Explored During Virtual Summit
Apr 27, 2020
Next month, ASME will hold a one-of-a-kind virtual event focusing on advances in additive manufacturing (AM) and 3D printing for medical applications. The new event,
AM Medical Virtual Summit: Additive Manufacturing & 3D Innovations
, is scheduled for May 27 from 8:30 a.m. to 5:00 p.m. Eastern Time. Registration for the Virtual Summit, which is valued at $299, is brought to you for free thanks to the support of the event's sponsors.
This unique daylong event was designed for engineers, device manufacturers, clinicians, radiologists, and dental and bioprinting professionals who would like to learn more about ground-breaking software and medical devices for patient care, new learning opportunities, and the latest disruptive technologies from leading global providers. The Virtual Forum will also give participants a platform to interact with other AM and 3D printing professionals, to meet prospective business associates, and to discuss the profession's challenges with their peers.
AM Medical Virtual Summit's program will include featured presentations such as "Medical AM/3DP Community Response to COVID-19," with panelists Beth Ripley from VA Puget Sound, Nicole Wake from Montefiore Medical Center, and Sam Onukuri from Johnson & Johnson; "Effective Quality Systems for Additive Manufacturing," featuring Dale Swarts from Stryker, Matthew DiPrima from the FDA, Valerie Giambanco from Stryker Orthopaedics, Amy Alexander from the Mayo Clinic, and Mary Clare McCorry from Advanced Regenerative Manufacturing Institute (ARMI); and "What's Next for Medical & Dental 3D Printing," featuring Markus Reiterer from Medtronic, Adam Jakus of Dimension Inx., and dental implant specialist Michael Scherer.
Other special features of the virtual event include three "Lunch and Learn" sessions sponsored by Protolabs, B9 Creations and Zeiss, with representatives from some of the industry's top AM/3DP solution suppliers and manufacturers, a virtual exhibit hall featuring AM/3DP companies, and a networking lounge and virtual social hour where participants can connect with their peers as well as speakers and exhibitors from the event.
In addition to B9 Creations, Protolabs and Zeiss, sponsors and exhibitors for the Virtual Summit include Formlabs, GE Additive, Marvel Medtech, NCS Technologies, Trumpf and MasterGraphics, and other leading AM/3D printing companies.
For more information on the AM Medical Virtual Summit or to register, visit https://event.asme.org/AM-Medical-Virtual-Summit.